If recent events have taught us anything, it's how quickly the world can change. The Coronavirus (COVID-19) has brought major disruptions to people and businesses across the globe. If you're concerned about these unpredictable times crippling your company, you're not alone.
To prevent unforeseen circumstances and market changes – initiated by a pandemic or otherwise – from devastating your bottom line, you might look into moving your business online. Fortunately, with the right strategy in place, the digitization of your company is possible.
In this post, we'll discuss some of the benefits of running a remote operation. Then we'll provide you with five tips for effectively moving your business online. Let's jump in!
The Benefits of Moving Your Business Online
From stay at home orders to natural disasters, there are a wide variety of disruptions that can prevent employees from following your business' standard procedures. As we've seen over the past few months, these sudden changes can keep traditional, in-person operations from running smoothly or make them altogether impossible.
Pivoting to a digital-first environment may be an act of necessity rather than an exciting change in strategy. Alternatively, perhaps a slow shift to online selling has been in the works for a while. In any event, there are many advantages to moving your business online.
Every day, an increasing number of businesses and consumers turn to the internet for products and services. E-commerce has been on the rise for years and will only accelerate as more people spend time at home.
There's a level of accessibility and insight on the web that isn't available in person. Running an online business enables you to expand your reach and target customers and markets you wouldn't otherwise have access to.
It can also make it easier to find new talent. As with e-commerce, remote working and freelancing have become more prevalent in recent years. As an online business, you can recruit from a rapidly expanding pool of candidates regardless of their physical locations.
From social media and email marketing to Search Engine Optimization (SEO) and Pay-Per-Click (PPC) advertising, there are so many opportunities to make your business stand out online. Most are inexpensive and sometimes even free.
Also, thanks to innovative technology, running an online business has never been easier. Whether you're looking for a way to conduct virtual conferences or quickly add an e-commerce shop to your website, there are plenty of digital tools that can help you transition with ease.
5 Tips for Moving Your Business Online
For many, understanding the value — or, in some cases, urgent necessity — of an online business isn't the problem. It's figuring out how to smoothly and successfully transition to a new format that's difficult. Let's take a look at five tips you can use to accomplish this task.
1. Communicate Clearly With Your Team and Customers
If your employees are not used to working remotely, moving online might introduce some initial discomfort and confusion. However, the key to minimizing chaos is to exercise clear communication.
Be upfront with your team about what's going on with your business and what they can expect to change (or to stay the same). Establishing open communication and transparency can help ease anxiety and prevent uncertainty from stalling productivity.
To make the adjustment easier, it's helpful to implement clear written guidelines for any new expectations and processes. For example, how will you conduct business meetings and what are the procedures for checking in?
During a major change, it's also important to remember to leave room for adjustment. Aim to be flexible with your employees as they settle into a new way of doing things.
Similarly, it's also smart to develop a clear communication plan for your customers. Consider what their concerns are and how, if it all, they may affect or influence peoples' decisions to do business with you.
For example, amidst the COVID-19 outbreak, many food delivery services are making it a priority to offer doorstep and non-contact delivery: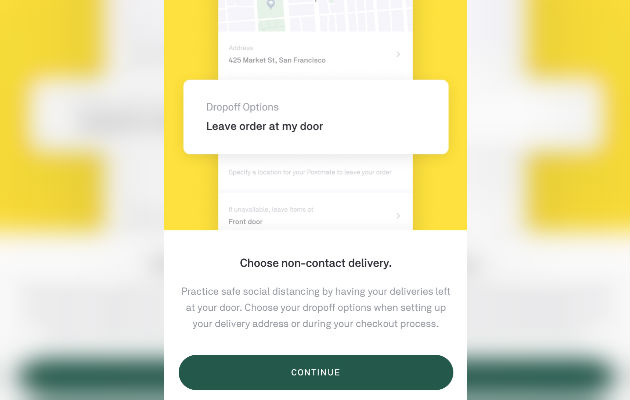 Also, whether through email, social media, or your website, it's wise to inform clients about any changes they should be privy to, such as a product or service you're no longer going to offer. Being upfront about how the shift will impact business can help maintain trust and manage expectations.
2. Build a Website With Quality Hosting
If you don't already have a website, launching one should be your top priority when moving your business online. Not only does a dedicated website appear more professional and legitimate to customers, but it's also key for centralizing your online presence.
There are many different platforms you can use to build a website. However, we're partial to WordPress and chances are that if you're reading this post, you are too. While we won't go into details on how to build your own website here, the WordPress Getting Started guide is a solid place to start.
That said, the importance of choosing a quality web host cannot be understated. Your hosting provider influences everything from the speed to the security of your website.
An entry-level shared plan may have been enough when your website was primarily a static page with a few company details. However, but it likely won't be sufficient after you move the majority of your business operations online.
There are many reputable hosting companies that offer feature-packed plans at reasonable prices.
If your business is primarily online, any downtime or security attacks can be devastating. Therefore, maintenance and support are important factors to consider when comparing hosting providers for new and existing sites alike.
3. Update Your Google My Business Profile
When moving your business online, remember to update any information about your company or services that customers may come across. This is particularly critical if you have a physical location people might visit.
If you haven't already claimed your Google My Business listing, now is the time to do so. It's free and helps customers find you online:

If you already have your Google My Business profile set up, you might want to consider updating it to reflect new changes to your services and operations. In addition to adjusting your business hours, you can also follow Google's COVID-19 guidance on marking your business location as 'temporarily closed' if needed.
4. Invest in a Reliable Project Management Tool
Investing in project management tools can help prevent dips in productivity and miscommunications among team members when moving your business online. As we touched on earlier, remote working can introduce a variety of hurdles, particularly for those who are accustomed to a traditional office setting.
In lieu of being able to communicate in person, there are many tools and programs you can use to make the transition easier and facilitate a more collaborative environment online.
Of course, the best solution for your business will depend on a number of factors, such as your budget and the size of your company. However, a popular and versatile platform you may want to consider is Trello: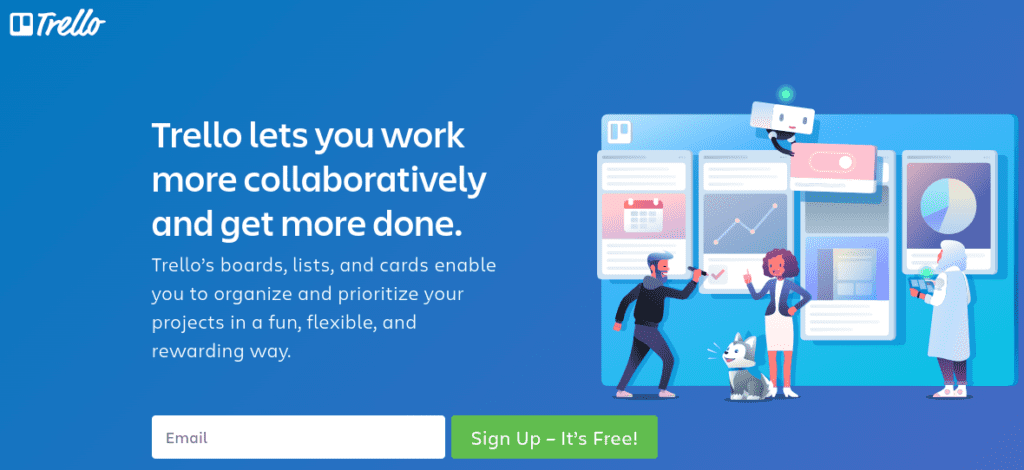 Trello is incredibly flexible and easy to use. You can create lists and boards to share with your team and keep everyone on the same page to streamline your new remote workflow. Plus, it's free to get started.
You might also consider investing in a virtual communication platform, such as Skype for Business or Zoom. This will enable you to conduct video conferences and virtual meetings.
5. Strengthen Your SEO and Social Media Strategies
Once you have your website set up, it's important to make sure people can find it. There are many ways to go about this, but two of the most effective are SEO and social media.
While we can't cover the entire process of creating an SEO strategy in this post, the key is to conduct keyword research and decide which search terms you want to rank for. We also recommend using a plugin such as Yoast SEO on your WordPress site:
This freemium plugin can be incredibly helpful for optimizing the pages and posts on your site and learning SEO best practices. It provides easy-to-follow suggestions right in your WordPress editor.
Social media can also help boost search engine visibility and fuel your SEO strategy. This is why we suggest integrating your social accounts with your WordPress site.
When moving your business online, social media can also be helpful for customer support purposes. Regularly sharing content and engaging with followers can help build brand awareness, promote trust and transparency, and generally strengthen your online presence.
Conclusion
If you're used to traditional brick-and-mortar operations, the thought of transitioning to a digital environment can be daunting. However, while it may involve a bit of a learning curve and an adjustment period, moving your business online is possible.
In this post, we discussed five tips you can use for moving your business to an online environment:
Establish clear communication with your team and customers.
Build a website with quality hosting.
Update your Google My Business profile.
Invest in a reliable project management tool.
Strengthen your SEO and social media strategies.
Do you have any questions about how to move your business online? Let us know in the comments section below!
The post 5 Tips for Moving Your Business Online appeared first on Torque.