Black Friday is just around the corner, which means consumers are gearing up for some holiday shopping. E-commerce shopping rates are at their highest from Black Friday through Cyber Monday. If you don't prepare your site, you may miss out on this surge in spending.
This time of year is for giving thanks. As an e-commerce site manager, one of the best things to feel thankful for is a website that can handle a sudden spike in traffic, as well as any security threats. With the right maintenance and security preparation, you'll be able to do both.
In this post, we'll cover some of the most common issues the holidays bring to e-commerce sites. Then we'll walk you through four ways to prepare your WordPress site for Black Friday. Let's get started!
What Black Friday Means for E-Commerce Sites
There is a particular set of concerns that e-commerce sites often deal with during Black Friday. While a surge in site traffic can be beneficial for business, if your site isn't properly secured, maintained, and optimized, you could run into some problems.
Long loading times, for example, can lead to higher bounce rates. Similarly, if there are issues that cause error messages or checkout inefficiencies, that may lead to more shopping cart abandonment.
You may assume that your site's speed is currently up to par, and maybe it is. However, are you taking into account how it would perform if your traffic suddenly doubled?
Another risk to prepare for is increased cybercriminal activity. Sites inundated with traffic can make it easier for hackers to move about undetected. Since they know that this is a time of year when many people share their credit card details online, e-commerce sites are particularly alluring to cybercriminals.
4 Ways to Prepare a WordPress Website for Black Friday
While focusing on Black Friday promotions and sales is essential, tending to the back-end operations of your storefront is also a necessity. After all, awesome deals won't matter much if a customer can't access your site. Let's take a look at four ways to prepare your WordPress website for Black Friday.
1. Test Your Site's Loading Capacity and Increase Its Bandwidth If Needed
Black Friday could be your site's busiest time of year. However, this also makes it the worst day for it to crash (and one of the most likely).
To prevent this, it's critical to make sure your hosting plan is capable of handling the strain of extra traffic. This is particularly important for sites running on shared hosting. All it takes is for one site on the server to overload before the rest shut down.
You may want to look into your site's current bandwidth and consider upgrading. Remember, it's better to be safe than sorry! It's also a smart idea to test your site's load capacity, which you can do with a solution such as Load Impact: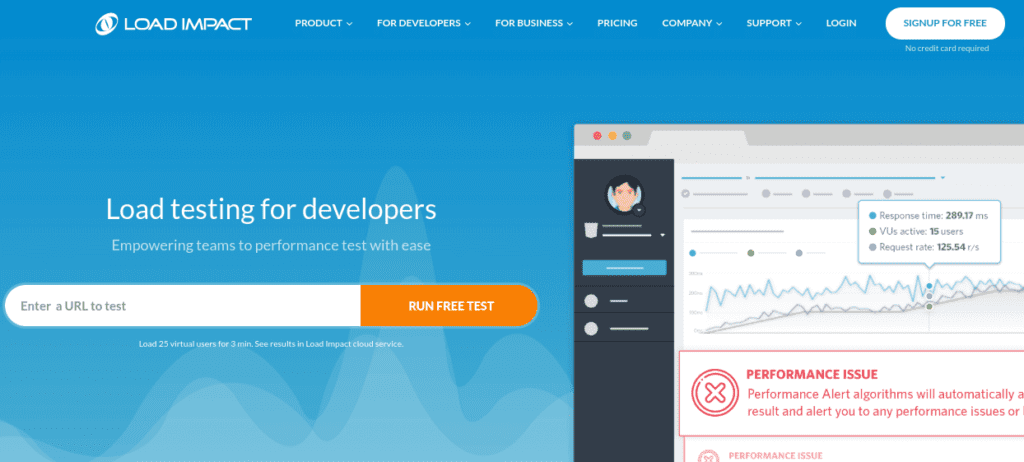 This tool is free, quick, and easy to use. After you enter your URL, it will automatically test your site and alert you about any performance issues. You can use this insight to determine whether it's time to upgrade your hosting plan.
2. Check the Performance of Mobile Contact and Checkout Features
Another important aspect to address in preparation for Black Friday is your website's mobile performance. Today, many consumers do most of their online shopping from mobile devices. So it's crucial to make sure the site's mobile contact forms and checkout features are performing well.
However, using the latest versions of these systems may not be enough. You can also consider checking the mobile performance of your site using a tool such as Google PageSpeed Insights:

To use this free tool, simply enter a URL for one of your store's pages, and click on Analyze. This will bring you to the analysis results page, where you can toggle between mobile and desktop views.
PageSpeed Insights will generate a list of diagnostics and opportunities for performance improvements. For example, one common source of poor performance stems from images. Therefore, you may want to consider optimizing images to increase the speed of your store pages.
3. Secure Your Payment Gateways and Forms
While consumers are shopping on your site, you don't want hackers shopping for their personal and payment details. There many ways cybercriminals can obtain that kind of information.
One increasingly popular method is through 'formjacking attacks.' This is when a hacker injects malicious JavaScript code into a form on a web page, such as a checkout page, in order to steal credit card information. You could liken it to the e-commerce version of thieves using 'skimming' devices on ATMs.
There are a few measures you can take to help protect your customers' information. The first is to make sure you keep all plugins and themes updated. This can help patch security vulnerabilities hackers might otherwise exploit.
It's also a smart idea to add a Secure Sockets Layer (SSL) Certificate to your site if you haven't already. An SSL certificate adds a layer of secure encryption to your site to protect any information consumers want to share. You can visit your hosting provider for specific instructions on how to add one to your site.
Sites with SSL protection will often have a padlock or other icon next to the URL name. If you're unsure, you can check by using a tool such as SSL Shopper:

This checker is free to use. Plus, it will quickly diagnose any issues that may be present with your SSL installation and status.
We also recommend using secure payment gateways such as Stripe. You'll want to focus on payment options that support Strong Customer Authentication (SCA) compliance, and include features to detect and prevent fraud.
4. Have a Disaster Recovery Plan in Place (Just In Case)
Hopefully, taking the preventative measures mentioned above should leave your site secure and functioning properly during Black Friday. Unfortunately, you never know what could happen, so it's always best to prepare for the worst.
In the event that your site does go down or gets attacked, it will be a relief to know that you have an offsite backup to restore. There are a couple of ways you can back up your site.
One method is to go through your hosting provider. Another is to use a WordPress plugin such as UpdraftPlus:

This tool lets you create an automatic backup schedule. You can also choose from a variety of storage options, including Google Drive, Dropbox, or your computer.
As an added safety precaution, you may also want to consider using a Content Delivery Network (CDN). A CDN can make your server more resilient to traffic spikes, and improve loading times.
Conclusion
Black Friday is fast approaching. It's an exciting time of year for e-commerce businesses. However, it's important to keep in mind that both shoppers and hackers tend to flood online stores around the holidays.
As we discussed in this article, there are four main ways you can prepare a WordPress site for Black Friday:
Test your site's loading capacity and increase its bandwidth if needed.
Check the performance of the mobile site's contact and checkout features.
Secure payment gateways and customer forms.
Have a disaster recovery plan in place (just in case).
Do you have any questions about preparing your WordPress site for Black Friday? Let us know in the comments section below!
Image credit: Pexels.
The post 4 Ways to Prepare a WordPress Website for Black Friday appeared first on Torque.