Ask any SEO expert to recommend an analytics tool and chances are their go-to solution is Google's. Many aren't even aware of Google Analytics
alternatives.
It makes a lot of sense. SEOs judge their success by Google SERP rankings, so why not go with the official tool?
However, there are good reasons to reconsider. The first is privacy. Google Analytics is gathering a lot of data about your users. If that is not something you agree with, then going with a competitor who is more conscious about this topic makes a lot of sense.
Alternatively, you may want to track data that the popular analytics suite just doesn't provide. Or, you may find the user interface overwhelming and are looking for something simpler.
Any of these are good reasons to search for alternatives to Google Analytics and in the following, you will find a whole bunch of them. Let's get started.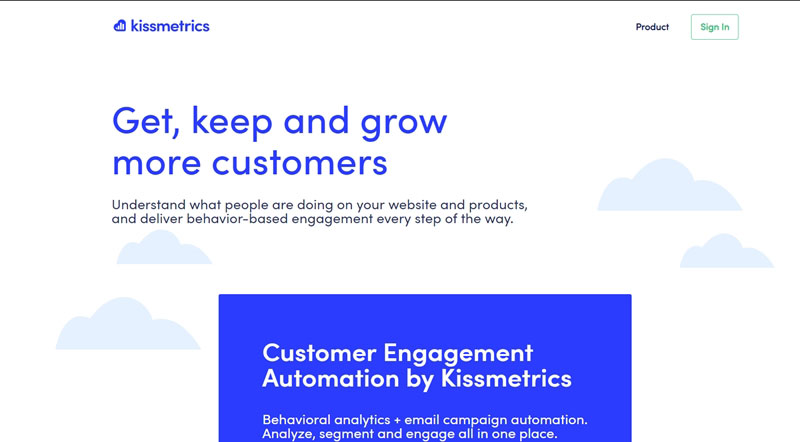 First up is Kissmetrics. This solution focuses on customers rather than mere page views. It allows you to learn more about who they are and what they do on your site. Kissmetrics lets you track their actions, activities, and how they navigate your pages.
Why Kissmetrics?
With this Google Analytics alternative, you can see the customer journey on your site. It even allows you to identify users, which makes conversions a lot easier.
In addition, Kissmetrics lets you pick what data matters most to you. By default, Google Analytics chooses the metrics you see by itself. With its competitor, you determine what's important to you and access it via a nice interface.
The offering is rounded off by additional features like split tests and data segmentation. Kissmetrics also integrates with your sales and email campaigns, allowing you to optimize your site for profits. The painless integration process is another plus.
Verdict
Kissmetrics is best for businesses who want to go beyond vanity metrics and understand their client base better on an individual level. However, there is no pricing information available, so it's hard to say what financial impact it will have.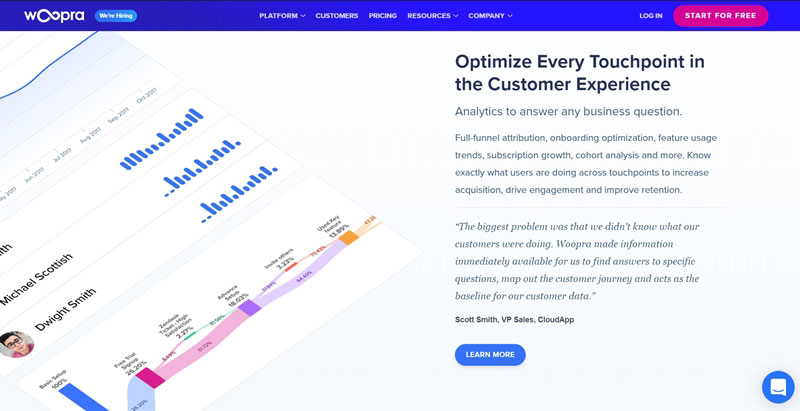 This analytics tool is similar to our first contender in that it also focuses on tracking the user journey and actions in real-time. By doing so, it allows you to create a behavioral profile of your customers.
Why Woopra?
Woopra follows your audience from the moment they land on your sites to the time they leave. Unlike Google Analytics, it monitors and reports only real-time visitor activities instead of using a sampling window. It can also do so across multiple devices, browsers, and operating systems.
With the data the tool provides, you can identify obstacles in the customer journey and take steps to eliminate them. Woopra helps you do so with data segmentation, reports for trends, cohorts, and retention as well as behavioral segmentation.
It also provides collaboration features, live chat, CRM functionality, integrates with third-party software and a whole lot more.
Verdict
Businesses in need of accurate and live user tracking tools are better off with Woopra. Be aware, however, that this is a highly specialized software made for enterprise needs.
This fact is also reflected in the price point. It's free for 500,000 actions, 90-day data retention, and core analytics features. After that, the price tag is $999/month, so not a solution for small business.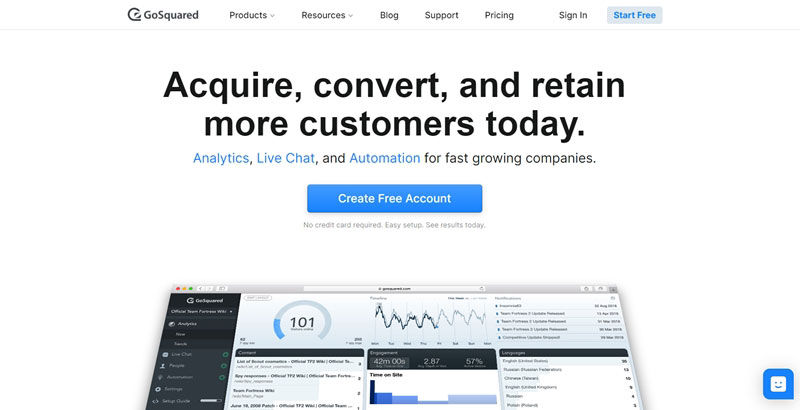 This next tool provides insights into your customer and visitor behavior for both websites and mobile applications. You can use it to acquire leads, build products, and improve your site. There is also a WordPress plugin for easy integration.
Why GoSquared?
GoSquared does not only provide web analytics but also live chat and a customer data hub. However, only the first two are available for free up to a point.
This Google Analytics alternative lets you see how users interact with your site in real-time, usage trends, and e-commerce analytics. You can also customize your GoSquard account to show you what matters most to you. Furthermore, its personalization feature helps you analyze and tweak your funnels on a per-customer basis.
Finally, the analytics suite is fully GDPR compliant and made for privacy. In times of increased customer sensitivity toward these topics, that is an important feature.
Verdict
GoSquared is particularly great for turning loads of data into insightful and straightforward information. Their analytics are free up to 1,000 monthly page views, after that plans start at £29/month, about $37.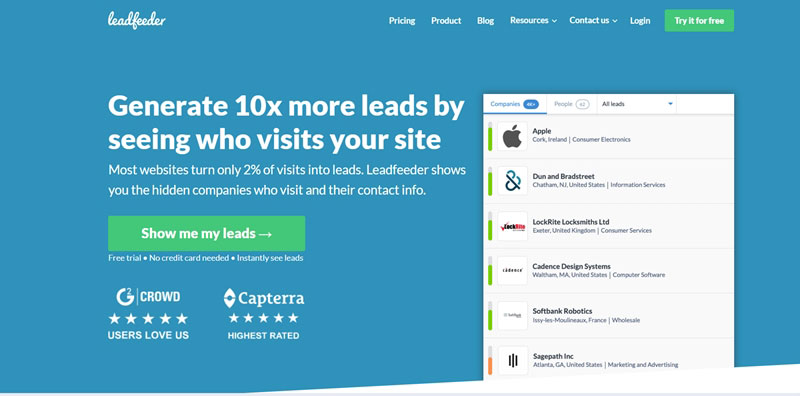 Leadfeeder is a hybrid tool that integrates your sales data with your web analytics to provide more detailed lead information. The tool is pretty unique as it is not so much an alternative to Google Analytics but an enhancement. To use LeadFeeder, you must first connect it with the Google service.
Why LeadFeeder?
LeadFeeder's sales integration feature makes it stand out. It literally shows which businesses are visiting your site, the pages they view, where they are coming from and how to contact them.
The tool also integrates with many CRM tools, so you can take action right away. This information is especially useful for B2B companies seeking to improve the relationship between their sales and traffic.
Verdict
In short, if you are looking for Google Analytics alternatives for B2B purposes, LeadFeeder is your answer. You can use it for free to view the last seven days of site activity and a maximum of 100 leads. For more, pricing starts at 53€/month (ca. $60)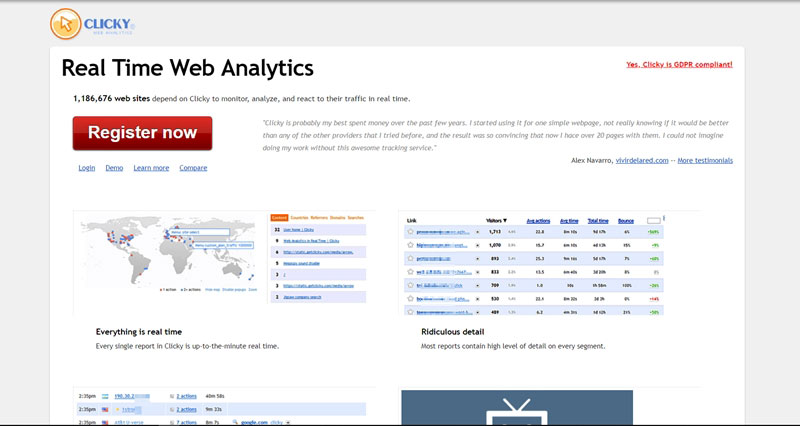 Clicky is a lightweight but powerful web analytics tool for monitoring your website traffic and user behavior. It provides both traffic data and content analysis and has a WordPress plugin that makes setup easier.
Why Clicky?
The name of this tool comes from the fact that it provides heat maps that let you visualize your user's mouse activity. The tracking information happens in real-time and is captured down to the last minute.
The solution also provides a reliable means to identify and personalize your customer data for better insight. That way, you know what individual users do on your site.
Clicky is flexible and lets you decide on the data that you want to track. The user interface is clean and straightforward, although it could use a design update. It also complies with GDPR rules.
The tool is free to use for basic analytics but to use heat maps, split testing, goal tracking, uptime monitoring and more, you will need to get the premium version.
Verdict
To sum up, Clicky is excellent for users who want a simple way to track their customer behavior. Its lightweight nature also means your site speed remains intact. The tool is free up to 3,000 daily page views, after that, it's starting at $9.99/month (or $79.99/year).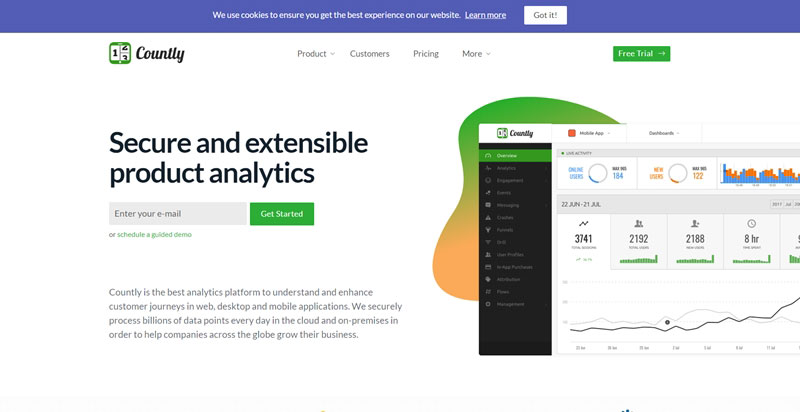 Countly is a secure, robust web analytics software for monitoring and understanding user journeys and interaction on sites, mobile applications, and software. It comes both as a self-hosted and enterprise cloud version.
Why Countly?
The free version of Countly gives you basic analytics, custom event tracking, the ability to send push notifications and more.
In the paid version you get user profiles, advanced segmentation, custom dashboards as well as event and view flows. Countly can also infer your customer lifetime value in order to improve your marketing funnels. In addition, it offers many integrations to further improve its features.
Verdict
This tool is a powerful solution that offers different data and event-capture functionalities. It's state of the art and lets you understand what's going on without sifting through masses of data. Prices for the cloud version are only available on contact.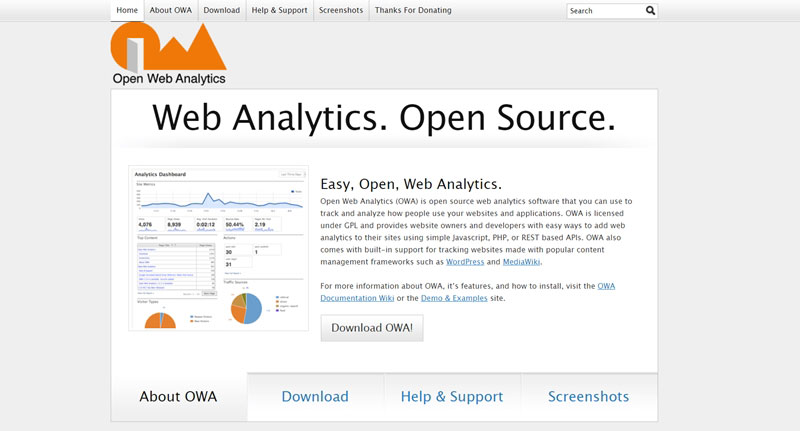 Here we have an open-source solution for tracking customer visits, behavior, and events on websites. The tool supports WordPress and is self-hosted. That means, in order to use it, you need to install OWA on your site first.
Why Open Web Analytics?
Open Web Analytics is one of the most popular Google Analytics alternatives. It's wholly open-source and developed by a community of marketers and software engineers. As a consequence, just like WordPress, you don't need to pay to use it.
The tool also provides excellent tracking abilities including.
Cursor activity via heat maps
Click streams
Pageviews
E-commerce transactions
Conversions
Site referral
Content reports
Visitor reports
Feed requests, subscriptions and readers
Custom site actions you created
You can find more features on the Github page. Open Web Analytics is also lightweight so it won't hog your website's resources or impact the user experience. Like other candidates, it could do with a design update.
Verdict
For SMEs who need a free tracking solution without the privacy concerns of Google Analytics, this is probably the best bet. In addition to providing rich data for analysis, it also allows you to select and optimize them at will. You just need the technical skills to set it up.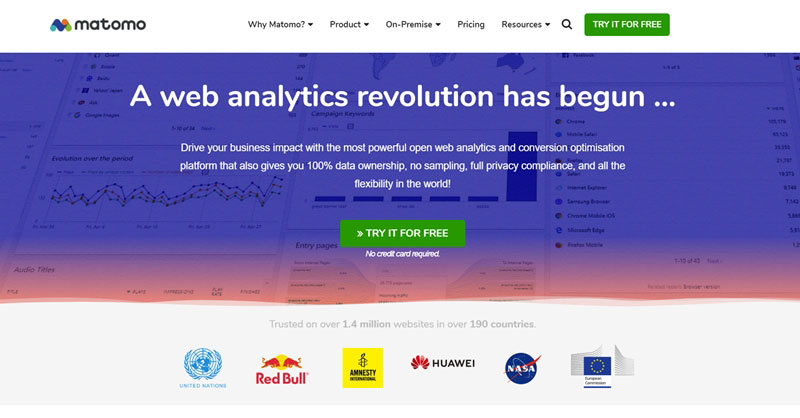 Formerly known as Piwik, this analytics tool allows you to track users, events, clicks, and interactions on your website or mobile application via API. It is available as a downloadable, open-source version as well as a paid cloud solution. There is a WordPress plugin that helps you connect it to your site.
Why Matomo?
Matomo is ideal for webmasters looking for a visual experience. It uses real data, not information based on extrapolation or similar, and displays it beautifully.
Matomo has a strong focus on data privacy. You retain complete ownership of your information and the tool is GDPR compliant.
Aside from that, the customizable interface can show you reports on your visitors as well as performance in search engines and keywords.
The cloud version of Matomo features heat maps and connects to third-party reporting and analytics tools. It also comes with A/B testing, monitoring, and lead funnel optimization.
If you want any of these features for the self-hosted version, you can book them via the marketplace.
Verdict
Matomo is able to completely replace Google Analytics as a privacy-friendly alternative. Yet, you need the technical skills to implement it unless going for Matomo Cloud. It's free for basic features, pro features start at 19€/year, cloud starts at 19€/month (that's about $22).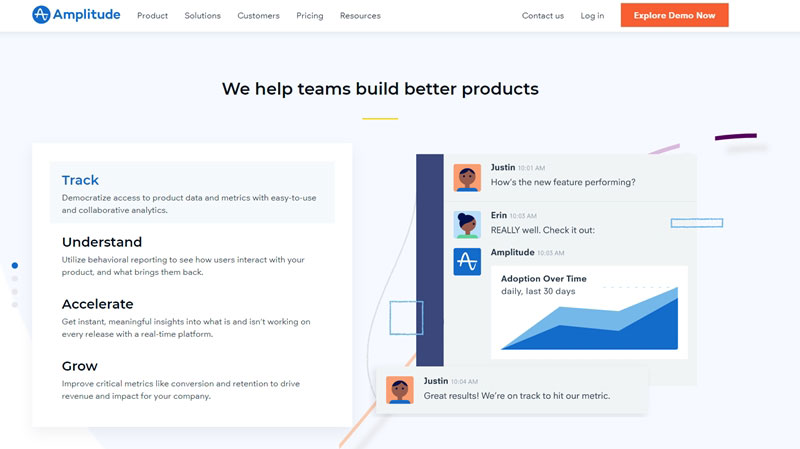 Amplitude lets you track, analyze and draw insights from user data, events, and activities on your website or product application. The is an enterprise-level tool and is used by top companies like PayPal, Microsoft, and Twitter.
Why Amplitude?
Amplitude provides data on the entire customer journey within your website in real-time. The tool syncs your data from different devices while identifying and categorizing user behavior intelligently. It also provides a rich, intuitive dashboard that shows in-depth insights gleaned from customer data.
Verdict
Amplitude is one of the most viable Google Analytics alternatives. The tool captures enormous datasets, but unlike Google's solution, it manages to condense them into insightful and relevant data. It is free for basic features and you need to get in touch for pro plans.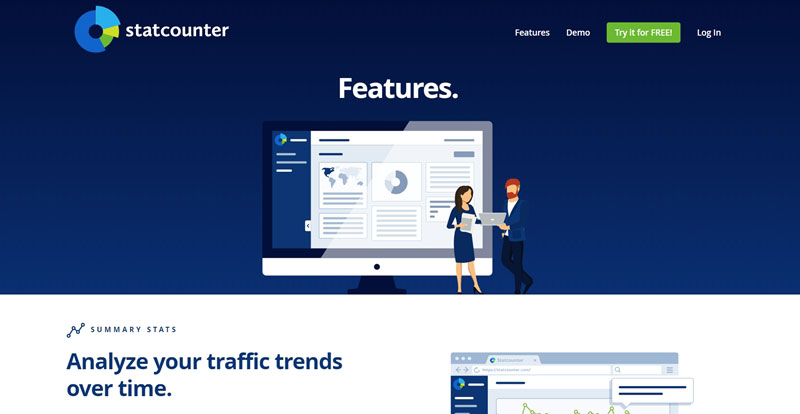 This is a lightweight analytics tool that lets small websites and apps track their user information.
Why StatCounter?
The Google Analytics competitor comes with the usual stuff like pageviews, sessions, visitors, etc. It also provides Google keyword data and individual visitor tracking.
StatCounter is excellent at detecting fraudulent clicks and robot visits. That way, you don't end up with a bunch of useless data. It can do the same for your ads.
In addition, the tool is very lightweight and will have minimal impact on your site's resources. Its dashboard makes information easy to understand and the package is rounded off by lead generation features.
Verdict
Small websites and e-commerce stores looking to improve their leads should consider this tool. It manages to successfully curate and compile only the necessary information that you'll need to make business decisions. StatCounter is free up to 500 logs, after that it's starting at 7€/month ($8), less if you pay yearly or quarterly.
Wrapping Up: Google Analytics Alternatives
No doubt, Google Analytics is a behemoth in the SEO and content marketing space. However, there are still good reasons to look for alternatives. These include data privacy, visualization options or access to data Google doesn't provide.
Above, we have introduced you to a healthy number of alternative solutions. Hopefully, by now, you feel confident in trying out one or two of them. Whichever option you choose, we hope it has a positive impact on your site and business.
What is your favorite Google Analytics alternative? Anything to add to the list? Let us know in the comments section below.
The post 10 Excellent Google Analytics Alternatives You Should Check Out (2019) appeared first on Torque.