Unless you're brand new to WordPress, chances are you've heard about the platform's new editor. It's obviously here to stay, but what's less clear is whether it's the right choice for every website.
The 'Block Editor' is hardly based on a new concept. It uses the same basic design and elements that popular page builder plugins have been relying on for years. This means even though it's now a default feature, the Block Editor has well-established competition.
In this post, we'll take a brief look at the history of the Block Editor and where it is now. Then we'll discuss how it compares to a traditional WordPress page builder. Let's jump right in!
A Brief History of the Block Editor

The WordPress platform has been around for over 16 years now. For all of this time, the editor used to create content has looked much the same. This changed just a few months ago, with the introduction of the brand-new Block Editor: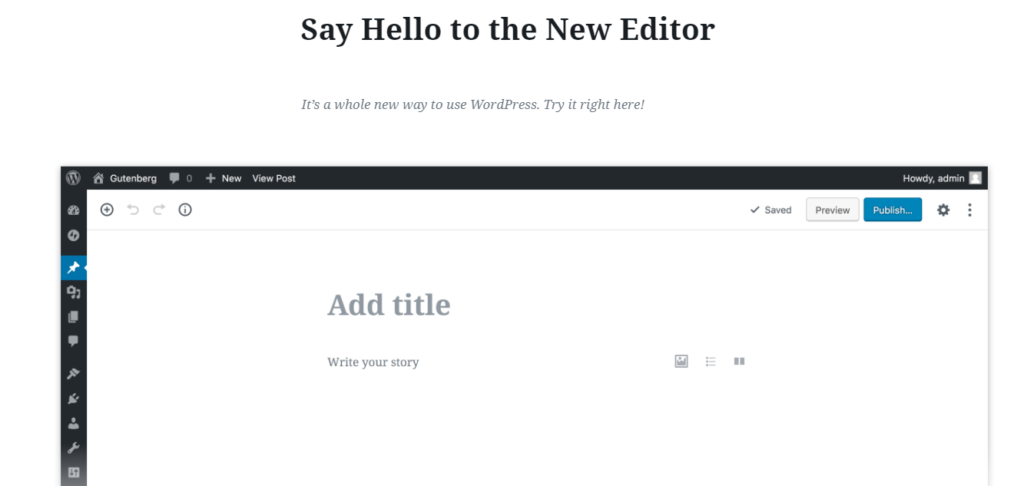 WordPress' developers have been hard at work since the editor's release, responding to feedback and making tweaks to improve its functionality. As a result, the Block Editor is in a better state now than it was at launch. Does this mean it's time to make the switch, if you haven't already? Your answer to this question will depend a lot on your needs, and whether a different kind of tool would serve you better.
What the Block Editor Has in Common with Page Builders

At its foundation, the new editor is a 'drag-and-drop page builder'. It provides you with a library of elements to choose from, each one designed to hold a specific type of content (such as text, images, headings, lists, and more). You can place these 'blocks' almost anywhere on the page, then customize them: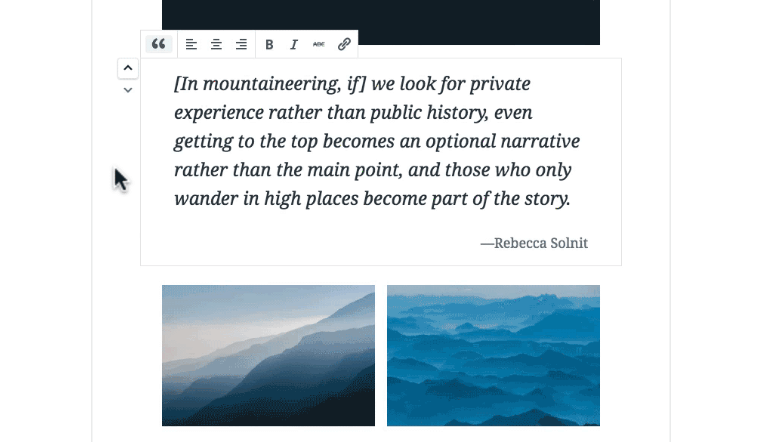 This method enables you to build web content, piece by piece. Of course, this isn't a new idea. Many of WordPress' competitors, such as Wix and Squarespace, have been using similar systems for a while now.
In addition, there are many WordPress plugins you can use to add a drag-and-drop editor to your site. These are called 'page builders', and they have a number of benefits in common:
It's easier to create well-designed content without the need for coding knowledge.
You have more flexibility over your content's look and layout than you did with the old, (or so-called 'Classic') WordPress editor.
You'll often have access to more built-in features, such as tables, galleries, and accordion menus (to name a few).
However, not all page builders are created equal. Let's now discuss why using the new Block Editor isn't the same experience you'd have with a plugin-based editor.
How the Block Editor Differs from WordPress Page Builder Plugins

There are two chief benefits to the WordPress Block Editor. First, it's built-in, so you don't have to go looking for a third-party tool. This helps WordPress compete with other 'website builders', as it offers new users a more complete all-in-one package.
In addition, the Block Editor is a very simplified and streamlined drag-and-drop builder. It offers a decent selection of elements, but avoids overwhelming users with either a large library or including complex functionality.
Compared to page builders generally, the Block Editor is simple to use. It has a shallow learning curve, and provides the bare essentials needed to create attractive pages and posts.
However, those same strengths can also be weaknesses. The Block Editor's simplicity means it offers less when compared to long-standing, established page builders. Its flexibility and potential for customization are limited. If you're looking to create unique and complex designs, it's likely that you'll find those limitations frustrating.
What the Block Editor Lacks (And Page Builder Plugins Can Provide)

So far, we've described the differences between the Block Editor and other page builders in a general sense. To explain why page builder plugins are still very relevant, let's discuss some specifics.
Here are some of the areas where the Block Editor is lacking, and where page builders can make up the difference:
Selection of elements. Depending on the page builder, the pieces you'll use to build content might be called 'blocks', modules, 'elements', or something else entirely. Either way, the Block Editor only includes a few dozen options. You can add more via additional plugins, but a well-designed page builder offers a much larger library to choose from.
Element customization options. In the Block Editor, each 'block' has a small selection of customization settings. For example, a text block lets you change the font's type and size. If you need more options, you'll have to seek out an external tool.
Flexibility in layout. The Block Editor currently includes a very basic beta feature for creating multi-column content. If you want to create pages and posts beyond a very simple layout, you'll struggle to do so. A page builder plugin enables you to create custom layouts of rows and columns, with the ability to fine-tune each element's placement, size, padding, and more.
Usability throughout your site. With the Block Editor, you can use the drag-and-drop system to create pages, posts, and custom post types (such as WooCommerce products). This is a great start but can mean your content doesn't mesh well with the rest of your site. In contrast, some established page builders let you apply this system to create your headers, footers, sidebars, and other key parts of your site.
Beaver Builder makes for a perfect case study, as it's one of the most popular and well-known WordPress page builders. It offers access to an interface that's arguably more fleshed-out and user-friendly than the Block Editor:
You also get an impressive library of modules, along with full-page templates, and each has many customization options:
Crucially, this plugin includes dedicated row and column settings, enabling you to create a custom layout:
You can even save your created layouts as templates, and use them across your site. This means you don't have to create the same designs over and over again.
These are just a few of the features you can get access to with a page builder plugin. However, they're enough to demonstrate the power these tools can offer over WordPress' default editor.
How to Decide Whether to Use the Block Editor or a Page Builder

Of course, the news isn't all bad for the Block Editor. While it's lacking in comparison to similar solutions, you'll find the Block Editor to be ideal if:
You're running a simple site that doesn't need a fancy design. If you don't intend to customize your content much, the Block Editor can be sufficient to give you what you need.
You're brand-new to WordPress, and you want to start small. The Block Editor is streamlined, so it can be an excellent introduction to how drag-and-drop systems work. Once you're more comfortable, and your needs change, you can always upgrade to a page builder plugin later on.
You don't want to add a new plugin to your site. Each plugin you install has an impact on your site's performance, and page builders can be comparatively 'heavy'. As a built-in feature, the Block Editor won't require an extra install.
On the other hand, you may prefer to use a page builder plugin if:
You have a specific vision for your site's design. Page builders can help you avoid the 'cookie-cutter' look, and create something unique and perfectly-suited to your needs and audience.
You're looking to implement specific features. If you want to add features to your content that the Block Editor lacks (such as media carousels and subscription forms), a page builder will usually include them out of the box.
You're already using a page builder plugin. For those already using a solution like Beaver Builder to create content, it's not a great idea to switch over to the Block Editor. Not only will you be faced with a smaller feature set, but you may struggle to make your old and new content look consistent.
If you're running a small personal site, such as a blog or portfolio, the Block Editor can be a useful tool. For branded business sites, e-commerce stores, and the like, you'll find that page builder plugins haven't lost any of their relevance.
Conclusion

The Block Editor is an important step forward for WordPress. Drag-and-drop builders have proven so popular that they're nearly ubiquitous, and the new editor brings this functionality into the core WordPress platform.
The reality is that the Block Editor hasn't replaced any existing drag-and-drop solutions. With a WordPress page builder plugin, you can get access to a lot more pre-built elements, extended customization options, a better user interface, and more. In other words, the Block Editor is a new option worth considering, but it's hardly made page builder plugins irrelevant.
What's your favorite tool for creating WordPress content, and why? Share your thoughts in the comments section below!
Image credit: jarmoluk.
The post Are WordPress Page Builders Still Relevant in the Post-Gutenberg World? appeared first on Torque.