If you're planning to use your WordPress website to promote events, you'll need a dedicated tool. WordPress doesn't offer event registration functionality by default, nor does it easily enable you to sell tickets and track attendance.
Fortunately, there are plenty of tools that can get the job done. Of course, not every event registration solution offers the same features, and each one's focus and pricing model is unique. This means you'll want to do some careful research to determine which tool is the best choice for your site.
In this post, we'll explain what you should be looking for in an event registration and ticketing solution. We'll then introduce six tools you might want to check out and discuss each one's key features and pricing. Let's jump right in!
Why You Might Need an Event Registration Solution (And What to Look For)
A website is an excellent way to promote events – whether that's small local occasions or large-scale happenings. If you only need to promote a single one-off event, you probably only need to create a dedicated page that contains all pertinent information.
However, if you need to feature events on your site regularly, you'd most likely benefit from more features than WordPress provides by default. While you can use these standard WordPress pages to list event details such as times, dates, and itineraries, you won't be able to do much else.
That's a shame because your website can help you do much more than share basic information about your events. For instance, you can sell tickets and registrations, track attendance, and much more. This requires the right tools, such as a dedicated events solution that can help you with online event registrations.
This kind of tool can come in many forms and provide a range of functionality. Most importantly, it enables you to:
List all of the pertinent information about your events.
Sell registrations and tickets directly, via multiple payment options.
Manage your events and track attendance.
It's also worth noting that, as a WordPress user, you have two main options. You can use a hosted events service that will let you integrate its features with your site, or you can install a dedicated plugin. Both approaches have their pros and cons, which we'll take a look at as we discuss each individual solution.
6 of the Best Event Registration and Ticketing Solutions for WordPress
Online event registration and ticketing features are popular, so there are plenty of options out there. To help you jump-start your search, let's take a look at six of the top solutions. By the end, you should have a much clearer idea of which tool may be the right fit for your own site. Let's start from the top!

First up, Eventbrite is a popular hosted solution. When you create an event using this website, it will be given its own listing page. If you want to feature the event on your own website, you'll need to embed a simple checkout form by copying and pasting some code.
Key Features:
Create full listing pages for each of your events.
Enable visitors to register and purchase tickets.
Monitor and promote your event using a dedicated app.
Keep track of sales via built-in analytics options.
Pricing:
Eventbrite's lowest pricing tier costs 2% + $0.79 per ticket sold but comes with some restrictions. If you want the full range of features, you'll need the Professional plan, which will cost you 3.5% + $1.59 per ticket sold.
Recommended For:
Eventbrite is quick to get started with and lets you promote your events to a wide audience. However, it can get costly, especially if you sell a lot of tickets. For those reasons, Eventbrite is best suited if you only occasionally need to list events, and you're primarily promoting free events.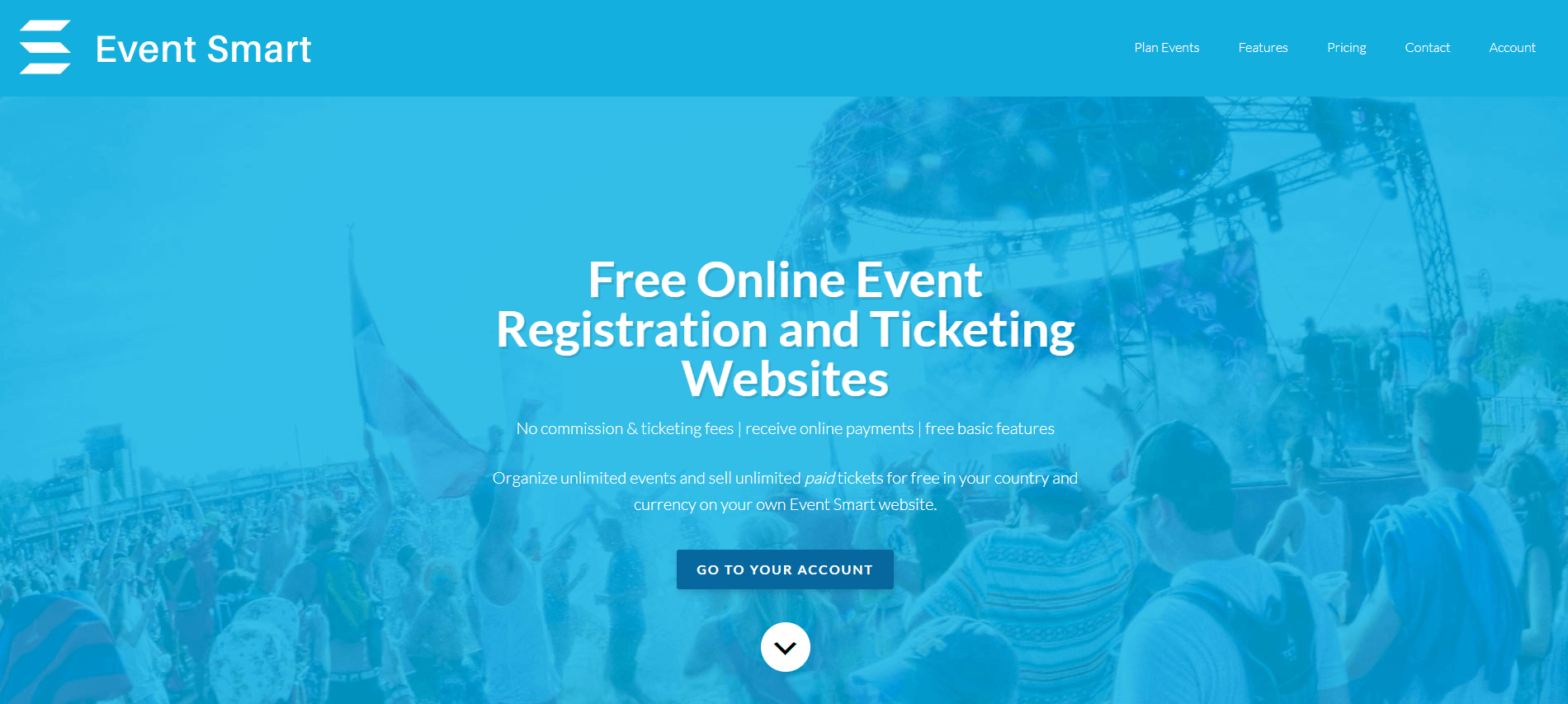 In a way, Event Smart is the best of both worlds. It's hosted event registration and ticketing software, which means you can get started quickly and don't need to worry about managing your website. At the same time, you get access to a lot of functionality and customization options.
Key Features:
Get access to a pre-installed WordPress site that you can customize.
Create and organize unlimited events.
Set pricing options and accept payments through your site.
Manage events easily with mobile check-in and ticket scanning apps.
Pricing:
Event Smart offers various pricing options, so you can customize your experience. You can list events and accept online registrations for free events at no cost with its Basic free plan. If you need to accept payments for your registrations, you can add a payment feature for just $10 per month. Or you can purchase a higher-tier plan with advanced functionality. There's also a large library of upgrades, so you can pick and choose the features you want.
Recommended For:
Event Smart is great if you want to run a dedicated events website, and avoid the hassle of hosting and maintaining it yourself. Plus, its plans and extensions let you customize your solution, which is useful if you need a specific set of features.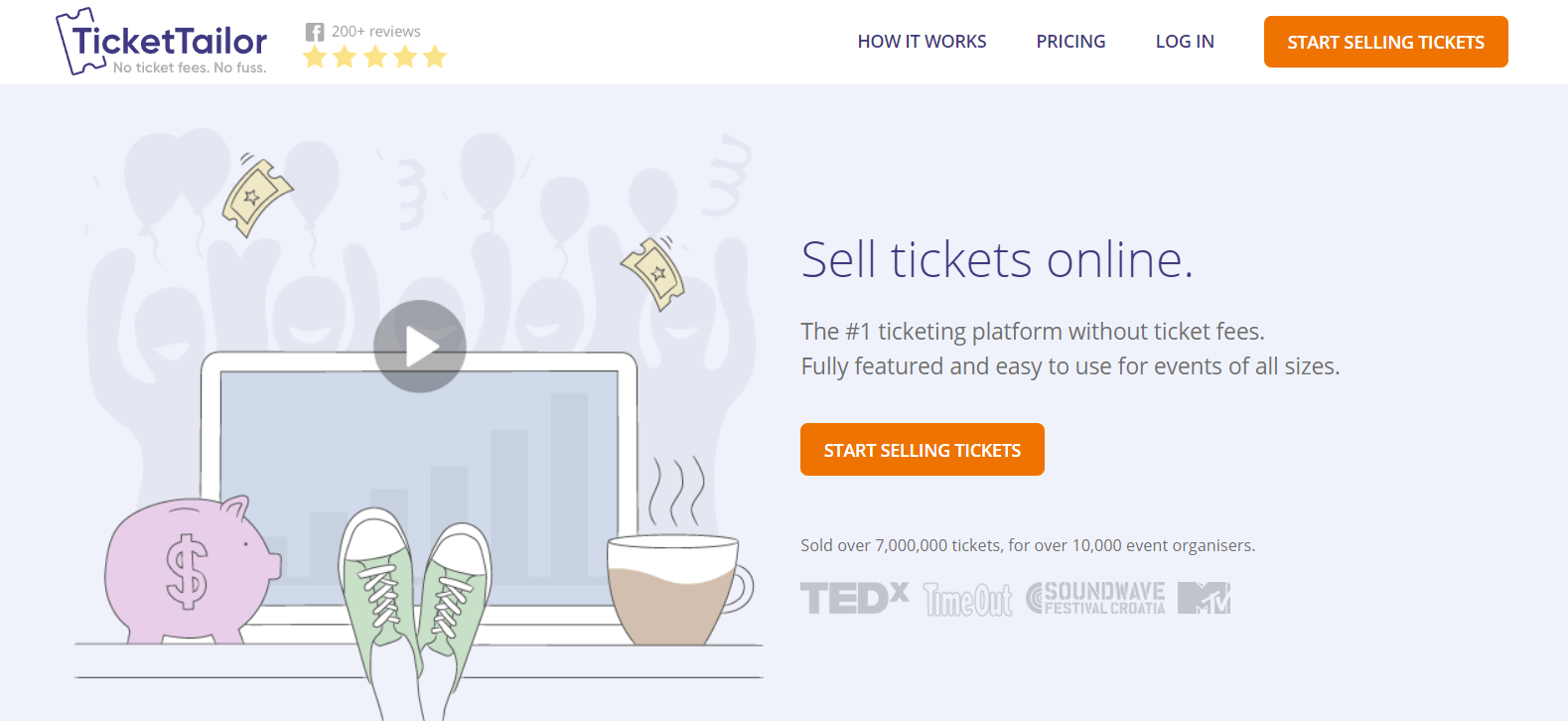 Next, TicketTailor is another hosted solution. With this, you can create your events and run them through the platform's 'box office' feature. Alternately, you can feature them on a Facebook page, or integrate them with your WordPress website using an official plugin.
Key Features:
Create events through a dedicated control panel.
Customize your 'box office' branding and design.
Track sales, links, and other analytics.
Enable ticket payments through debit, credit, and PayPal.
Pricing:
TicketTailor charges a flat fee for the use of its service. The lowest tier is $25 per month, which supports 250 ticket sales per event. Higher tiers permit more sales, and enable you hide the TicketTailor branding.
Recommended For:
While the monthly fees can add up, TicketTailor's pricing structure can be more affordable than a per-ticket charge if you run a lot of events. This is also a handy solution if you're looking to promote events primarily through Facebook.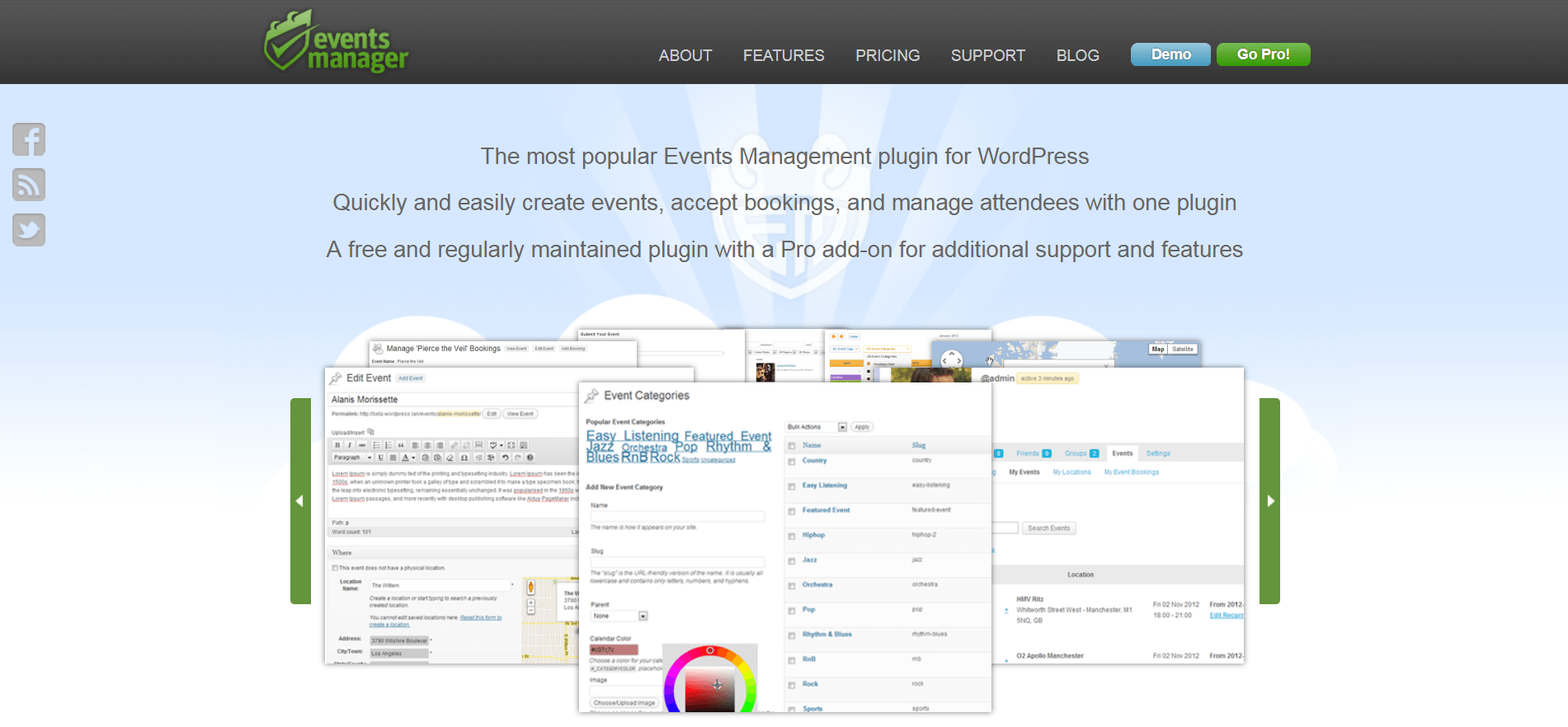 Events Manager is the first WordPress-specific solution on our list. This plugin comes in free and premium versions, both of which let you manage events right from your website. While it won't host your events for you, it provides a lot more tools to help you promote and run them yourself.
Key Features:
Set up both one-time and recurring events.
Organize your events by categories and attributes.
Enable visitors to register, and track bookings.
Use custom widgets to display event locations, calendars, and more.
Pricing:
The free version of Events Manager includes the features listed above. The pro version costs $75 for one site, and offers additional functionality, such as the ability to process payments via PayPal, Authorize.net, and offline methods.
Recommended For:
This plugin is useful if you want to manage everything about your events on your own website. It also provides a wide range of options for customizing, organizing, and displaying each event.

Next, let's look at a tool with a very specific use case. As the name suggests, Tickets for WooCommerce is an extension for the popular WooCommerce plugin, and lets you sell tickets on your e-commerce website.
Key Features:
Lets you sell tickets directly on your WooCommerce site.
Enables you to add event sales to posts, pages, and other content types.
Provides attendee tracking and ticket management features.
Is compatible with multisite setups.
Pricing:
Since this is a third-party add-on, you'll need to purchase it from the Events Tickets Plus website. A one-site license will cost you $89, with no additional fees.
Recommended For:
If you're already using WooCommerce, this plugin can be a valuable addition to your website. It's particularly relevant if you plan to sell tickets to events alongside other products and services.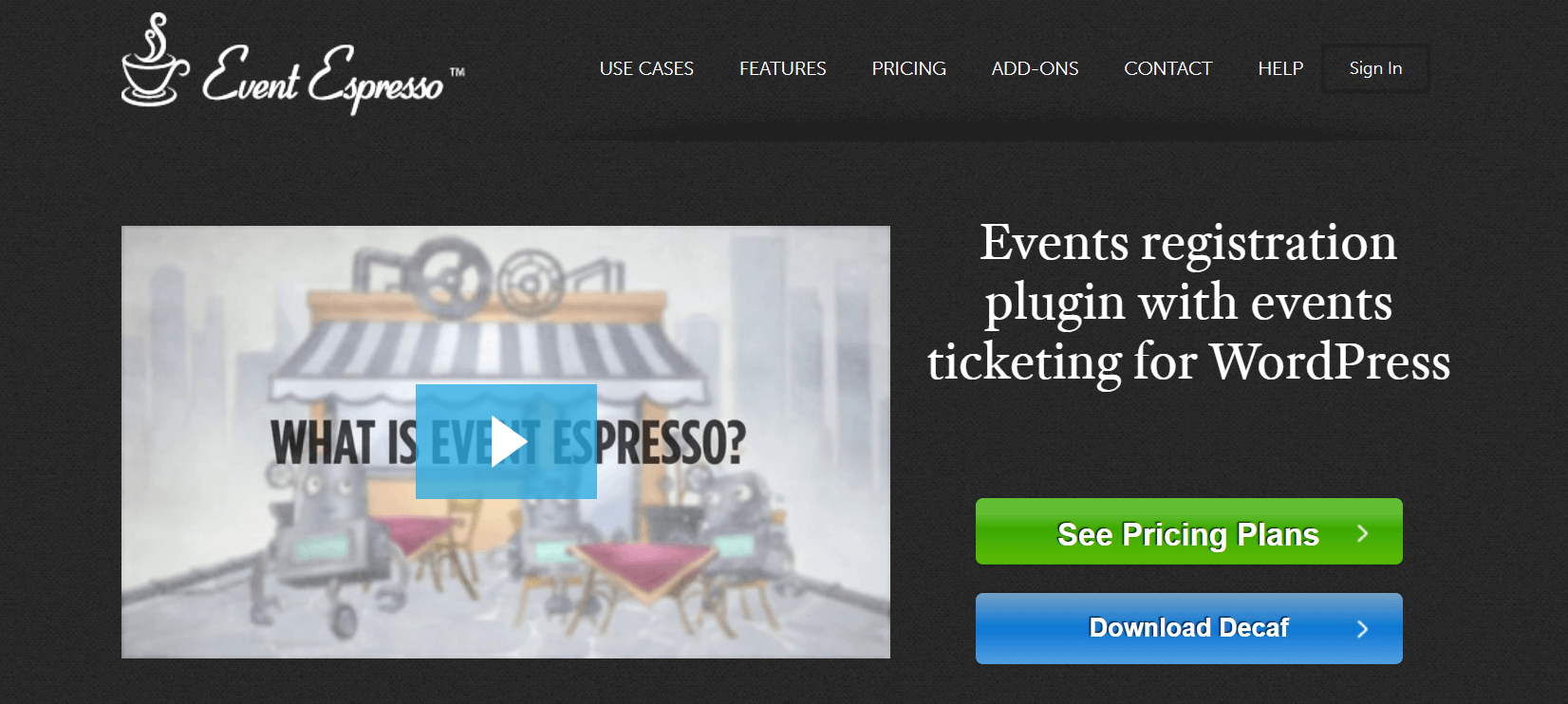 Event Espresso is also a WordPress plugin, designed to add a complete event registration and ticketing system to your website. With it, you can manage just about any type of event, collect information, sell tickets, manage registrations, and much more.
Key Features:
Lets you create events to feature on your WordPress website.
Enables quick payments via PayPal, Stripe, and many other popular payment options.
Sends automated confirmation emails to notify you of sales and registrations.
Includes dedicated apps to help you track attendance and scan tickets.
Pricing:
The base version of Event Espresso – Decaf – is free. Alternately, $79.95 will get you a one-site license with a wide array of premium features, such as an events calendar, more payment options, and event check-in functionality. These will help you handle event registration and ticketing management from your WordPress website.
Recommended For:
Event Espresso is a powerful tool if you need a fully-featured event registration and ticketing solution for your WordPress website. You can start with the free version, and opt for a premium license when you need its advanced features.
Conclusion
Your WordPress website can be the perfect place to feature and promote events, but you can also use it to sell tickets. In fact, with the right solution, you can create a fully-featured event registration and ticketing system on your site.
In this roundup, we've looked at six of the top options when it comes to event registration solutions:
Have you used any of these solutions, and what did you think? Share your experiences in the comments section below!
Image credit: Max Pixel.
The post 6 of the Best Event Registration and Ticketing Solutions for WordPress appeared first on Torque.