Search engines remain one of the most important traffic sources for websites. Learning to improve organic CTR (click-through rate) is crucial for taking advantage of them.
When it comes to SEO, many website owners simply focus on ranking. They think that as long as they make it to the first page of Google, traffic will sort itself out.
However, achieving a high rank in the SERPs doesn't help you if nobody ends up clicking on your content. In that case, your search rank is nothing more but a vanity metric.
Plus, CTR and search rankings are intimately connected. If you check all the boxes on Google's relevancy radar but can't move real people to check out your stuff, the search engine will happily demote you.
Conversely, working on your click-through rate is a good way of improving your search rank. In fact, data suggests that improving organic CTR by 3 percent will move your site up one spot in the SERPs. It's another great way to increase traffic without creating new content.
So, how do you do it? That's what this post is about.
How to Improve Organic CTR for Your WordPress Website
In the following, we will go over actionable tips to increase the click-through rate of your site.
First Things First, Check Your Current CTR
Before going about trying to make the situation better, it's a good idea to learn about the status quo. Luckily, as website owners, we have powerful tools for that at hand.
The first stop when trying to improve organic CTR is Google Analytics. Here, go to Acquisition > Search Console > Queries. This screen shows you which search queries bring people to your site.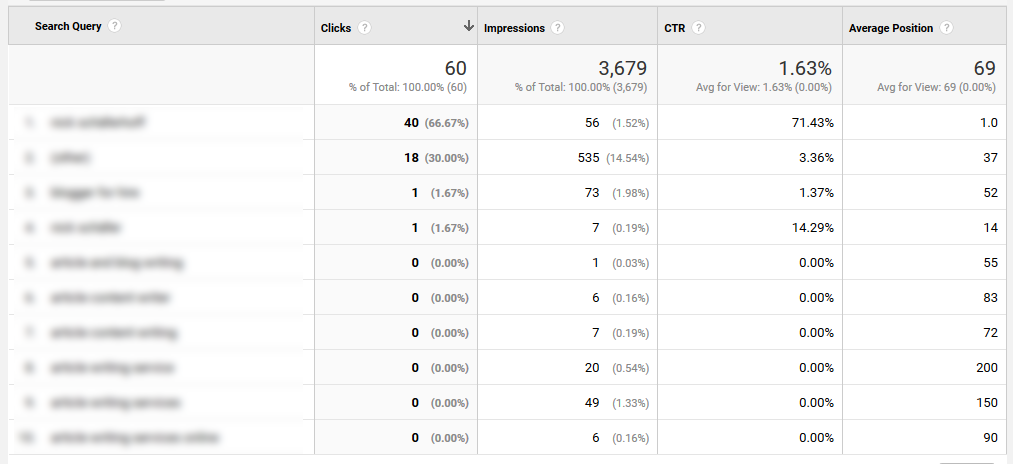 It also displays the queries' clicks, impressions, click-through rate, and average search position. Further information is available in the Landing Pages menu. Here, you learn similar data about the different pages on your site.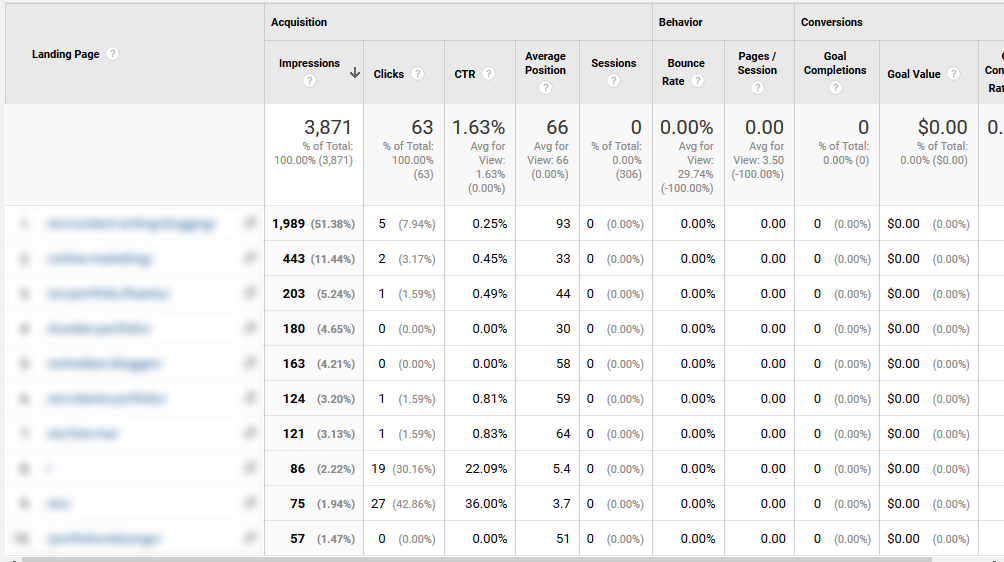 Between those two, you should easily be able to figure out which of your content performs well and which doesn't. From there, you can take targeted action to improve organic CTR for the pages and keywords that don't measure up. We will get to how to achieve this soon.
Afterward, you can use the same tool to see if your efforts have any effect by comparing the time before and after you have made changes.

Pro tip: I personally find it easier to do the comparison within the actual Google Search Console (don't forget to check out our guide). Once there, look under Search Analytics to find the same data and ability to compare.

Alright, now let's look at some actual measures.
Improve Your Titles
The page title is the most prominent part of your search results.

For that reason, a lot of your focus should be on making it as effective as possible. Here are a few pointers on how to do that:
Thoroughly Test Your Headlines
However, you don't have to rely on guesswork to improve your content titles. Instead, you can get proof for which title is going to perform well. There are several ways to do so:
Use the right tools — The Internet offers a number of tools that will check your headlines for different factors of success. Good examples are the CoSchedule Headline Analyzer and the Emotional Marketing Value Headline Analyzer by AMI.
Test titles on social media — On social media it is common to post the same content several times with different titles. They also offer objective data on which performs the best. An excellent opportunity to put your ideas titles to the test. Tools like Buffer have built-in functionality to help you.
Use PPC ads for testing — If you have money to spare, you can also test headlines with online ads. Simply buy ads for the page you want to improve organic CTR for and use them to try out different titles. Let the ads run until you see a significant trend and stick with the winner. Facebook advertisement works, too.
Use a WordPress plugin — WordPress also has tools for A/B testing. Title Experiments Free lets you set several headlines for your blog posts that get served up to visitors randomly. Depending on what gets clicked the most, you can then choose the right version. Repeat as necessary.
Make Your URLs Descriptive
The next part of what people see in the SERPs is your content's URL. It is one of the places where you can and should place keywords (learn more about on-page SEO here).
This is an important signal for Google, however, it also matters to potential human visitors. Microsoft has found that descriptive URLs perform 25 percent better than generic ones.
25 percent! That's a quarter of additional traffic you are potentially missing out on.
Besides keywords, you can further improve your URLs by using categories and sub-categories in your link structure. This puts search results in a wider context and lets visitors know that there is more than this one article or product in the area they are interested in.

Plus, you can easily set it up on your WordPress site under Settings > Permalinks.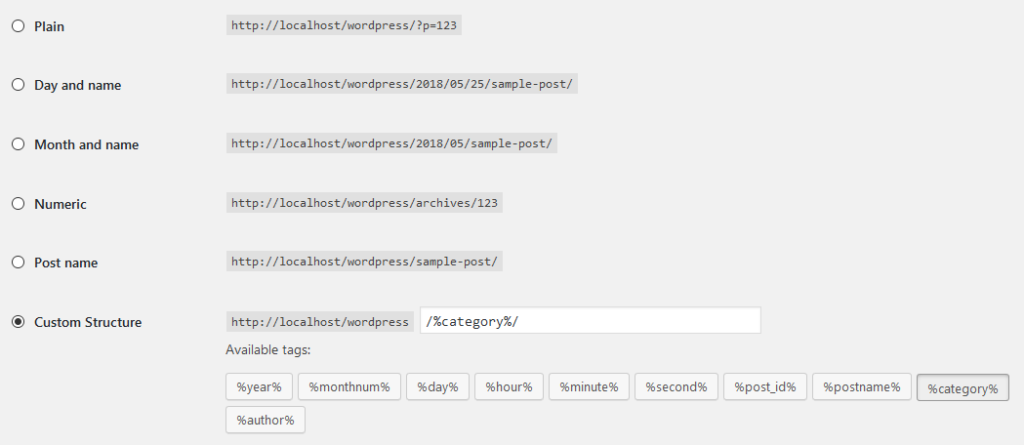 Double Down on Meta Descriptions
Next up in the search snippets are meta descriptions. For the uninitiated, that's the text that appears under the result title and link.
In the meta descriptions, you can tell potential visitors more about what to expect from your content. It also makes up the majority of the search result.
The first rule to improve organic CTR via meta descriptions is to make sure you even set a custom description for each post. If you don't, Google will simply pull any sentence that contains the search keyword, which often makes less sense. Plus, you can use the aforementioned SEO plugins to achieve this.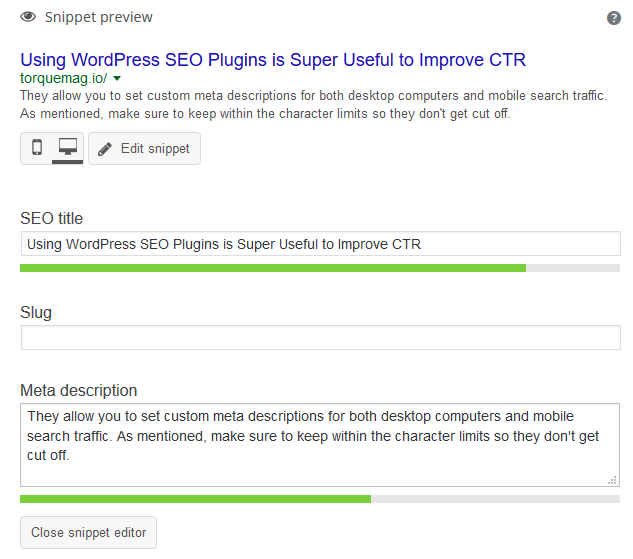 One way to make meta descriptions more effective is to use power words. These are phrases and words that appeal to the emotional part of the brain. This doesn't just apply to meta descriptions but your content in general. Smart Blogger has a detailed list that you can feel free to steal from.
Aside from that, again, also concentrate on appearance. Avoid making meta descriptions too long so that they are cut off. More tips on how to write great meta descriptions here.
Set up Schema.org Structured Data
Have you ever seen a search result like this?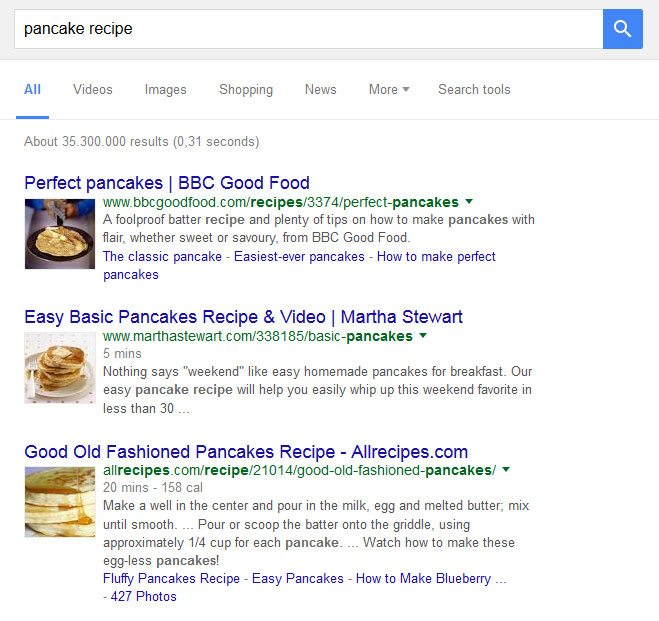 If so, you already know what structured data. It is used to create rich snippets that contain additional information for web content like ratings, images, preparation time (for recipes) or even breadcrumb navigation. These can increase organic CTR by 30 percent!
In addition to that, Google increasingly uses structured data to display information right in the results page, often before the organic search results.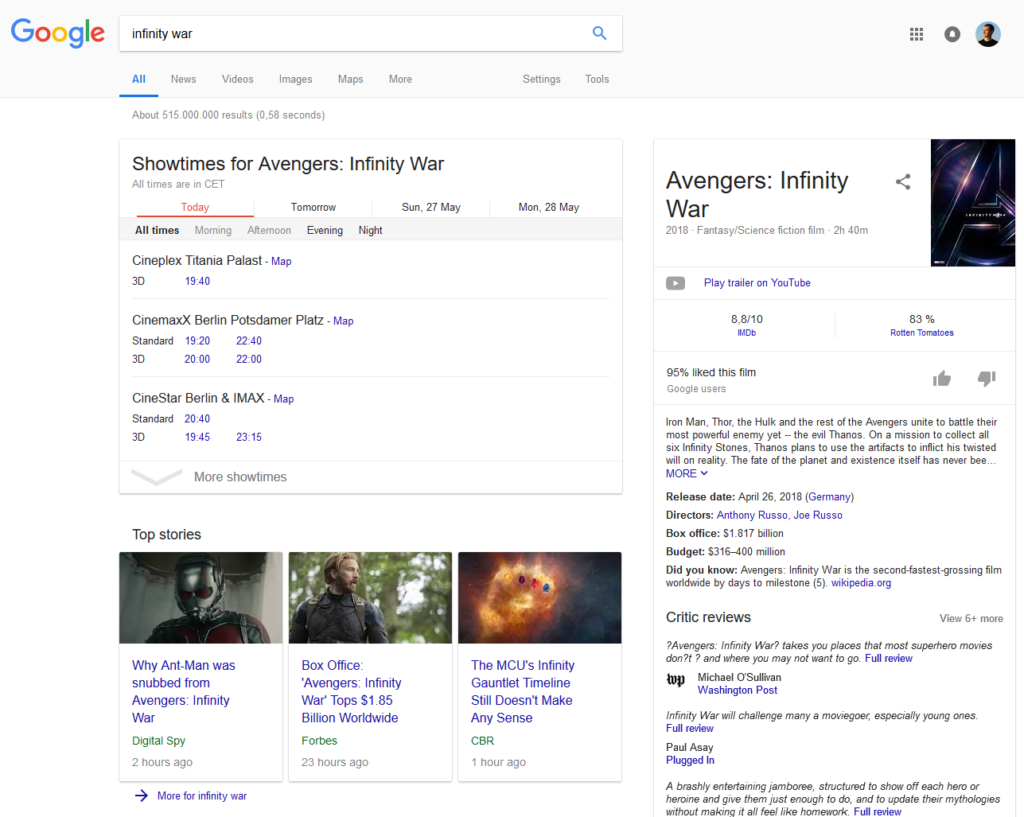 This development will likely continue in the future. To take advantage of it, it's crucial that you implement structured data on your WordPress website. Lucky for you, we have a detailed article on this very topic right here.
Improve Site Speed
The final ingredient to ramp up your organic click-through rate is making sure your site loads as fast as possible. After all, a click only counts if the visitor actually lands on your page. Should your site loading speed be too sluggish, this might not even happen, especially on mobile devices that often have slower Internet connections. Plus, Google search rank is directly correlated with loading speed.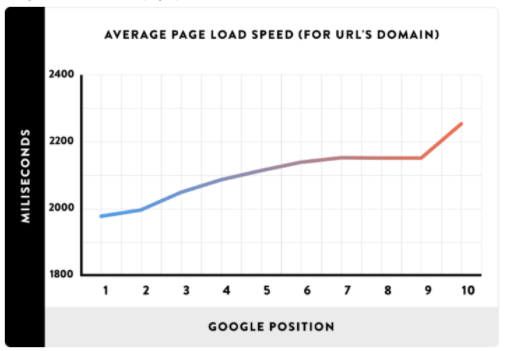 Consequently, investing in site speed is an important factor if you want to improve organic CTR for your WordPress website. Luckily, there are plenty of things you can do and find a lot of input in this article as well as this post. Aside from that, you'd do well to invest in other ways to make your site mobile friendly.
How Will You Improve Your Site's Organic CTR?
Organic click-through rate is an important, yet often underestimated factor for the success of a website. You can produce solid content, however, if nobody clicks on it, it will flounder in the search results.
Thankfully though, you have a lot of control in the matter and there is a lot you can do to improve your organic CTR. In this article, we have gone over a number of ways to do so. Let's summarize them one more time:
Track the current state of your click-through rate
Focus on improving page titles
Test page titles in order to pick the most effective
Improve URL structure to make it descriptive
Pay attention to your meta descriptions
Make use of rich snippets and structured data
Make page loading speed a priority
Once visitors click through to your site, it's also important that you learn how to keep them around. As usual, organic CTR is only one piece of a larger puzzle for the success of your website. However, it is one that you are now prepared to tackle.
Do you have additional tips on how to improve organic CTR in WordPress? If so, please share in the comments section below.
The post How to Improve Organic CTR (Click-through Rate) in WordPress appeared first on Torque.