The demand for the professional cryptocurrency WordPress templates is on the rise. It is unsurprising as the sheer idea of decentralized currency (without a governmental or banking control) is really tempting to many of us worldwide. Although the concept of digital money may look tricky at first, it is gaining popularity impressively fast.
So, if you also want your piece of the cryptocurrency cake, here is the list of features for your future cryptocurrency business. Once you are done with the list, have a look at the collection of free and premium cryptocurrency WordPress themes to find the template that will bring you rewards in the nearest future.
What Features to Look For in Cryptocurrency WordPress Themes
Professional Design. Cryptocurrency is an online invention. It means that people who choose this digital asset are experienced enough to tell the difference between an amateur and a professional website. That is why it makes sense to choose cryptocurrency WordPress themes from the marketplaces that specialize in top themes for WordPress and have a good reputation for being reliable web agencies.
Intuitive Page Builder. Without a drag-and-drop functionality, it may take you quite some time to launch your cryptocurrency website, especially if you are not a web guru. So, why not choose a WordPress theme that offers this functionality and facilitates the start of a website to the fullest?
Live Customizer. Let's face it – it is tiring and time-consuming to reload a page every time you make a tiny adjustment to its design and layout. If you value your personal time, pick a WordPress theme with Live Customizer to view all the changes on the go.
Pre-populated Pages. Usually, cryptocurrency websites are multi-page. In practice, it can mean long weeks of adding those pages, figuring out their layouts, and filling them with content. If you are too busy for this, then choose cryptocurrency WordPress themes with pre-made pages. Believe it or not – it is much easier to edit pages than to create them from scratch.
Free Updates. The online world has been evolving at the unprecedented speed these days. That is why you are as a website owner should be ready to roll with the punches and adapt to all the changes quickly. The best way to do it is to settle upon a cryptocurrency web theme that will offer free updates.
Long-term Tech Support. Things with your cryptocurrency website can get really messy from time to time, especially if you are a beginner in the web design world. Therefore, it would be nice if you have a tech manager to rely on in cases of emergency. Of course, the long-term 24/7 support is the best option you should stick to!
Free & Premium Cryptocurrency WordPress Themes You Should Give a Chance
Bitcoin WordPress Template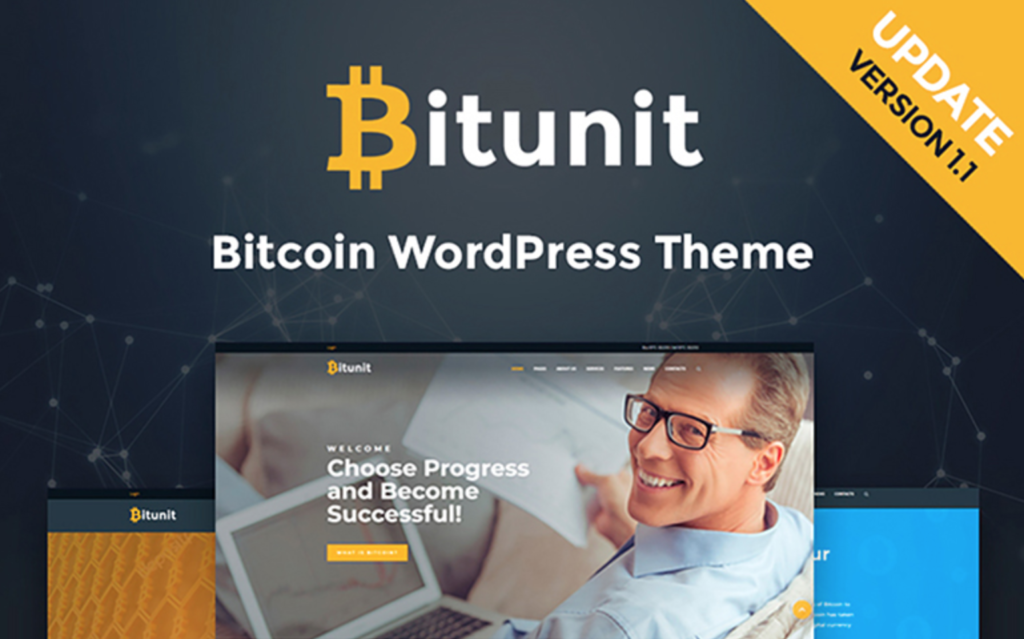 As most of your prospective customers are experienced Internet users, a BitCoin website of yours has to look professional and innovative. This is exactly what you get when you choose this responsive WordPress template. Thanks to Elementor, the revolutionary drag-and-drop page builder that this template for cryptocurrency websites contains, you will forget about tedious hours of designing a website. Attract bagholders of Bitcoin quickly with impressive headers and footers, each of them resembling a nicely designed informative content block. What is more, this WordPress template allows you to use all the included images as a free bonus. So, just add your content and launch your bitcoin website today!
MineBit – Bitcoin Cryptocurrency WordPress Theme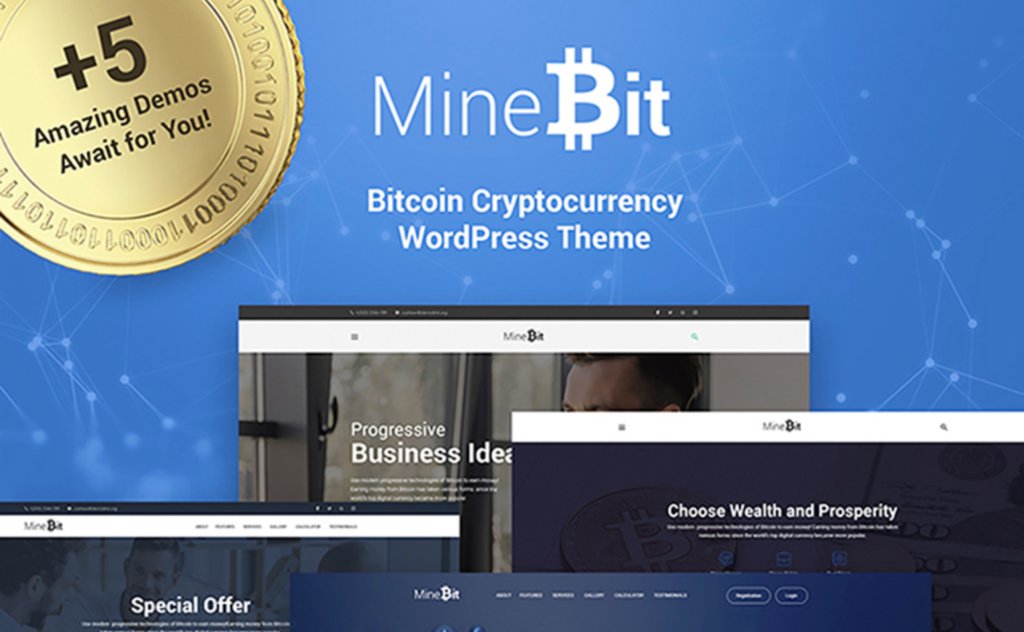 MineBit is an excellent WordPress template for ambitious bitcoin-related websites. It contains all the possible tools to help you to start your bitcoin business quickly. For starters, in MineBit you will find quite a few pre-populated pages, designed specifically for a bitcoin company. In addition, all the layout elements on these pages can be easily modified with Elementor, the drag-and-drop page builder. This builder allows you to customize and (re)brand cryptocurrency websites with ease. Choose this template and make the most of its special giveaways, i.e. high-quality images, the Jet Elements plugin, and Book Appointment plugin.
CryptoHub – Cryptocurrency WordPress Theme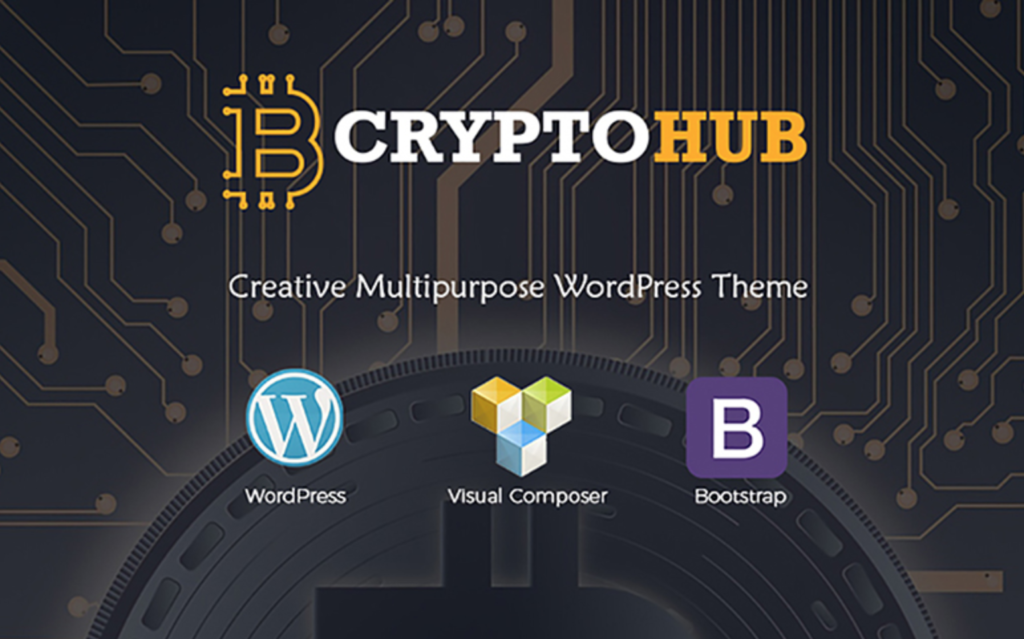 This WordPress theme for cryptocurrency companies looks fresh and user-friendly. As you can see from the Live Demo, the Homepage of this template is impressively informative. It offers your prospective visitor a short description of your services alongside the cryptocurrency calculator, testimonials, upcoming events, and news. The color palette of this template is dominated by the positive yellow hue. As this color scheme is professionally designed, it will not distract your customers' attention from the content you provide. Finally, if you decide to start your bitcoin website with this WooCommerce-ready template, you will definitely enjoy free updates, won't you?
TradeBit – Bitcoin-Trading WordPress Theme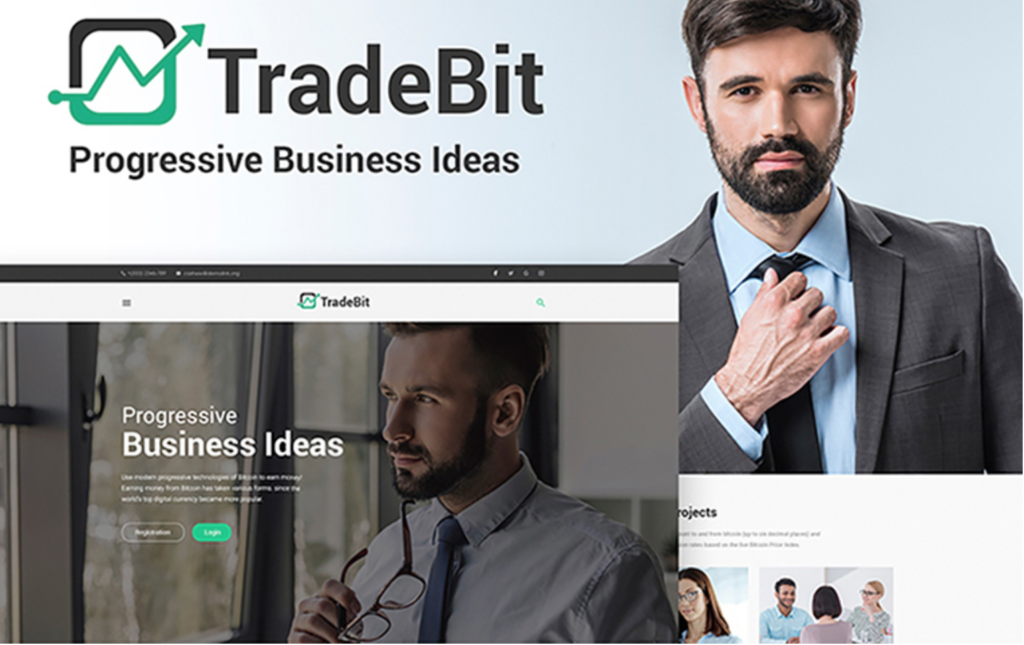 With TradeBit, you do not have to know a thing about the web development. How so? To begin with, this WordPress theme is equipped with Elementor, the unique page creator that allows you to customize your website live. Also, your website will be taken care of by the professional 24/7 tech support team. As this cryptocurrency template is created by the top web designers, it loads lightning fast and makes the best first impression possible. This is especially important if you are planning to launch a website in the bitcoin consulting sector.
BitRate – Bitcoin WordPress Theme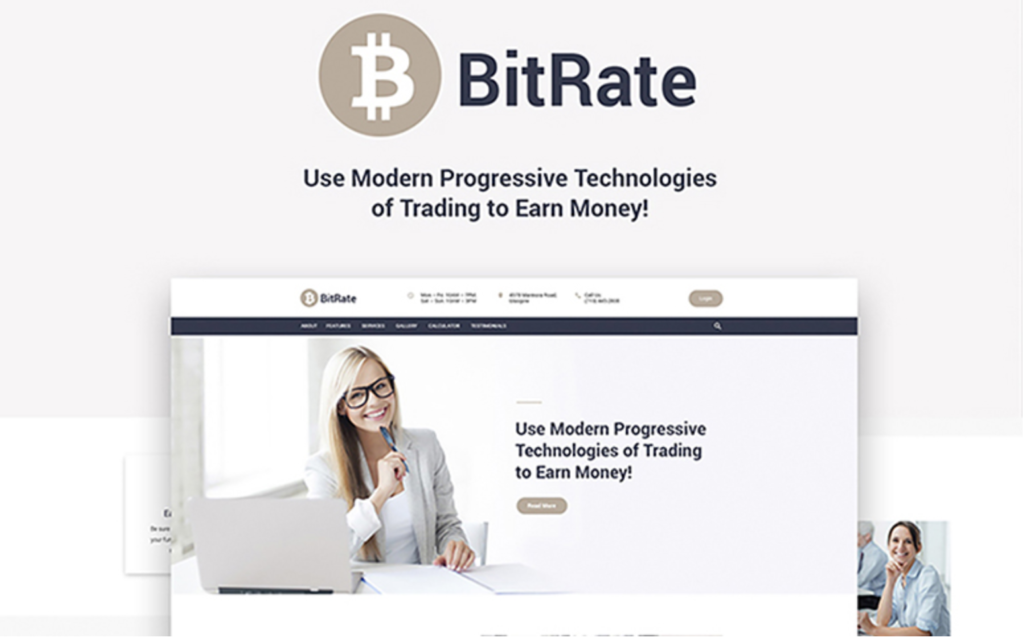 BitRate looks clean and well-structured thanks to the layout optimization. The user-friendly navigation alongside with the MegaMenu in this WordPress theme will surely contribute to the positive conversion rate on your future bitcoin website. As BitRate offers you a choice between seven headers and three footers, you can always pick a combination that is maximally informative and suits your business concept best. Feel free to benefit from four blog layouts as well! In addition, BitRate belongs to cryptocurrency WordPress themes that are SEO-friendly and fully responsive. In other words, with BitRate, your cryptocurrency website will get high Google rankings much sooner than you know it!
Bitcrypt – Bitcoin and Cryptocurrency WordPress Theme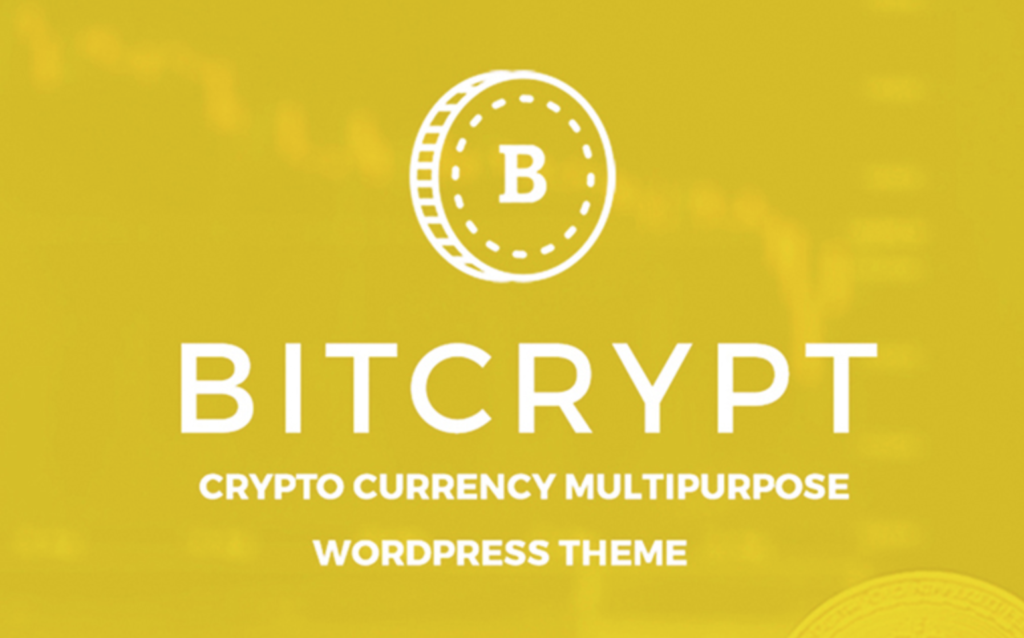 Bitcrypt belongs to the family of multipurpose WordPress themes for cryptocurrency websites. The main peculiarity of this family is that all its members contain pre-made content elements. These elements can be used as building blocks to assemble the unique cryptocurrency websites like wildfire. As there are more than a hundred content elements at your disposal, the possibilities for creating a one-of-a-kind website are endless, really! Being fully responsive, BitCrypt is easy to set up, launch, and manage. So, stop outsourcing and start a cryptocurrency website within days, if not hours!
Rebyte Bitcoin Templates WordPress Theme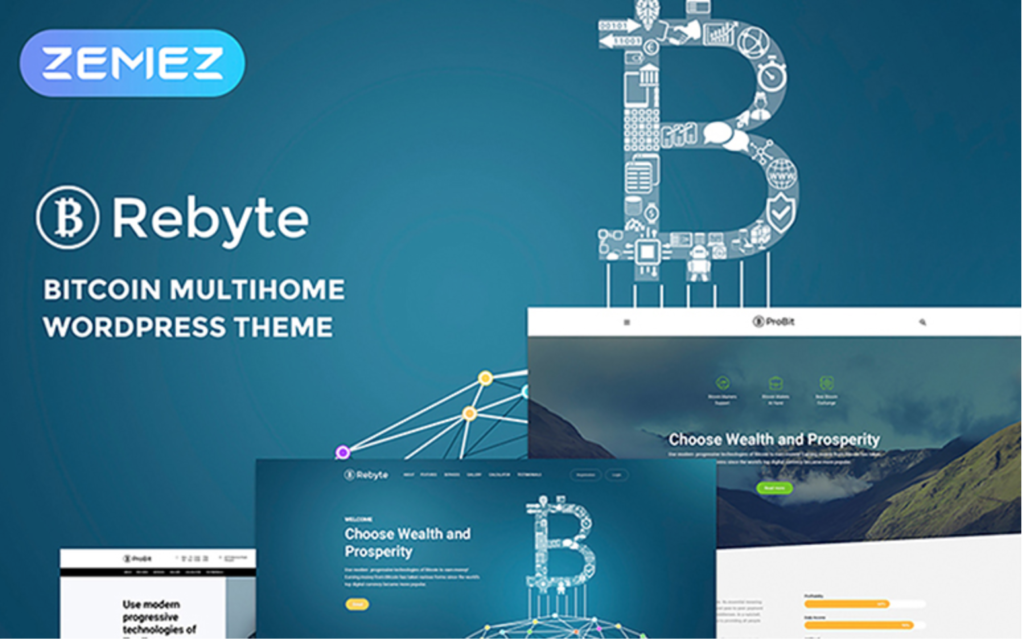 If you need a professional and visually attractive WordPress theme for the cryptocurrency website, Rebyte is worthy of your consideration. To start with, view the Live Demo to learn how exquisite and fresh the animations and galleries of Rebyte look. Also, all pre-populated pages of this template for cryptocurrency websites offer the positive user experience to your prospective visitors thanks to the smart layout and the consistent design patterns. Furthermore, all high-quality images you can see the Live Demo are included in the price as a bonus. So, everything you need to do right now is to add your content and – voilà! You are ready to go online with your cryptocurrency website.
Dinarcek – A WordPress Bitcoin Blog Theme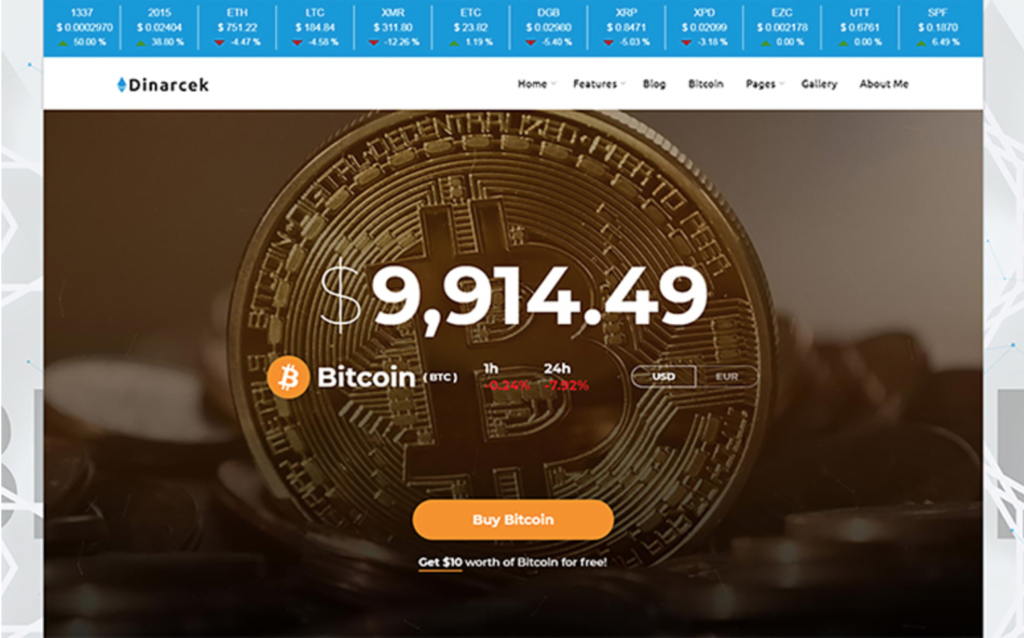 Designed as a minimalistic blog about cryptocurrency, Dinarcek can become a reliable platform for your website. Check out its six demos to pick the layout that reflects your business philosophy. With Dinarcek, you will be able to inform your online visitors about current exchange rates, teach them about the essentials of cryptocurrency mining, and offer a subscription form. The color scheme of this WordPress theme is bright enough to attract the attention of your target readers but not too bright to annoy them. Feel free to get interactive and add informative videos to your cryptocurrency blog!
Businessup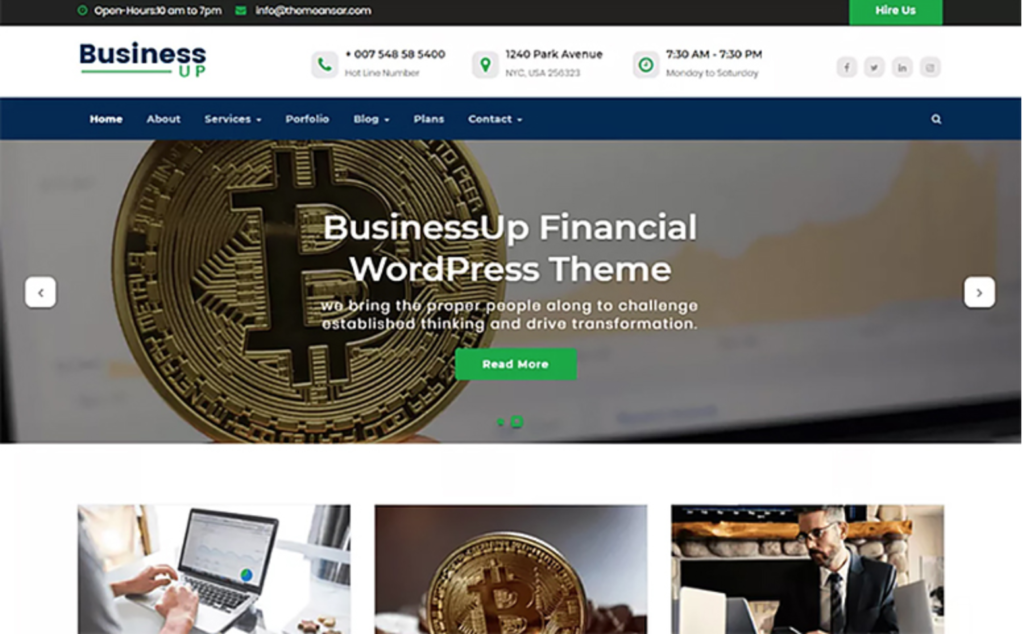 Originally designed as a WordPress theme for a finance website, Businessup can be used as a cryptocurrency web theme or a blog as well. Available in three different designs, this WordPress template contains well-placed call-to-action buttons. Help your prospective visitors get in touch with you via different communication channels mentioned in the informative header and footer of Businessup. Choose between two layouts for Contacts page to attract new clients regularly. Enjoy the blogging functionality (full width, left or right sidebar) to share your experience with cryptocurrency worldwide.
Bitunit Lite – Bitcoin Free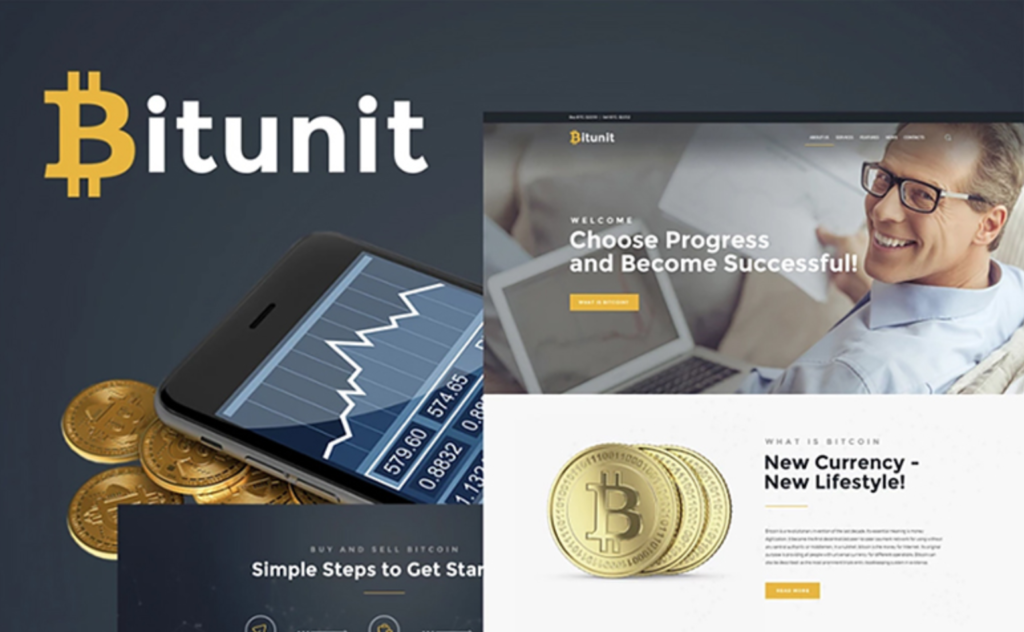 This free cryptocurrency website is what you need if you are about to launch the first website of your own. As Bitunit Lite is equipped with Elementor, you can use it to build a fully responsive and SEO-friendly cryptocurrency website easily. Just drag-and-drop Elementor modules to assemble the unique layout according to the latest tendencies in the web design. All pages of this WordPress template are pre-populated. For instance, the About Us page contains a short description of your company, counters to demonstrate your current potential, your team, FAQ, and a feedback form.
Summary
As you can see from the collection of WordPress themes, there are lots of options to choose from when it comes to launching a cryptocurrency website. What differentiates these themes is the amount of time you should spend to make them look consistent with your business vision. Depending on your expertise in the web design, you can opt for a cryptocurrency WordPress theme with a traditional WordPress admin panel or the handy drag-and-drop page builders. The majority of the themes we have analyzed here are multi-page and pre-populated, which can save you lots of time in the long run. Some of the themes on our list contain free bonuses, like high-quality cryptocurrency-related images. So, make the right choice and start building your cryptocurrency empire easily!
The post 10 Free & Premium Cryptocurrency WordPress Themes: Features to Look For appeared first on Torque.