Attracting customers and business associates is one of the crucial aspects of every new business enterprise. If you've just set your foot onto the business path, it's vital to know that you need to generate new leads in a personal manner. And the most personal feature used by every entrepreneur is the email service.
Therefore, new entrepreneurs should strive to populate their email list. While a certain degree of conversion can be achieved via social media, email marketing is still more effective than social networks. Since WordPress is among the most popular platforms for SMB-websites, we've compiled some practical tips for building an email list in WordPress.
Communicating via a reliable email service
Why is it important to choose the right email service?
While you can use some popular, neutral email service providers, such as Gmail or Yahoo Mail, those services cover only the general aspects of email communication.
As opposed to them, specialized emails service providers concentrate on some thorough details regarding the email delivery. Because of that, the messages you send to your registered subscribers will be delivered to their inbox, rather than redirected to their spam folder.
Now that we know your emails are more likely to reach your registered clients if sent via a special email service, let's take a look at the most reliable ones.
Aweber

Using Aweber will enable you to form emails directly from your fresh blog posts. Also, this email tool will give you a chance to aim at specific subscribers and groups of subscribers, on the basis of their location, their recent activities and other features that reveal their online preferences.
Aweber makes it possible for you to track those preferences and adapt your email marketing tactics accordingly.
Apart from that, you can also choose from a variety of email templates, as well as from a wide range of headlines, colors for email text bodies etc.
The subscription for this email service starts from $19/month. This basic package includes 500 subscribers and an unlimited number of emails.
MailChimp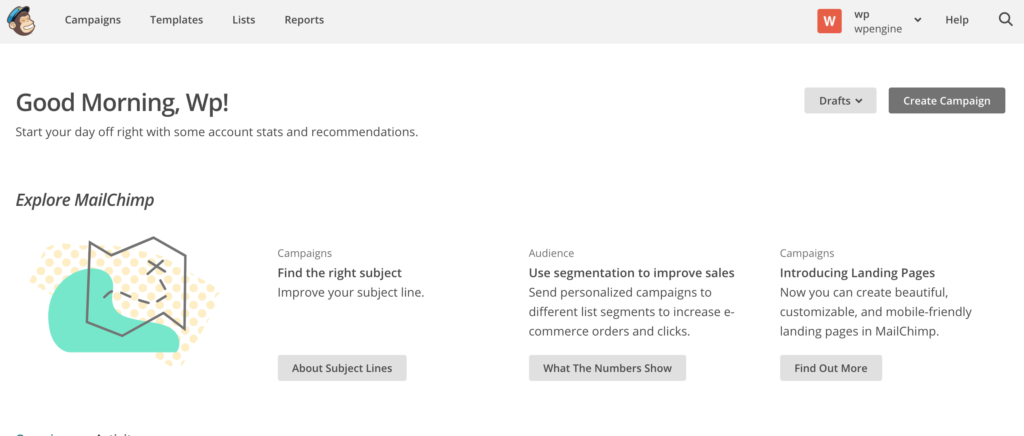 A household name for thousands of businesses, MailChimp is another reliable email service. Similarly to Aweber, it will enable you to target your subscribers due to their online preferences and overall behavior on the Web.
Also, MailChimp will save a lot of your time, since you can send a string of emails at once via this service.
Since follow-up actions are extremely important in email automation, MailChimp covers all the major bases here. It will collect the reports from the previous emails sent to your clients. Those data will then be used to improve the personalized new email newsletters and offers you send to those subscribers.
As for the pricing, if you're a new business owner, you can use the New Business package for free. It will cover your basic email automation need, which will come in handy when creating professional marketing campaigns.
Choosing the right email signup form
Now that you have some trustworthy email service providers at your disposal, we're going to show you some simple hacks for increasing the number of your subscribers.
First and foremost, you need to deliver first-class content, which will, in turn, boost your content marketing power.
When you've fulfilled this condition, you can move onto the on-(web)site features.
If a website visitor is interested in your content and your business, they'll be looking for the registration form. This is where you shouldn't waste a single second of time. Many website owners turn to pop-up registration forms, in order to grasp the visitors' attention and convert them into their subscribers as soon as possible.
Although this is a common strategy for populating your email list, your subscribers-to-be might find it disturbing and aggressive.
What you want to do is allure them to become your loyal customers and not to push them away.
Because of that, you need to address your visitors in a polite manner. For instance, the registration form can pop up when the visitor has already spent a few minutes on your website.
Also, it can be activated when they finish reading a text or complete a purchase. You can try some other popup features, like the ones suggested by the post on the Kissmetrics blog.
Alternatively, you can completely abandon the idea of the popup email registration form and include the floating form. Contrary to the popup option, the floating form will be on every page of your website all the time. As visitors keep scrolling down the content, the form will "float" along with them, following the text. That way, they can register to your email list whenever they feel like it without being disturbed by popup forms. Learn how to create a floating form in WP on the Classroom website.
The benefits of WP contact forms
In addition to the registration forms that will nudge your website visitors to leave their email address, you can use other WP contact forms, as well.
For instance, you can include a particular checkbox next to the registration form. This checkbox could contain an additional offer for the converted subscriber, such as "I want to receive monthly newsletters from XY business." Also, you can add another checkbox that would cover the Terms and Conditions of the service.
Of course, new business owners won't have time to learn how to code these forms. This is where WordPress comes in. In order to keep all your contact forms in one place, you can use the WP Form plugin. It's a handy tool compatible with various gadgets and it will enable you to create any forms you want and keep populating your email list. Still, it isn't available in the Basic plan for WP users, but you'll have to subscribe to the Plus&Pro plan to obtain this add-on.
Building an affluent email list is the key to success in every business niche. It needs to be a joint effort of a thorough content strategy, presence-boosting marketing campaign and smooth registration forms. The tips presented in this piece will help new business owners increase the number of subscribers on their website and start their business in a profitable manner.
The post Building an Email List in WordPress – What Business Rookies Need to Know appeared first on Torque.