Many marketers agree that lead generation is a major struggle
Lead capture and nurture plugins can take a lot of the stress away while helping your business generate more customers.
These plugins are quick and convenient tools that integrate directly into your WordPress website. They give you the ability to create opt-in forms, segment subscribers, capture users before they exit, push data to your CRM, follow up with leads over time, and more.
Keep reading if you'd like to learn about the top 10 lead management plugins available today for WordPress.
1. vCita
There's no shortage of things you need to do when managing sales flows for your business. vCita takes care of all of them at once. 
Most importantly, their scheduling feature allows customers to schedule meetings and appointments directly through your website on any device. 
But vCita offers many more features that make it different from other appointment schedulers. The personalized client portal interface conveniently allows users to schedule, reschedule, or cancel appointments on the fly. You can also use it as the home base for all conversations with leads and clients. Additionally, payments can be made through the scheduling portal.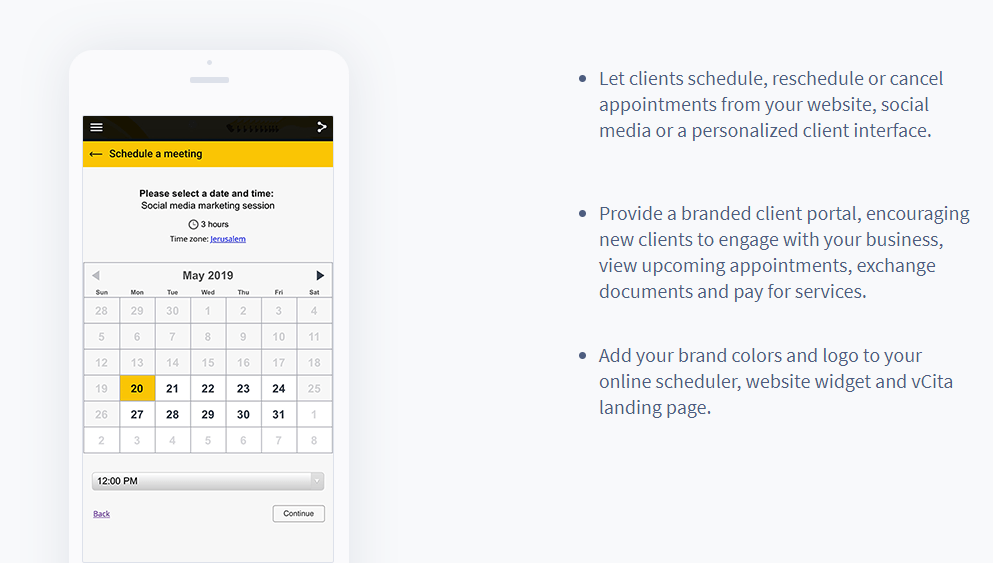 This all-in-one platform, which also offers a few different WordPress plugins, offers a built-in CRM to contact and manage leads in one location. Many plugins don't offer these capabilities, forcing you to install several plugins to achieve the same result.
Looking to capture more leads from your Facebook Page and Google My Business listing? vCita's tools allow you to add scheduling capabilities there, or on a vCita-hosted landing page, as well. They offer a mobile app to manage your leads on the go, too. 
Additionally, vCita enables you to follow up with your leads using email or SMS, which is more important than ever seeing as everyone is tied to their smartphones these days. Overall, they give you all of the necessary tools to capture leads and nurture them into high-quality customers. 
2. Mailchimp
Mailchimp, as their name suggests, specializes in email marketing services to help you generate and cultivate relationships with more leads. 
Their WordPress plugin enables you to implement embed, popups, and scrolling opt-in forms to your website to collect prospect's information. These subscribers can then be funneled into automated or custom campaigns.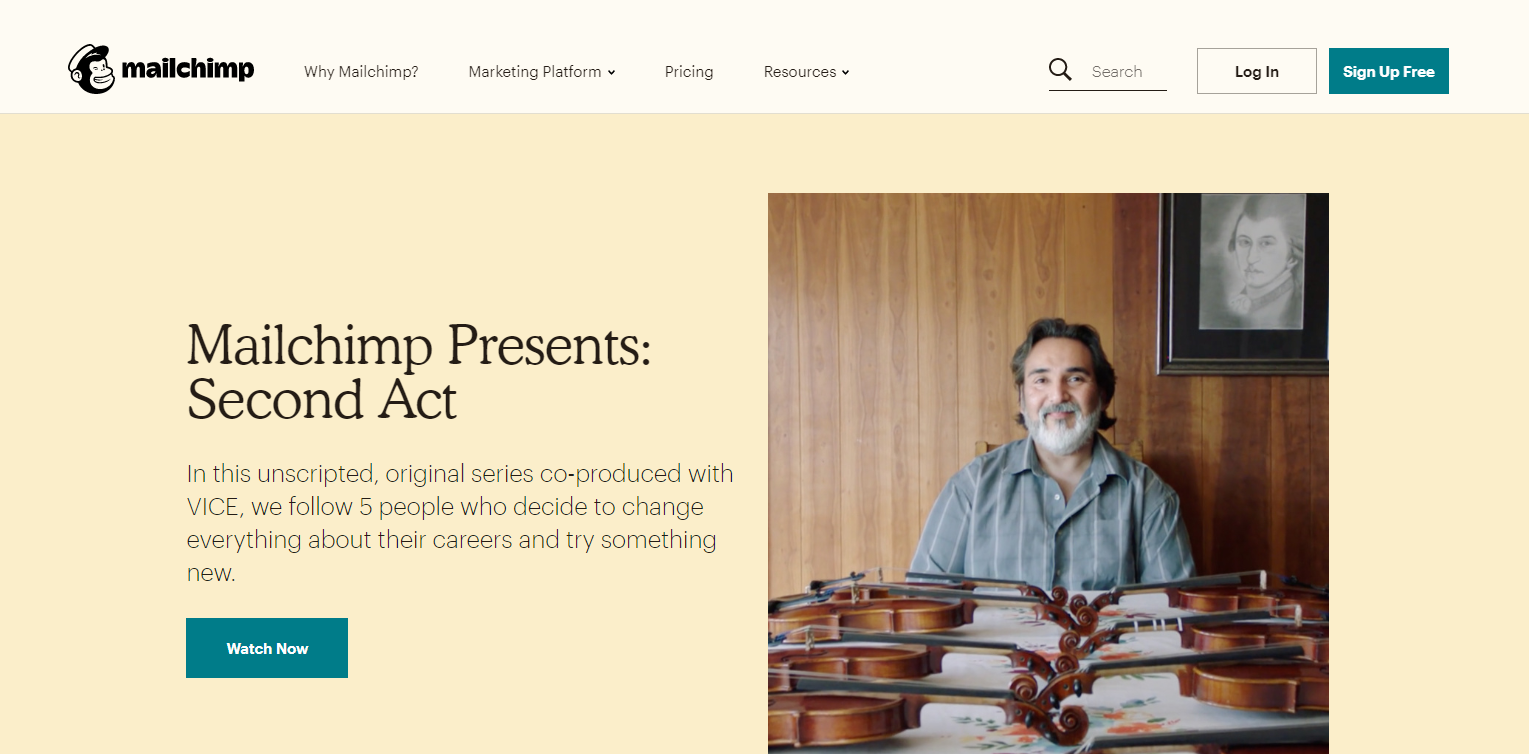 Professional and optimized themes help you convert for any goal, such as driving sales, pushing traffic to a website, or simply sharing a story.
Do you know what the best part about Mailchimp is? Its free version is far more powerful than others. You can use their software for absolutely no charge until 1,000 contacts. This means you're able to test the platform to ensure it's right for your needs.
3. OptinMonster
OptinMonster offers some of the most sophisticated technology when it comes to lead generation. This includes their trademarked exit intent triggers, which help you capture users right as they're about to leave your website.
How many times have you had users slip through the cracks? You don't have to worry about that anymore.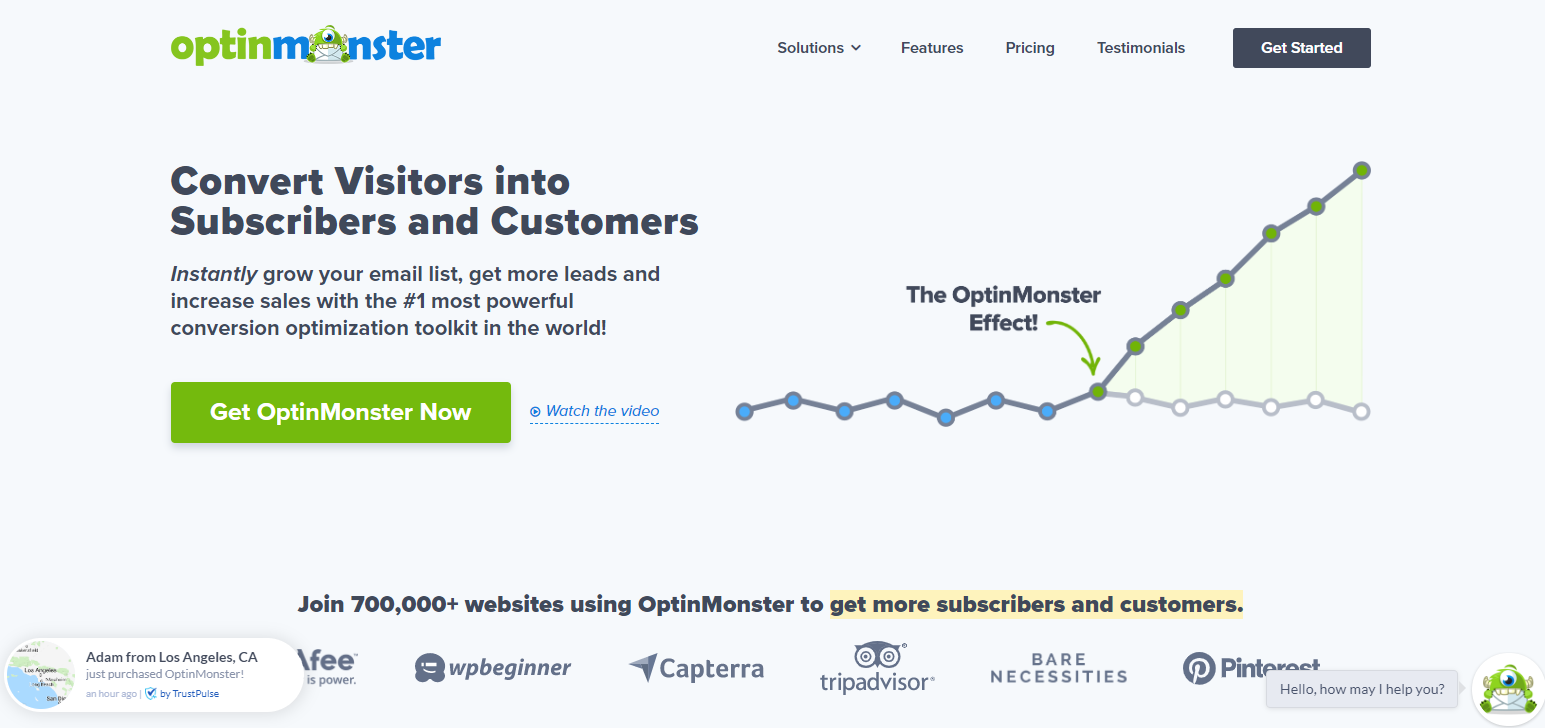 Use custom triggers like scroll percentage, two-step initiation, time control, and more to perfectly optimize your lead capture CTAs down to a science. 
Furthermore, try out their content upgrade feature that allows you to offer downloadable content to audience members while they're reading your blog. Brian Dean found that this type of lead capture converts 785% better than what he had been doing prior.
Better yet, use OptinMonster's in-depth analytics to discover information that will improve the performance of your campaigns.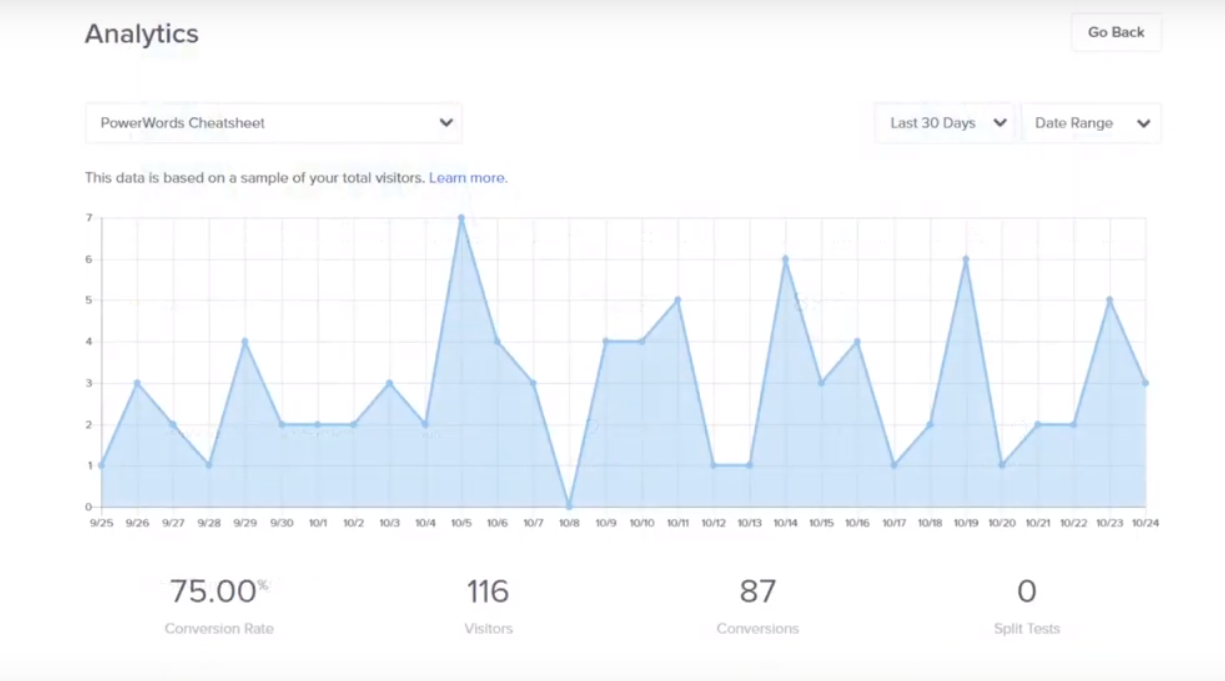 For example, you can analyze the click-through rate, views, and conversions of your offers to determine how to improve them.
4. Tawk.To Live Chat
Studies say that 79% of customers prefer live chat because it allows them to instantly engage with a sales rep. That's why the Tawk.To live chat plugin for WordPress is a priceless tool to improve communication and relationship building.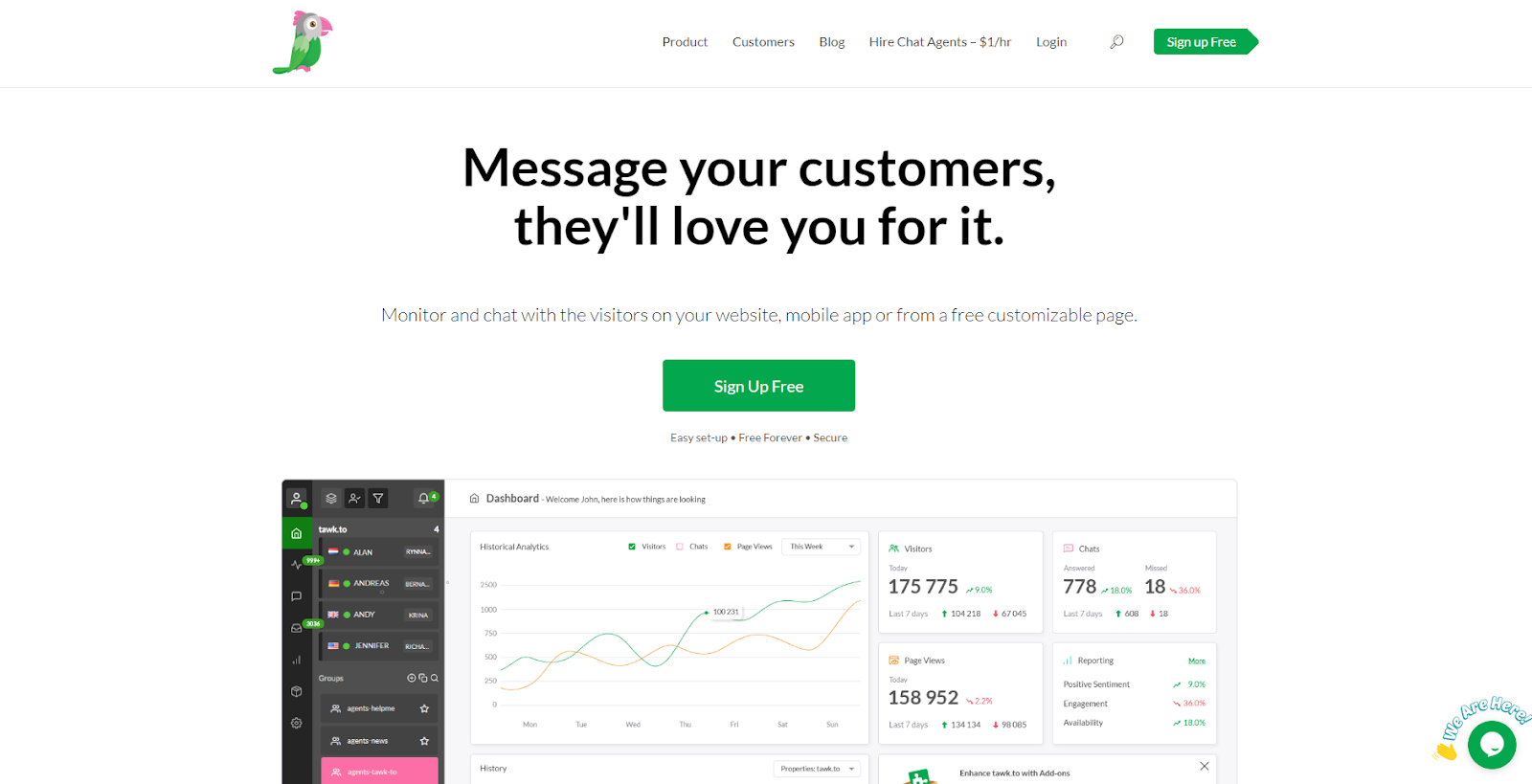 This app instantly integrates a live chat system into your website that you can manage through your WordPress dashboard, Tawk.To account, or mobile app. 
Messages can be completely automated and integrated with other tools to create a lead gen system that requires little more than the push of a button to execute. Track conversations and their analytics to improve future engagement while you're at it.
5. WPForms
WPForms is a free plugin that can be used to integrate custom forms on your WordPress website. There are also paid plans available that increase the functionality including drip campaigns, spam protection, and geolocation-based personalization triggers.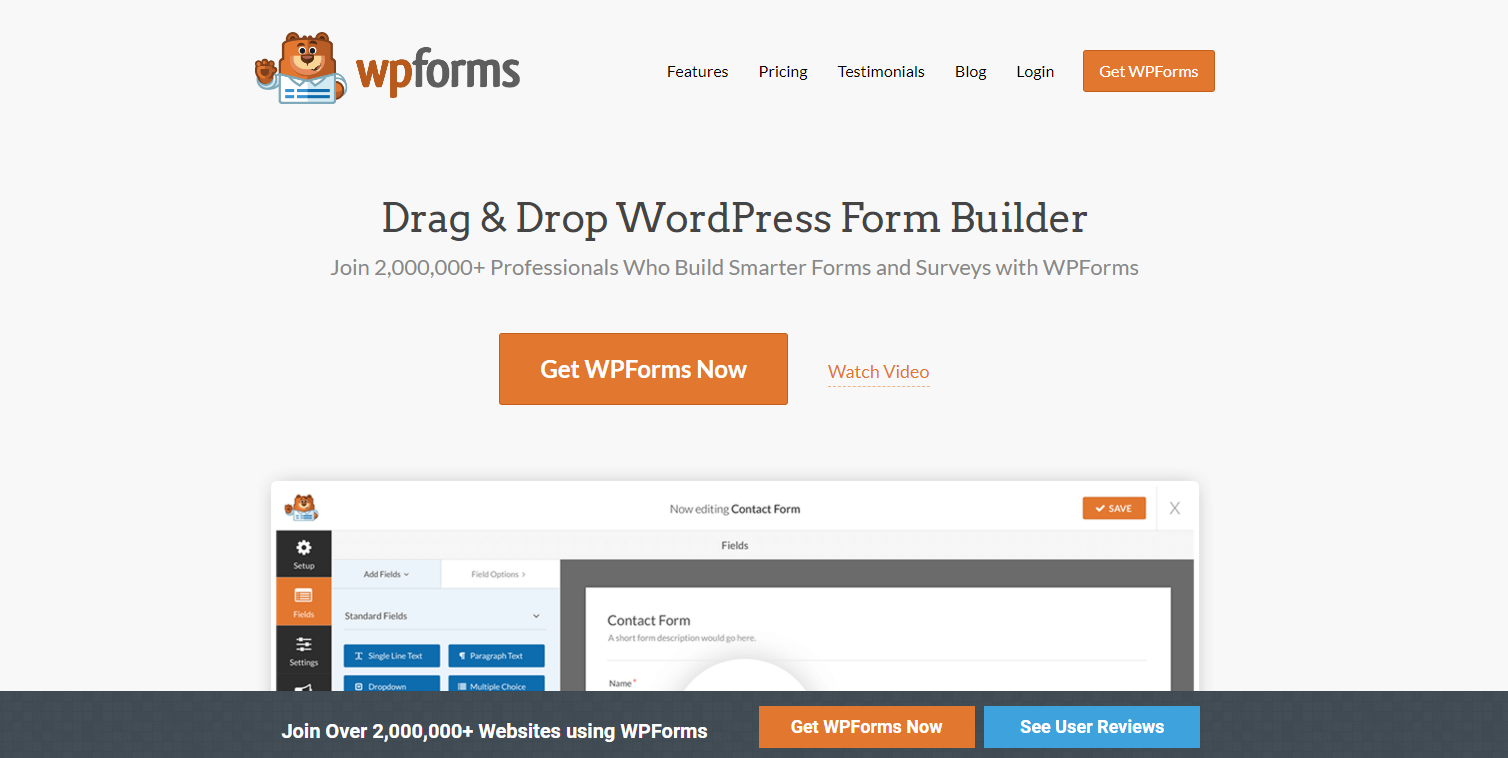 Whether you wish to capture the emails of users for retargeting, selling a product, or promoting content, there's no limit to what you can do with this plugin. 
Their drag-and-drop system allows you to create beautiful and effective forms in minutes, as well. There's no need to have high-level design or programming skills when it's all done for you with WPForms.
6. Constant Contact
If you're interested in collecting feedback from users to improve your WordPress website or growing an email list, Constant Contact is a worthy investment. 
This lead generation plugin will add emails you collect directly to a chosen Constant Contact list, and you can sign up for a free trial directly through the plugin.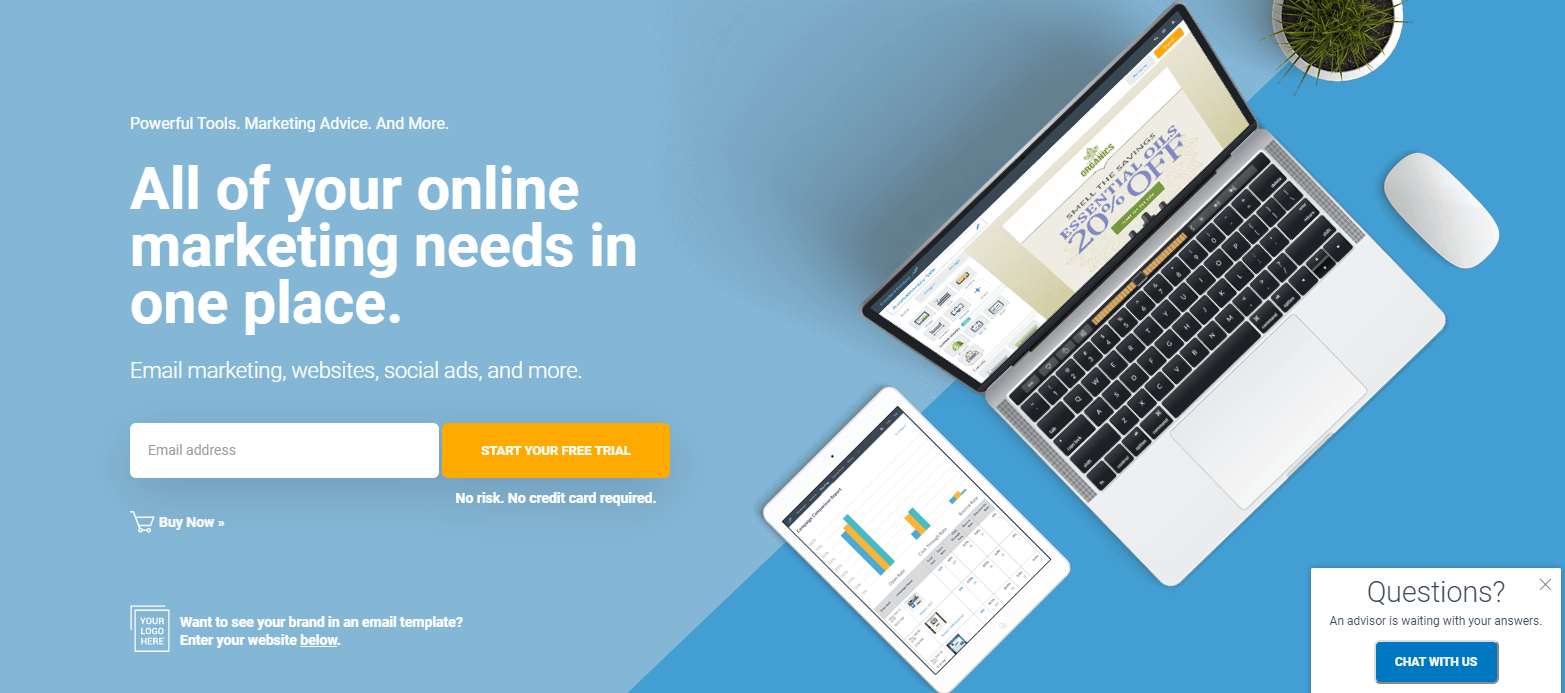 Forms can be customized to seamlessly align with your website's theme, and they're mobile responsive out of the box. They can also be customized to only collect specific data such as a lead's first name and email address. 
7. Sumo
Available for WordPress, Shopify, BigCommerce, Magento, and Google Tag Manager, Sumo is the easiest way to convert visitors into customers as an e-commerce company.
If there's one thing you know about e-commerce, as well, it's that abandonments are typical. That's why Sumo features high-converting popup windows and takeovers that will help capture user's information to help them return later.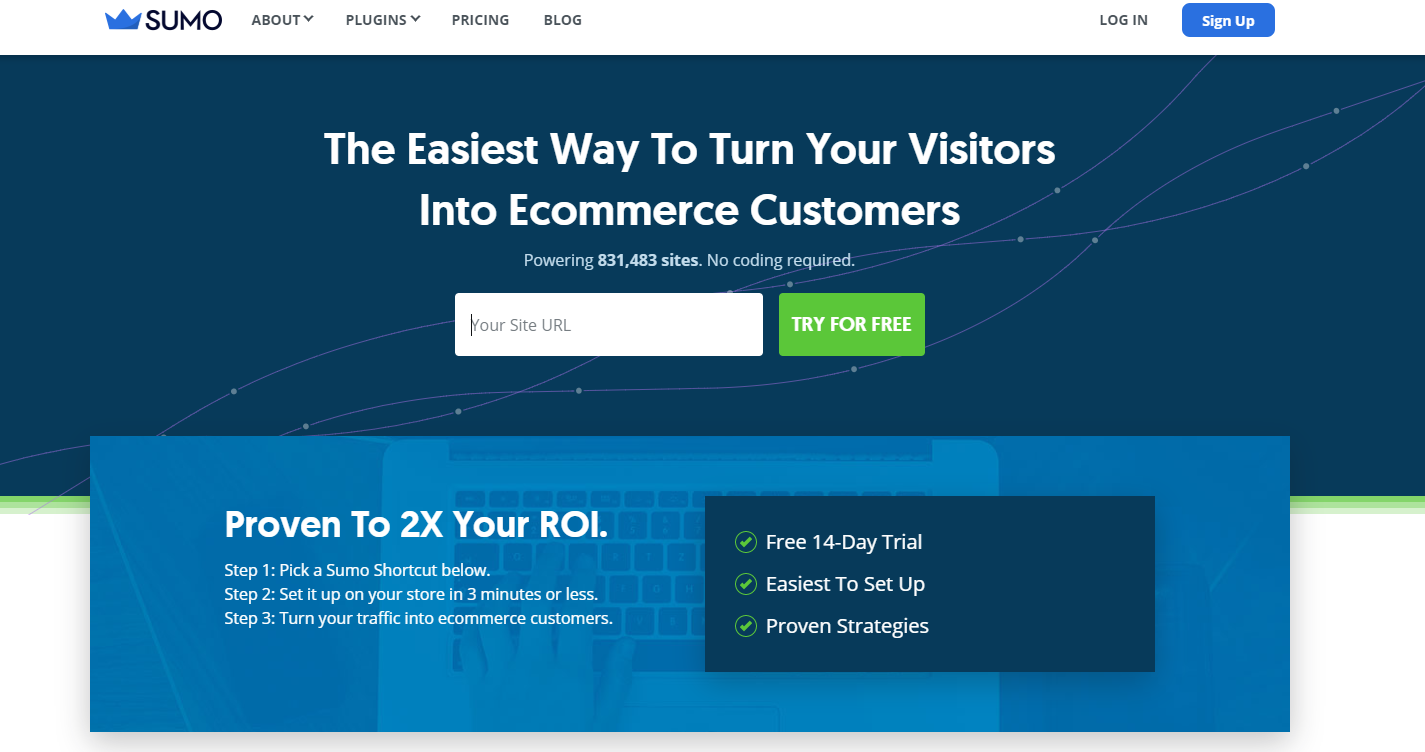 Unlimited split testing empowers users to find winning combinations of creatives and copy, too. Use custom targeting afterward to display different bars towards segments for maximizing new subscriptions.
8. Hollerbox
Hollerbox has one focus: banners, content upgrades, and popups that promote discounts, offers, and new products. They are the definition of a simple but effective plugin that does what you need if you aren't looking for CRM and complex features.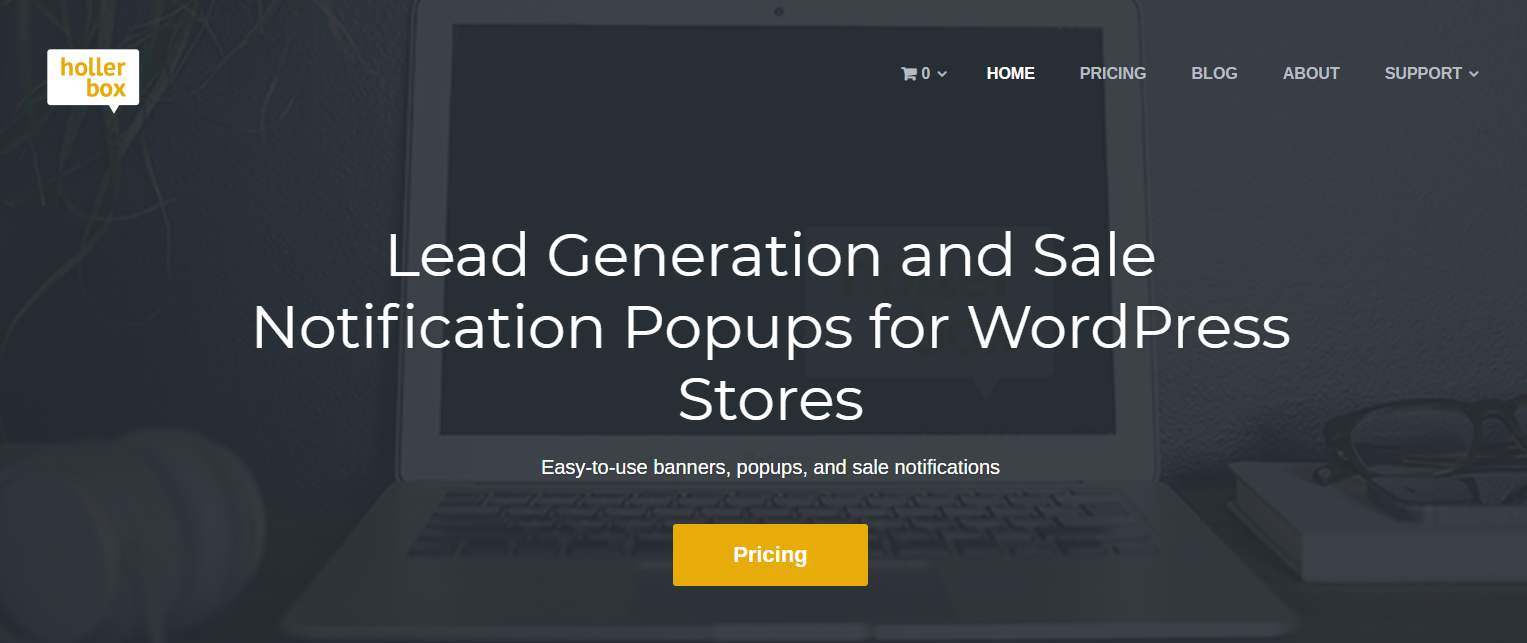 You can integrate forms with Mailchimp, ConvertKit, and other tools to automatically build lists on other platforms. Likewise, forms can be integrated with lead magnets and upgraded content to provide further value while increasing how many opt-ins you drive.
Don't forget to enable their sales notifications feature to act as social proof displaying recent customer purchases. 
This is the perfect plugin for minimalist e-commerce businesses.
9. Bloom
Bloom is a lead gen plugin for WordPress that contains over 100 professional and optimized templates that businesses can use to drive better engagement.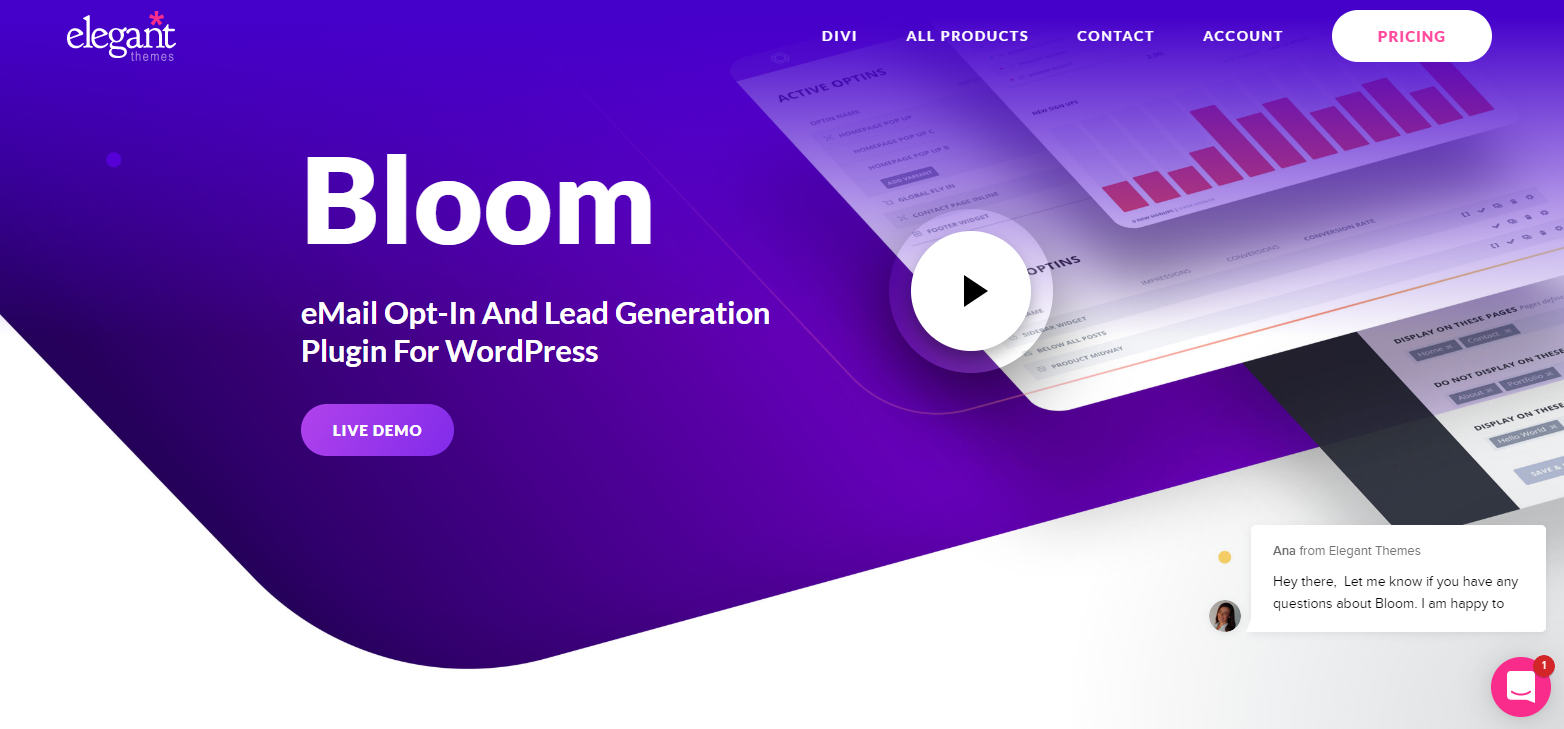 There are six different display types to take advantage of, including pop-ups, fly-ins, in-line popups, embeds, and more. This gives users a variety of how they reach and interact with prospects.
Here's what their popups look like, for example: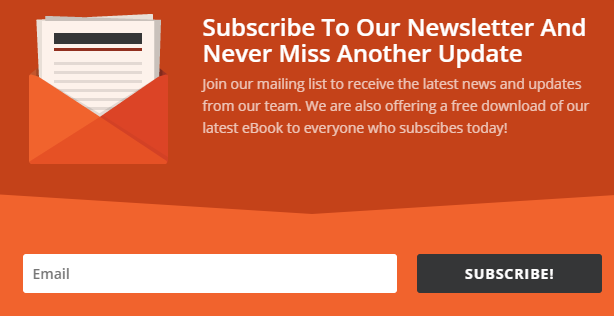 Lastly, use their various triggers to display your most relevant form at the precise time and for testing different strategies. These include scroll percentage, after someone leaves a comment, or following a purchase. 
10. Thriveleads
Thriveleads integrates with more than 19 tools to speed up and optimize your email building processes. Advanced A/B split testing tool helps you find the highest converting messages and display types, as well.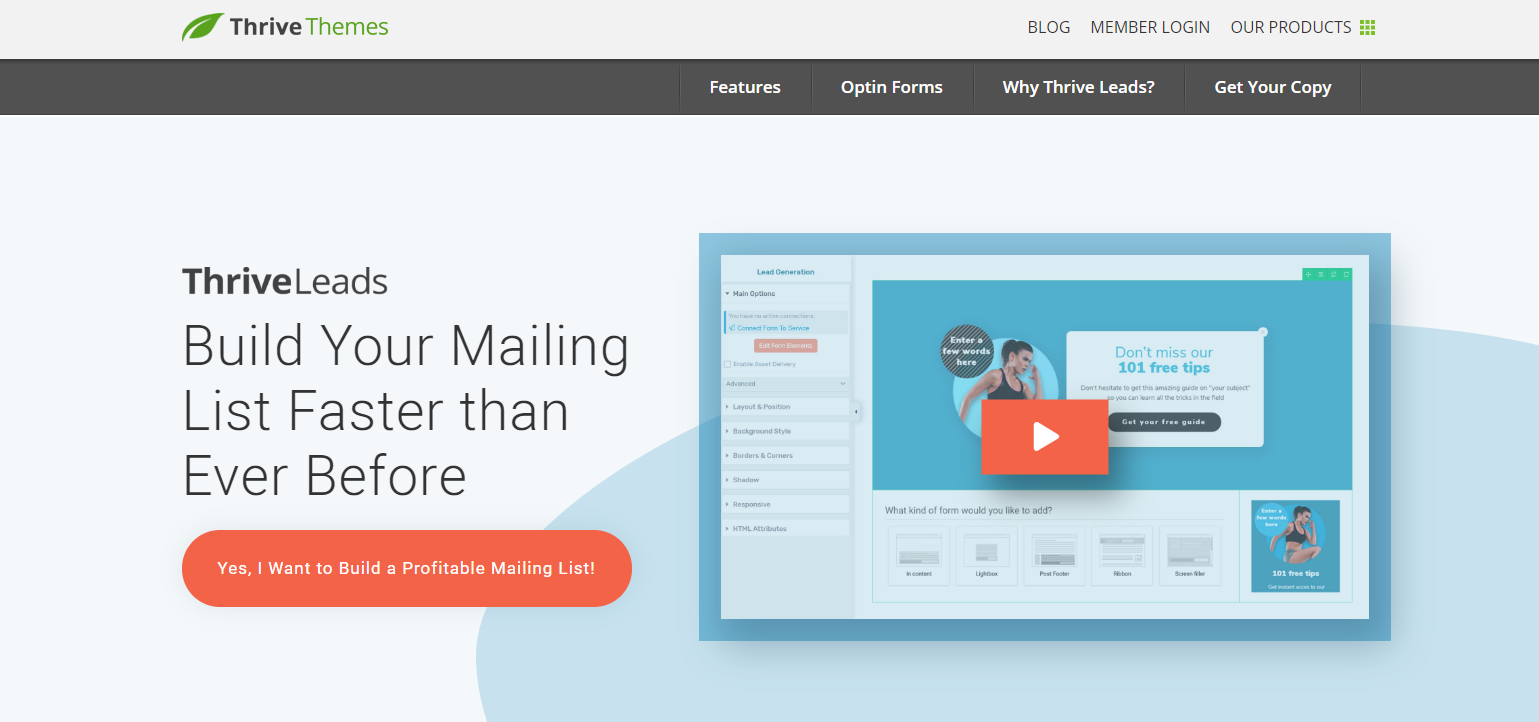 Their unique SmartLinks feature is one of the most helpful tools you'll gain access to. It enables you to present a different offer and message for segments. Since the behaviors between current subscribers and a brand new visitor are very different, this is extremely useful for maximizing new sign-ups.
You simply create a new SmartLink with the following information:
Where you'd like to forward subscribers.
Which type of users you wish to target.
The behavior type of the form such as hiding it from existing subscribers.
The duration of the SmartLink.
Once you've done this, ThriveLeads will take care of the rest and you can watch the new signups roll in.
Wrapping up
Lead generation is easily one of the most important parts of growing any business. Likewise, it's the most difficult.
Take the stress off of your shoulders by using a lead gen plugin like the ten we looked at today. 
They will enable you to add optimized forms, promote lead magnets, split test creatives, analyze reports, and follow up with your prospects – all of which help to improve conversions and funnel performance.
The post 10 Plugins to Help Service Businesses Capture and Nurture Leads in 2020 appeared first on Torque.