No matter what job you have, there is always room for improvement. This is particularly true for WordPress professionals. Web development and design are constantly-changing fields, and the second you learn one method of doing things, another technique is introduced.
This type of ever-evolving environment is exciting, but it can also be challenging and, at times, frustrating. Fortunately, there are plenty of professional development opportunities within the WordPress community. Taking advantage of these resources can help you expand your skillset, enhance your capabilities, build your resume, and ultimately attract high-paying clients.
That's why we've rounded up a list of six of the best resources for WordPress professionals. Let's get right into it!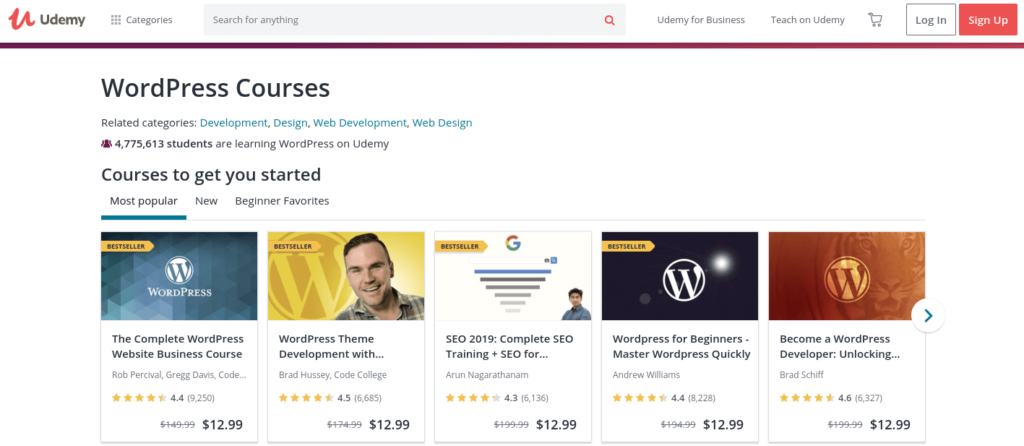 Udemy is an online learning portal offering a variety of courses that are well-suited for WordPress developers and designers. It's an intuitive platform that's easy to get started with. Plus, once you complete a course, you get a Certificate of Completion and lifetime access to the course materials.
The length and prices of the courses on offer vary. Most WordPress courses range from anywhere between $19.99 and $199.99, depending on their length and complexity. However, Udemy often runs site-wide sales, sometimes for as much as 93% off.
An example of one of the 'bestseller' WordPress courses is The Complete Guide to Building Premium WordPress Themes. Created by front-end web developer Ali Alaa, this course teaches developers how to build premium, translatable themes that can be accepted on marketplaces such as ThemeForest. The course also covers how to make your themes compatible with the new Block Editor.
Treehouse is another online learning platform for developers to hone their coding skills. What makes Treehouse different, however, is that the platform is designed for in-sync coding and interaction.
The WordPress courses are organized into 'tracks' that range from beginner to expert levels. The courses include interactive code challenges and on-demand videos, and most last between three to five months. You can choose from three pricing packages:
Each plan comes with a free seven-day trial and offers a different level of access. For example, the high-tier Techdegree track includes personalized feedback on your code.
Treehouse courses are a practical resource for WordPress developers who want to explore a specific topic or programming language. They're also a great starting point for front- or back-end developers interested in pivoting to full-stack development.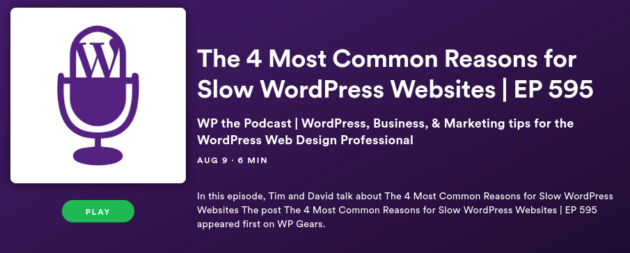 Being a WordPress developer means that your professional development is an ongoing process. It's important to stay informed on the latest industry news and best practices. An easy way to do that is by subscribing to WP the Podcast.
This podcast is presented by WP Gears – an online learning hub for WordPress professionals – and hosted by David Blackman and Tim Strifler. All the topics covered relate to development, design, business, and marketing.
Some examples of previous episodes include:
The episodes are under 10 minutes each, and delivered daily (even on weekends). You can listen to the episodes on the WP Gear website, iTunes, Spotify, or Google Play Music.
This podcast doesn't require a serious time commitment. Therefore, it's easy to incorporate into your daily routine. Plus, it's free!
Codecademy offers a selection of online courses that are appropriate for developers of all skill levels. There is no course about WordPress specifically. However, there are plenty of courses that are applicable for WordPress developers who want to learn the basics (PHP, CSS, and HTML), and other languages beyond those three.
If you're interested in plugin development, for example, you might consider taking the Create a Back-End App With JavaScript course. This eight-week track teaches you how to connect web apps to databases, and how to create back-end APIs from scratch.
The Codecademy courses have you complete small tasks for each lesson before advancing. Plus, they also help you produce portfolio-ready projects. In other words, you'll get hands-on practice in addition to more theoretical knowledge.
There are a lot of free courses on this platform. However, the ones most likely to aid in your professional development as a WordPress developer will probably require a 'Pro' subscription. This costs between $19.99 and $39.99 per month.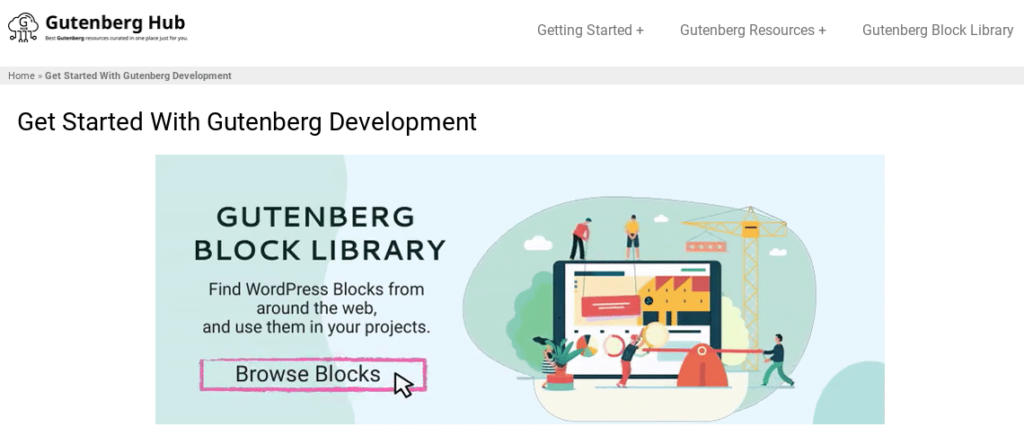 The new Block Editor affects all WordPress users, so learning about it should be a priority. This is true for any WordPress developer or designer, but especially for theme and plugin developers. A helpful resource for delving into this topic is Gutenberg Hub.
Gutenberg Hub offers a plethora of curated articles and guides for helping developers gain a comprehensive understanding of the Block Editor. It also offers tutorial series and courses on Block Editor-related development, including:
There is a lot of information on Gutenberg Hub for WordPress developers to dig through. It's a particularly convenient tool because it collects valuable resources from all over the internet, and puts them in one place for easy access.
Finally, Tom McFarlin is a WordPress expert who can offer insight and guidance to help with your professional development. In addition to working as a senior back-end engineer for WebDevStudios, he hosts his own blog. There, he shares articles, notes, tips, and resources about all things related to WordPress development.
McFarlin is a seasoned developer who can help intermediate and advanced WordPress professionals discover new methods and techniques. Some of his recent articles of note include:
In addition to following him on Twitter and reading his blog, you can also subscribe to McFarlin's podcast Practical WordPress Development. He uses these podcast episodes to answer listener questions, and discuss various development-related topics.
Conclusion
Whether you're a WordPress beginner or an experienced developer, there is always something new to learn. As we covered in this article, there are plenty of resources (both free and paid) that you can use to enhance your professional development.
These include:
Are there any WordPress resources you've found particularly helpful in your professional development? Let us know about them in the comments section below!
Image credit: Pexels.
The post 6 Professional Development Resources for WordPress appeared first on Torque.