WordPress is constantly changing. As a web developer, it's important to stay ahead of updates so you can keep your clients' sites secure and performing optimally.
This matters because WordPress 5.3 is set to release on November 12, 2019. It includes a wide range of updates and new features, which may help make your job easier. Taking a look at what's to come can give you a better idea of how you can prepare for those changes.
In this article, we'll discuss the updates that will be included within WordPress 5.3. Then we'll provide three tips to help you get ready for the new version. Let's get started!
What to Expect from WordPress 5.3
This year, which has been a busy one, will wrap up with one more major WordPress release. WordPress 5.3 will arrive next month, and with it comes some notable improvements to the platform's block editor and user interface.
Some of the biggest updates will include:
A new default WordPress theme. The latest version of WordPress will introduce Twenty Twenty, which is built to fully support the block editor. It is a full-width theme featuring separate menus for mobile screens, a single-column layout, and the Inter typeface.
Group blocking. As of WordPress 5.3, you will be able to group blocks together, placing them inside one another. You can also save multiple blocks as a reusable 'group block', to save time on future designs.
Column and table block improvements. The update also includes width and layout support for columns. You can also add placeholders inside each column, and the table blocks will feature text alignment and caption support.
Large image handling. WordPress 5.3 comes with the ability to support larger image sizes, and (hopefully) will eliminate the issues that traditionally occur when trying to upload high-resolution, non-optimized images from smartphones.
Site Health Checks. WordPress 5.2 introduced the Site Health feature. However, as of 5.3, this feature will no longer display the Site Health score as a percentage. Instead, it will feature a simple "Good" or "Should Be Improved" message.
These are just some of the many updates you can expect to see. Other developer-related changes include the ability to filter multisite by status, and compatibility improvements for PHP 7.4 support.
How to Prepare for WordPress 5.3
To prevent any unnecessary disruption or compatibility issues, it's best to start preparing for the release of WordPress 5.3 now. Let's take a look at three ways you can do just that.
In anticipation of the official release, you may want to try the beta version of the update. You can do this by downloading the beta zip file, or using the WordPress Beta Tester plugin: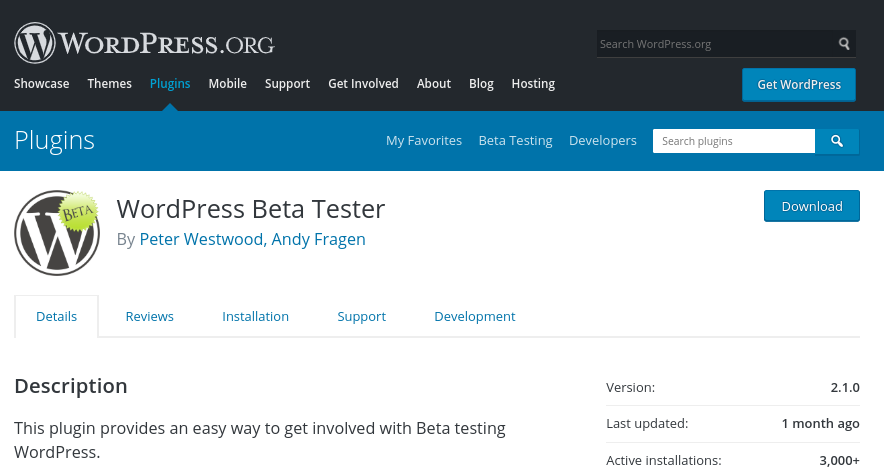 After you install and activate the plugin in your WordPress dashboard, navigate to Tools > Beta Testing: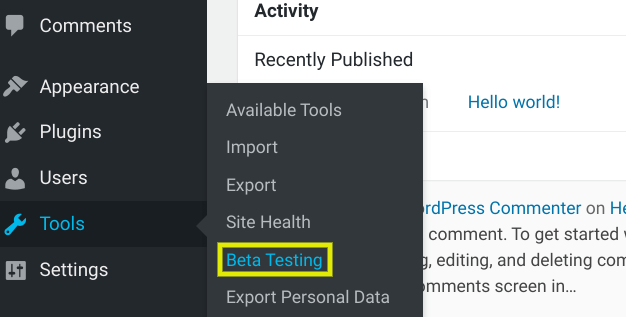 Once installed, you can update to the beta release by going to Dashboard > Updates and selecting Update Now. This will automatically bring you to a welcome screen for WordPress 5.3: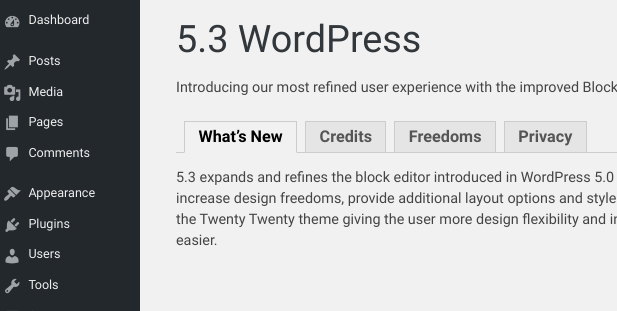 Before you update, you should be prompted to create a backup of your site. You'll also see an option for reverting back to your site's previous version if necessary. Of course, we highly recommend performing this testing on a development or staging site, as not all of the bugs have been worked out yet.
2. Back Up Your Database, Plugins, and Themes
Before any major update, it's vital to back up your entire site, including its plugins, themes, and database. Although new WordPress versions rarely have any major problems, it's best to be safe, and you don't want to run into unexpected compatibility issues.
There are multiple ways you can back up your site, if you don't have a system in place already. One simple option is to use a plugin such as UpdraftPlus: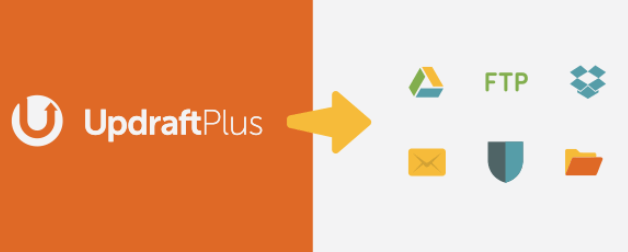 With this solution, you can create backups and store them in offsite locations such as Google Drive, Dropbox, and more. It also lets you quickly restore backups with just a few clicks.
Another option is to back up your site through its provider. Of course, you may also consider backing up your site manually, which can usually be done through its hosting control panel (or an FTP client).
3. Make Sure You're Using the Latest Version of PHP
Finally, before upgrading to WordPress 5.3, it's a smart idea to make sure you're using the latest version of PHP. Running PHP 7+ can prevent compatibility issues, and improve site performance.
WordPress 5.2 required a minimum of PHP 5.6.2. Now, WordPress is focusing its updates towards PHP 7, and more specifically PHP 7.4 (which will also be released next month).
Again, depending on your hosting provider, PHP updates may occur automatically. To find out what version you're currently using, you can go to your WordPress admin dashboard and visit Tools > Site Health:

If you do need to update your version of PHP, the recommended method of doing so depends on your hosting provider. Fortunately, GitHub offers a resource with hosting-specific tutorials you can use to find step-by-step instructions.
Conclusion
It's important to make sure that your sites are always using the latest version of WordPress. However, there are also certain tasks it's best to perform before updating, which you'll want to keep in mind with the November release of WordPress 5.3 on the horizon.
As we've discussed, there are three main ways to prepare for WordPress 5.3:
Use the WordPress Beta Tester plugin.
Back up your database, plugins, and themes.
Make sure you're using the latest version of PHP.
Do you have any questions about WordPress 5.3 and how to get ready? Let us know in the comments section below!
Image credit: Pexels.
The post A Simple Guide to Help You Prepare for WordPress 5.3 appeared first on Torque.