There are a few things that should be part of the WordPress developer's toolbox. Besides a good code editor and the number for their hosting provider's tech support on speed dial, an FTP client is definitely among them. However, what are the best FTP clients for WordPress users?
If that is a question that's also keeping you up at night (and why wouldn't it!?) you have come to the right place. Below, we will talk in detail about what an FTP client is, why you need one, how they work and features to look for in an FTP solution. After that, we will list the most common options (both free and paid) for FTP clients and discuss their pros and cons.
At the end of the post, we want you to feel able to choose which is the best option for you and hear what's your favorite choice and why.
Let's Start With the Basics – What is an FTP Client?
If you are new to the entire website and WordPress game, your first question might be what the heck an FTP client even is.
First of all, no cursing! Secondly, that's exactly what we will talk about now.
A Way to Manage Your Website Data Remotely
FTP stands for File Transfer Protocol. It's a method for moving files between two computers, the client (which is your local machine) and the server.
In the past, you needed to do this kind of thing by manually typing commands into a console, however, thankfully, by now FTP clients can do the same thing via a graphical interface.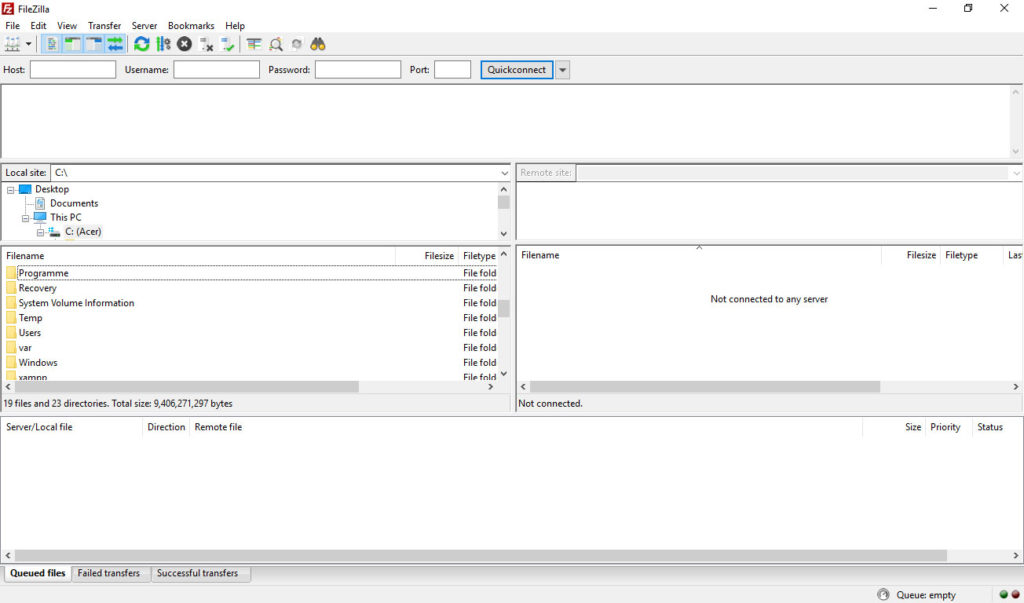 In essence, they allow you to connect to your server and manage it remotely. You can create and delete directories, upload, download, rename, and edit files, change file permissions and a lot more. With an FTP client, this is as easy as doing the same on your local machine.
How is That Useful?
Of course, there are other ways to access the file system on your server. Many hosting providers offer a management tool like Cpanel for this very purpose.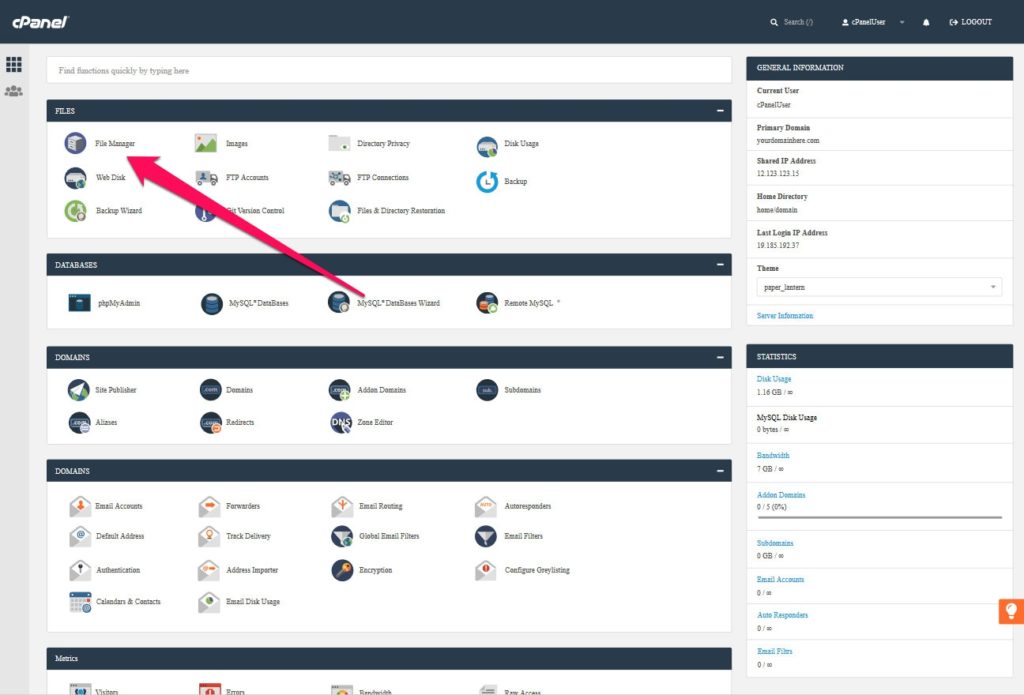 However, first of all, that's not true for all of them. So, if yours doesn't, an FTP client is a valid alternative.
In addition, using FTP is usually faster than logging into your hosting account. You can literally get access to your server with the click of a button.
This is super handy, for example, if your WordPress site gets hacked and you need to clean up the mess. Another option is the dreaded white screen of death or any other common WordPress problem that renders you unable to log into your site.
In all of those cases, having FTP access allows you to start troubleshooting by updating WordPress manually, disabling plugins or other measures.
How Do FTP Clients Work?
To connect to your server via FTP you need a username, password, server address and (sometimes) port number. You get all of that from your hosting provider.
Once you have the information, all it takes is to start your FTP client, enter the credentials and hit the Connect button.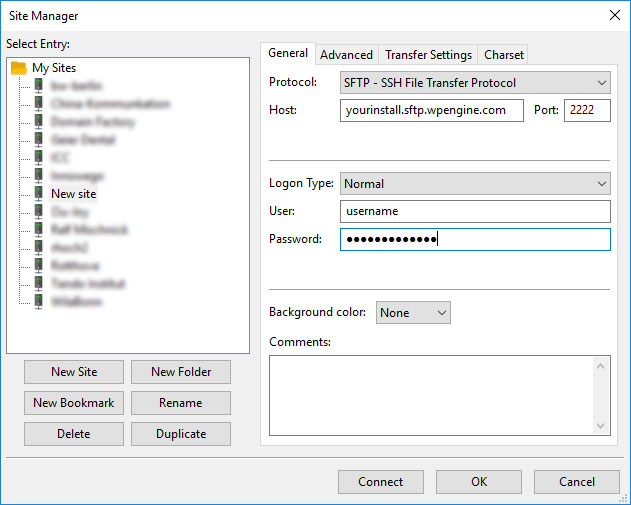 To make things easier, these programs usually allow you to save connection details for later so you can connect more quickly next time.
Must-Have Features
All of the above is par for the course for any of these software solutions. However, to be among the best FTP clients for WordPress users, it takes a little more. Here are some key features to look out for:
Easy-to-use interface — Having good UI is paramount. Everyone, including beginners, should be able to find their way around the software easily and not be confused by it.
Support for a variety of transfer protocols — Since security is such an important topic and the standard FTP protocol unsecured, any client worth its salt should allow you to use encrypted methods of connecting to your server.
Ability to assign a standard editor — This allows you to automatically open files you choose to edit with a code editor of your choosing and not the standard of your OS.
All of the examples below have these features and then some (I guess otherwise we wouldn't call them the best FTP clients). However, which is the most suitable for you depends on your own personal requirements.
Here Are 7 of the Best FTP Clients Available Right Now
In the following, we will talk about some of the most common FTP clients out there, their pros and cons as well as standout features.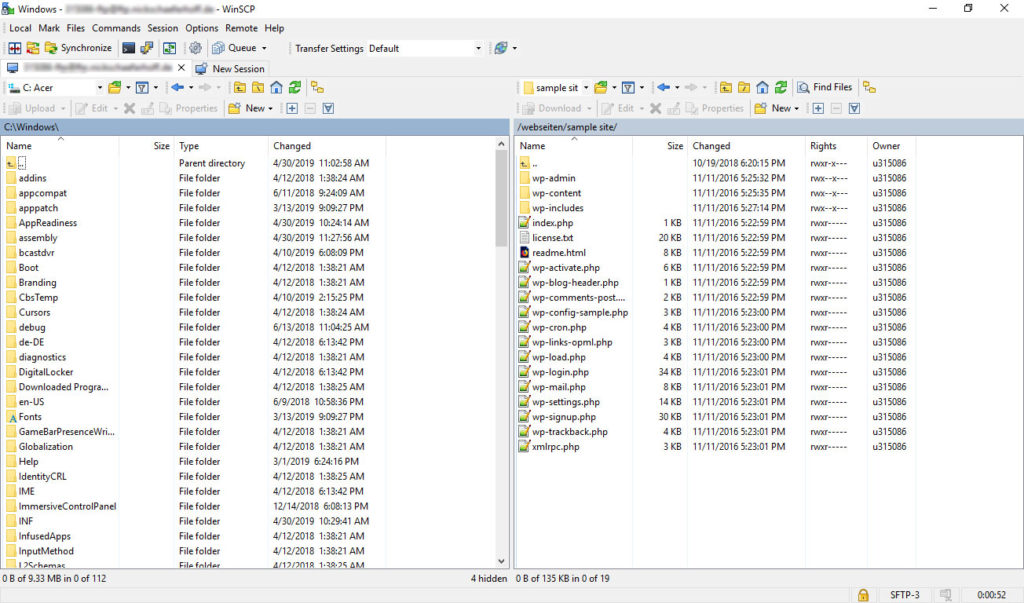 Platform: Windows
Price: Free
This is an FTP client for Windows that is loaded with features and free of charge. Its focus on one operating system means it integrates well with it and doesn't look out of place.
Aside from that, the client comes with a rich interface with many options yet a lightweight architecture. WinSCP also supports many protocols including SFTP, FTPS, WebDAV and S3 and has a built-in code editor.
In addition, it comes with these features:
Directory caching for faster access
File encryption for safe transfers
Password encryption and ability to set a master password
Ability customize the user interface to your needs
Integration with other Windows applications
File restriction to keep others from modifying them
Script and task automation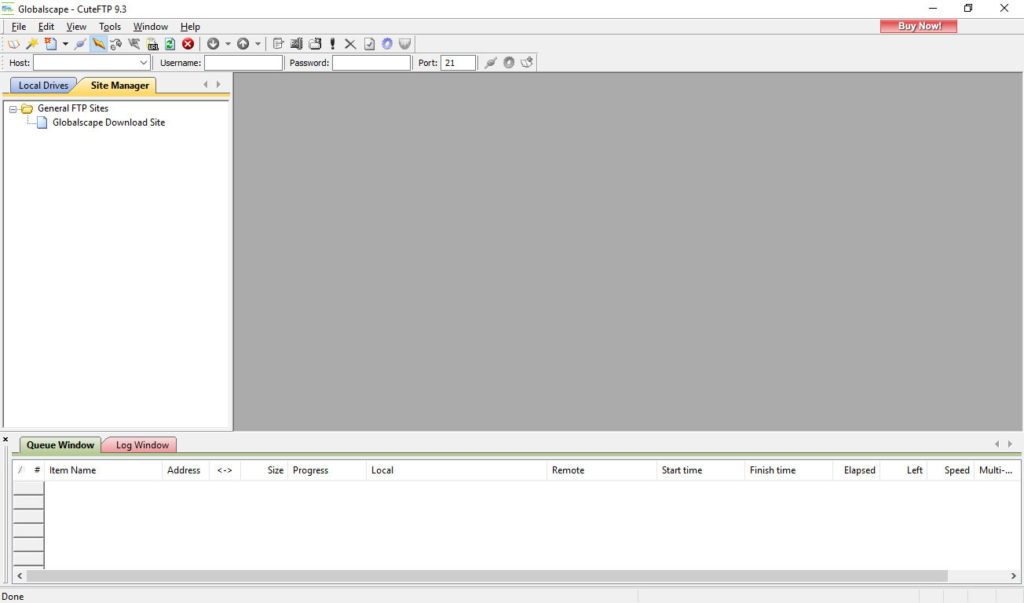 Platform: Windows
Price: $59.99/$89.99 with one year maintenance and support
The contender with the adorable name is one of the most popular premium solutions due to its feature richness:
Support for all major transfer protocols
Encryption and password management for security
Premium support via phone, email and chat
Ability to access several remote websites at once
Thumbnail preview on the server to find images quickly
Transfer for up to 100 files at the same time
Built-in wizards and tutorials
File backups and sync
Ability to schedule automatic file transfers
In addition, CuteFTP comes with a free trial so you can try it out before committing.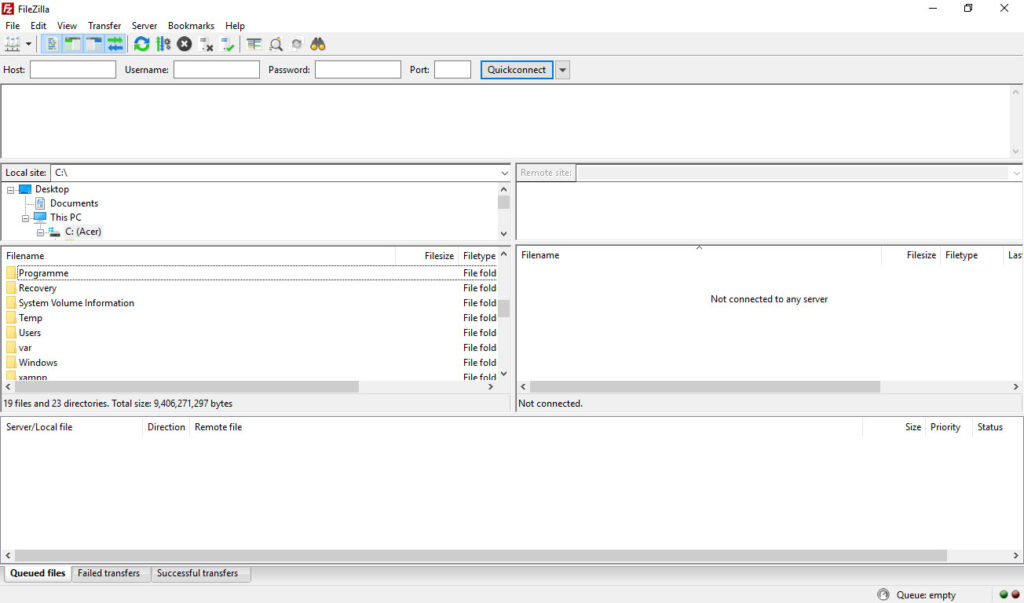 Platform: Windows, Mac, Linux
Price: Free
Next up is FileZilla, a free, open-source solution and one of my personal favorites. The software has been around since 2001, runs on both Windows, Mac and Linux and has all the features you would expect from one of the best FTP clients for WordPress users.
This includes the ability to connect securely to your server and set a default editing tool. The program can also transfer large files (over 4GB), is regularly updated and has a great support structure in the back like forums and a wiki.
Other features include:
Bookmark function to continue where you left off
Drag-and-drop functionality for moving files
Multi-language support
Directory comparison
Filename filtering
Password encryption and master password
Quick caveat: Make sure to download FileZilla from the official website (linked above). People who downloaded it from SourceForge have reported adware and spyware in some cases. Also, be sure to uncheck any additional options during the installation.
Platform: Windows, Mac
Price: Free
This entry is another open-source, cross-platform solution. Cyberduck is easy to use and, therefore, beginner friendly. However, the program comes with enough features to make it a viable option for professionals as well.
For example, on Mac it gives you access to Keychain for storing login credentials and allows you to discover files via Finder.
Other benefits:
Client-side encryption to keep data secure
Easy file sharing with others
Caching for faster browsing and file editing
Support for common cloud storage providers
Platform: Mac
Price: Free, $45 for pro version
Here, we have one of the most popular options for Mac. Its standout features include folder sync, file finder and a high level of security. Transmit is also famous for its speed, which is why many WordPress professionals choose to work with it.
Since the program is available for Mac only, it fits the OS interface like a glove. For example, you may add shortcuts to the Finder to quickly connect to servers from the desktop.
Aside from that:
Integration with major cloud servers
Support for all common protocols
Sync for local files and cloud equivalents as well as between servers
Access to site files from several devices
Batch rename functionality
Two-factor authentification login to increase security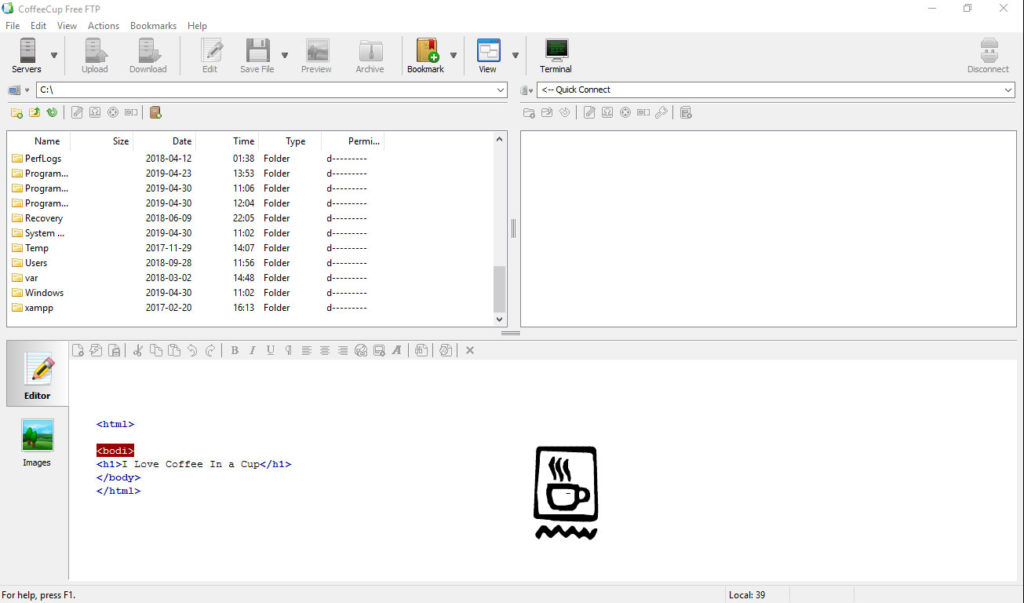 Platform: Windows
Price: Free, $39 for paid version
Free FTP is a popular and easy-to-use Windows solution that can do FTP, SFTP, FTPS and more. Its history feature helps you remember the location of files and the client can back up server content as a zip archive.
The program is available as a free and paid version. The premium edition is named Direct FTP an comes with extra features like a code editor, snippet library, image editing, autocompletion and more.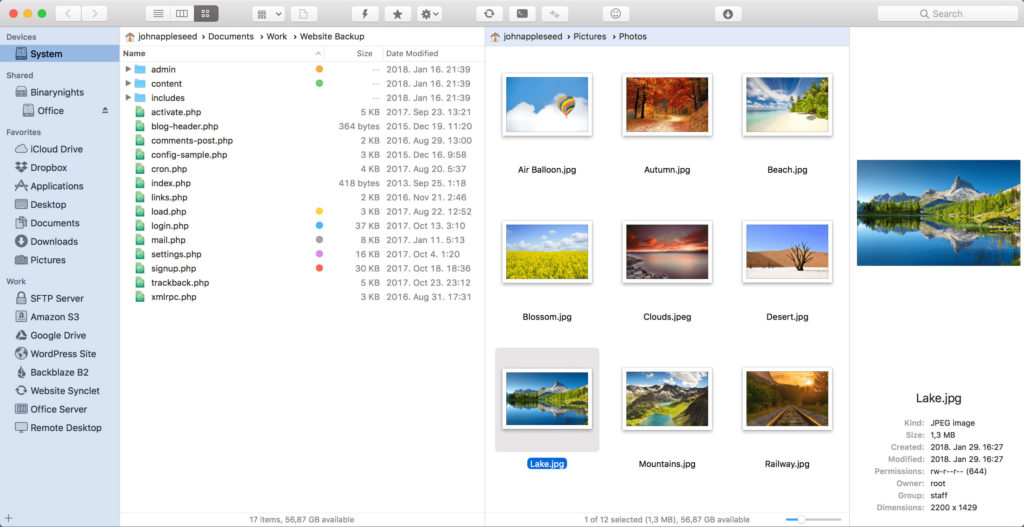 Platform: Mac
Price: $14.95 for single-user license
The final entry is another premium FTP client that is only available for Mac users. It is highly appreciated for its speed and these other features:
Support for the most popular protocols including cloud servers
Ability to preview files on the server without download
File sync and search
Ability to work in and save several connections at once
Bulk file-rename functionality
Connect your favorite editor to the FTP client
What Do You Consider the Best FTP Clients for WordPress?
FTP clients are a tool of the trade for WordPress users. They allow you to access your server without the need to log into your hosting account or management panel and are instrumental to fixing website problems.
Above, we have provided you with a list of some of the best FTP clients WordPress users can find. We hope you have discovered a solution that fits your needs, setup and preferences.
If you are just a casual user, one of the many free FTP cleints is most probably enough. For people who work with WordPress professionally, investing in premium software is definitely worth thinking about. If you have any other tips or thoughts on this topic, we would love to hear from you.
What do you consider the best FTP clients for WordPress users and why? Let us know in the comments section below!
The post 9 of the Very Best FTP Clients for WordPress Users (Windows and Mac) appeared first on Torque.