The WordPress community is many things, but one's for certain – there's never a lack of productivity. The past 12 months are the perfect example. During that time we've seen the release of WordPress 5.0, the introduction of the Block Editor, and much more.
However, the machine never stops running. Matt Mullenweg's most recent State of the Word address introduced nine priorities for the platform throughout 2019. Understanding what these are offers a glimpse into the future development of WordPress.
In this post, we'll look a closely at Matt Mullenweg's "9 Projects for 2019", and discuss how they might affect you over the next 12 months. Let's get started!
Planning for the Future: The WordPress Way
There are two aspects to consider whenever a new project or initiative is announced by the WordPress team. To understand what we mean, consider WordPress as a duck floating on the water. From the top, you see the duck simply gliding along. However, underneath, the engine of legs and webbed feet present an entirely different story.
So it is with WordPress. It seems apparent that behind the scenes, new initiatives are planned meticulously in an almost perpetual state. In contrast, from the front, we see little for long stretches, until it comes time for Matt Mullenweg to offer a path into the next twelve months of WordPress.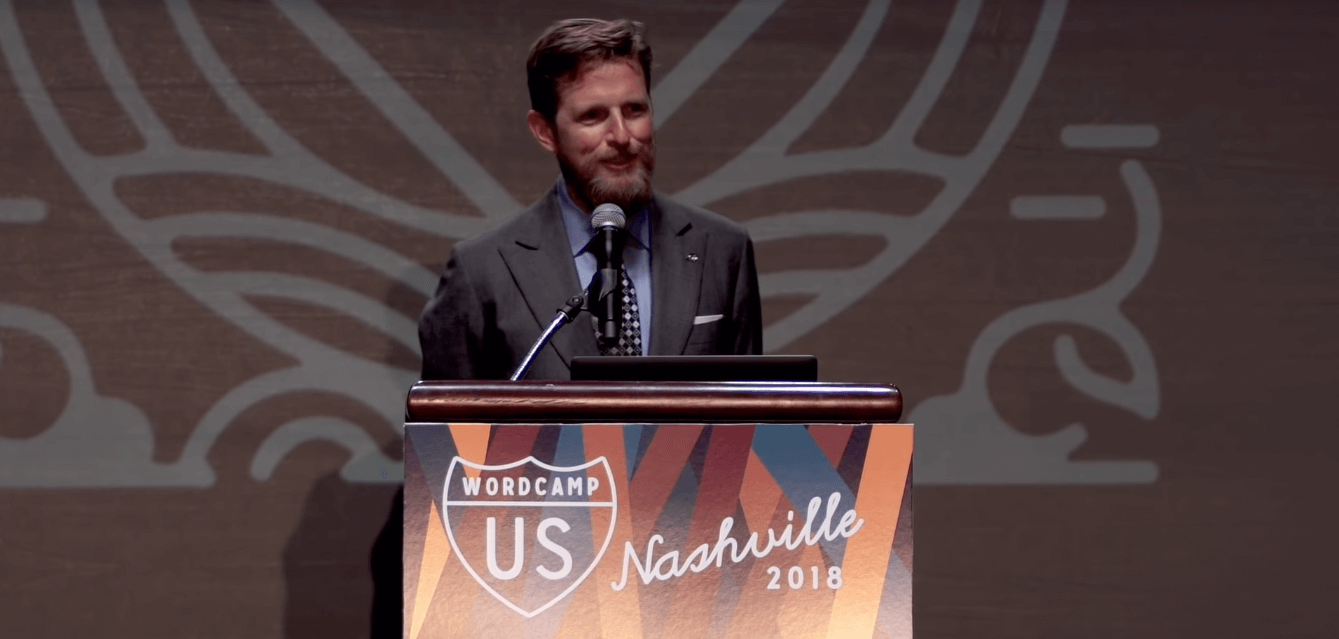 9 Projects for 2019: The Details
Much like other recent developments, such as the push to learn JavaScript "deeply", the following nine projects and priorities are likely to become central to the WordPress community. Let's take a look at each project, in turn, starting with those related to the new Block Editor.
1. Creating a Navigation Menu Block
This first project has been gaining some traction recently. In a nutshell, the goal is to turn the current way of creating WordPress' navigation into a block-based system. This is a challenging User Interface (UI) project, which is reflected by the super-early start date.
While work has already begun on the menu block, so far all we have to go on are diagrams and drawings. Some of these were created at the recent WordCamp US by the Design Team. You can read more on their initial thoughts on the Make WordPress Design page, and even get involved if you think you can provide some insight.
2. Porting All of WordPress' Widgets Over to Blocks
In contrast, this next project is a relatively simple one. As you no doubt know, WordPress currently uses widgets to build out areas such as sidebars and footers, and the current options encompass a wide range of features.
At this point, widgets are not block-based and are still accessed via the dedicated Widgets page within WordPress and the Customizer. The plan moving forward is simply to convert all existing widgets into blocks. This is a natural move since the Block Editor is now central to how content and layouts are created.
3. Making Sure All Widget Editing Areas Support Blocks
There are currently two primary areas where you can edit widgets and their contents. There's an admin panel within Appearance > Widgets in the back end, and also a dedicated section in the Customizer. However, these sections are not yet compatible with the Block Editor, which is obviously at odds with the future direction of WordPress.
Therefore, the goal is to make sure these widget-editing areas are fully compatible with the blocks system. In other words, you should be able to drop blocks into any widget area and work with them as you would on a page, post, or any other content type.
Whether this will be easy to accomplish or not is a discussion for another article. However, it goes without saying that this is vital for any future version of WordPress that relies on the Block Editor to create content and layouts.
4. Creating a Way for Themes to Visually Register Content Areas
On the surface, this project is less intuitive to understand than some of the others. However, the goal here is relatively simple.
Currently, themes register content areas under the hood, and they're usually rigidly set. However, with the Block Editor now in play, there's an opportunity to give the end user (or developer) more scope for deciding where content should 'live'. To put it another way, the Block Editor provides the potential for content empowerment!
Since the Block Editor is a visual canvas for creating content, themes themselves should be able leverage that advantage. As with many of the projects on this list, of course, the exact scope hasn't yet been laid out. Core team members are still in the dark about what exactly they will be doing. Even so, you can expect this to be a focus over the next year, and don't be surprised if it becomes one of the bigger projects of the nine.
In case you're not yet familiar with the Health Check & Troubleshooting plugin, it's a way to perform checks relating to your installation. It focuses on detecting common configuration issues, among various other errors.
Health Check is a plugin that's constantly being developed, but the powers that be have clearly seen something in it that warrants inclusion within WordPress. The goal is to merge the functionality of this plugin with WordPress core, and it's likely to be a valuable addition. This plugin can offer a built-in way to debug a site that's faltering, along with encouraging good software hygiene in general.
6. Offering Users a Way to Automatically Update Their Plugins and Themes
This is one piece of functionality that WordPress has lacked since time immemorial. In fact, many web hosts have taken up the slack when it comes to handling updates since a built-in solution has never been implemented.
Put simply, a WordPress site's plugins and themes need updating often. It's not uncommon to have to perform updates practically every day, depending on how many themes and plugins you have installed.
Fortunately, the WordPress team is finally going to introduce a way users can set these updates to happen automatically. Jetpack users will know that this functionality exists already for certain plugins, but the plan is to add the feature to WordPress core as well.
7. Providing a Method for Users to Automatically Update WordPress Core
As it turns out, it's not just your themes and plugins that will become easier to manage. Another goal for the next 12 months is to implement a method of automatically updating WordPress itself. Again, this is something many web hosts provide on a basic level, but the native functionality is lacking.
Of course, you could argue that automatic core updates are ill-advised, given that a rogue bug or oversight could cripple your website. However, for someone managing dozens of sites (or more) for less technically-minded clients, this option could be a godsend.
Given that this feature is not available in WordPress core or dedicated plugins, implementing it could be a little harder than it will likely be for themes and plugins. Even so, this option is something we should have by the time WordCamp US 2019 rolls around.
8. Building a Way to Search for and Install Blocks on WordPress.org
If you take a stroll over to the WordPress Plugin Directory, you'll notice a dedicated featured section for Block-Enabled Plugins. This is essential for the continued growth and success of the Block Editor. However, the forward momentum doesn't stop there.
The plan for this year is to create a dedicated Block Directory, which works in a similar way as the existing solutions for themes and plugins. Given how central blocks are becoming within WordPress, it makes perfect sense to showcase them on their own terms. You can expect to see this develop rapidly once the project begins in earnest.
9. Founding a Triage Team to Deal with Open Trac Tickets
Finally, this is another project that's already in progress. There are currently over 6,500 open tickets on Trac. Naturally, this backlog isn't conducive to proactively fixing the issues that matter.
We're currently seeing some short-term work on 'ticket triage', including a recent proposal to clear the backlog of milestone tickets. However, there's a definite long-term need to clean out more than just the top layer of tickets. Fortunately, Jonathan Desrosiers has suggested that a proposal on this will be on the way in the "coming weeks".
Conclusion
Part of the reason WordPress has seen so much success is the team's never-ending reach for perfection. Of course, actual perfection isn't achievable. Still, forward propulsion in the form of new features, functionality, and outlooks is what keeps the platform's wheels turning.
The latest State of the Word demonstrates this aptly. In his speech, Matt Mullenweg introduced nine projects that will be a priority for WordPress in 2019. Many are based around developing new features and options related to the Block Editor. Others revolve around making the platform's User Experience (UX) better, such as providing a built-in method for automatic updates.
Which of the nine projects are you most excited about, and why? Let us know your thoughts in the comments section below!
Image credit: Egle_pe.
The post 9 Projects for 2019: A Look at WordPress' Priorities for the New Year appeared first on Torque.