If you're wondering how much time you should dedicate to answering support queries, we recommend picking a number and doubling it (at least) – it's that important. However, this doesn't mean you have to always be personally involved in that support.
In fact, there are plenty of fully- or partly-automated solutions to help you handle client queries. Options such as live chat and chatbots can enable you to deliver high-quality customer support, while also saving you time to devote towards other aspects of your business.
In this post, we'll look closely at the challenges and impact of customer support. Then we'll talk about what you can achieve by using live chat services and chatbots to supplement your support team. Let's get to work!
The Familiar Challenges of Running a Small Business
We're sure that you're no stranger to the experience of a very full day when it comes to running your business. This feeling can become so familiar that it's tempting to passively accept these days as inevitable.
While every situation is unique, there are three main areas you'll need to concern yourself with if you want to run a successful business:
Administrative tasks (such as general email management, finance-related work, and more)
Bread-and-butter work – in other words, the main focus of your business
Support and communication – i.e., making sure your customers are happy
To elaborate on that last point, you'd do well to keep close tabs on how your customers are feeling about you and your services. Just because you're not hearing anything directly doesn't mean that everyone is happy or there are no issues you need to address. Rather than waiting for them to come to you, customer support needs to be an active part of your strategy.
Why It's Vital to Provide Top-Notch Customer Support
We've said it before, and we'll say it again: If you're less than 100% dedicated to the digital well-being and happiness of your customers, you're not going to see the outcomes you want. To explain why, here are a few examples of what your customer base is expecting from you:
Near instant responses via social media – especially if that's one of your 'official' support channels
Clear resolution that solves any issues satisfactorily
Hands-on work to rectify tougher and more complex issues
Regular communication that keeps the customer in the loop about important developments and changes
This is just a small summary of the standards you're expected to meet as an online business in today's marketplace. Depending on your industry, there will likely be other metrics your customers will judge you on. However, the main takeaway here is that when it comes to customer support, every interaction needs to be handled quickly and deftly.
Delegation: The Solution to High Demands and Higher Workloads
If we're making assumptions, we'd bet that you're a pretty driven person – most people who run a business fit that description. We'd also bet that you'd prefer (ideally) to control every aspect of your business.
This is an understandable desire. If you're looking to be successful, however, trying to maintain that level of control will likely backfire at some point. Mental health and burnout are real issues in both the WordPress field and the business world in general, which is something to bear in mind when you're juggling digital bowling pins on a virtual unicycle.
In other words, you can't do everything. The very best often delegate aspects of their work, for a multitude of reasons:
Increased specialization through delegation has a positive impact on quality.
Offloading tasks you have little experience with enables you to get help from those with greater expertise.
There are simply not enough hours in the day to handle all necessary business operations yourself.
At the end of the day, delegation truly is the secret to running a smooth operation. However, what if you're a one-man band, or don't have the resources to hire the help you need? That's where Artificial Intelligence (AI) comes in handy.
How Live Chat and Chatbots Can Help You Deliver Excellent Customer Support
At this point, let's summarize what we've learned so far. When it comes to customer support and time management, there are several key considerations that must be balanced:
The customer expects instantaneous dialog when they have a question or problem.
You need to provide a clear line of communication for every potential query.
You'll also need to personally handle every issue (or at least make it appear that way).
Your time is valuable and often needs to be dedicated to other things besides support.
On a personal level, a reduced need for direct control of the minutiae – or the less critical tasks – can benefit your mental health significantly.
Checking off all these boxes can be incredibly tough. However, there are a few solutions at your disposal that can help. The first tier, so to speak, is live chat. This is arguably the 'economy' option, as it's both easy to implement and run. In fact, we've been covering this particular topic for years, including how to implement live chat on a WordPress website.
However, another technological advantage that's evolved significantly in recent years is Artificial Intelligence (AI). Tools like bots that leverage AI can help you deal with initial customer queries – a time-sink you could do without – and funnel many people either to your knowledge base or to other self-help documentation.
On the flip side, if a customer's query turns out to be something that needs human attention, you can make sure all the information you'll need to quickly diagnose and solve the problem is at your fingertips right from the start. To make that happen, you can use an AI solution designed to have conversations with visitors to your website.
In other words, you can make use of a chatbot that mimics the live chat experience (without requiring a time investment by actual humans). Landbot is just one example of such a tool: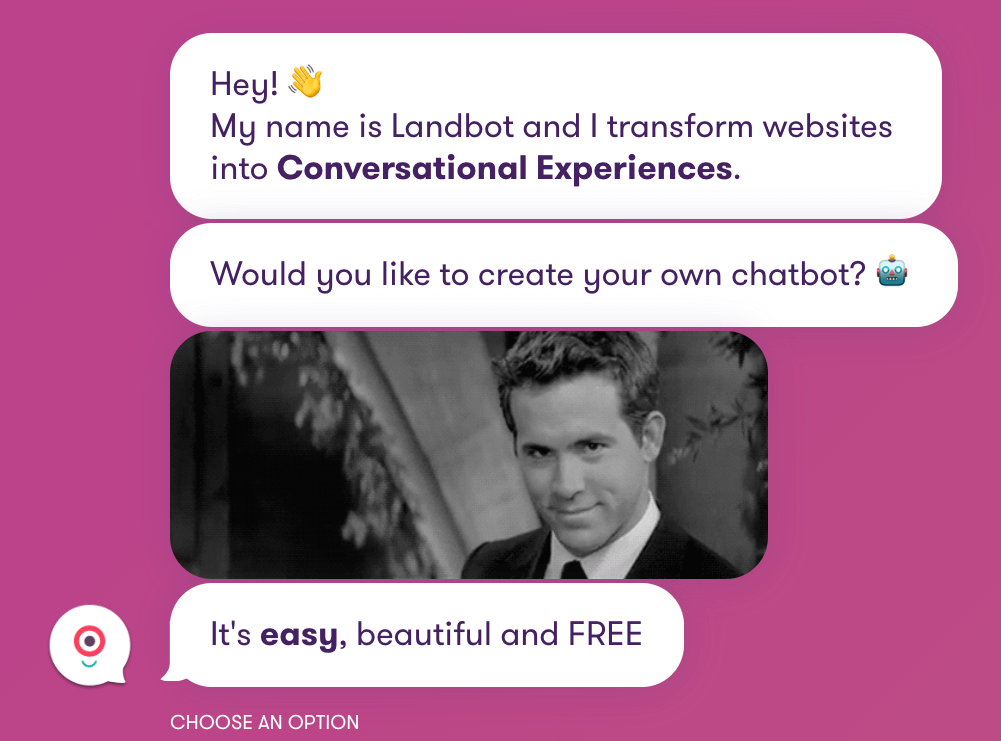 This solution works well, but is simplistic by design and relies on conversational triggers to keep dialog moving. For something more complex, you can channel WordPress' inner HAL and opt for IBM Watson Assistant:

This plugin learns from the information you provide, in order to answer customer queries quickly and efficiently. Watson is ideal for longer conversations, and for industries where your customers' needs are likely to be complex.
When it comes to saving time, delegating work cheaply, and still helping your customers, few options can beat a well-designed chatbot. No matter what solution you opt for, this technology can be a key addition to your support provision.
Conclusion
We can't emphasize enough how much of a priority customer support is, regardless of your specific business or niche. As such, you'll want to dedicate as much time to it as possible. However, what if you simply don't have enough hours in the day?
In that scenario, AI technology can take your place in many basic customer interactions. With the right solution in place, you can more easily manage your support requests while dedicating your time to other business-related tasks. Live chat is an excellent start, but chatbots are quickly becoming the go-to solution for many businesses.
Are you excited by what live chat and chatbots can do for your company and website? Share your opinions in the comments section below!
Featured image: distel2610.
The post How Live Chat and Chatbots Can Help You Deliver More Efficient Customer Support appeared first on Torque.