It's said that nothing tastes as good as free, but is it really possible to get a website up and running without spending any money at all? This is a common question – for both beginners and experts to site development.
In fact, there are plenty of tools, platforms, and services that offer completely free services. Usually, they're of a lower-tier, designed to entice you into parting with your cash for upgraded functionality. However, that doesn't mean they're not sufficient for many types of projects.
In this article, we'll discuss how far free will get you when it comes to website development. We'll also talk about where you shouldn't scrimp on budget, and why. Let's get started!
Finding the Right Balance Between Budget and Needs
Before we get into what you can get for zero outlay, let's discuss the age-old need for balance between the money you have available, and the needs of your clients. In most cases, a client will want as much value for their money as possible, usually while spending as little as they can.
This is completely understandable, and dealing with these often fine margins is part of being a professional. Your job is ultimately to not over-spend in the right areas, and also to minimize costs elsewhere.
As such, knowing where the budget you do have can be best spent will often guide your decision-making. With that in mind, let's explore what free will ultimately get you when you're trying to build a website without breaking the bank.
The Areas of Web Development Where Free Makes Sense
Choosing where to save money on developing a website is the first thing you'll want to do. This is because there are a wealth of open-source or otherwise free solutions available for all stages of the process.
Let's start with the most basic elements. The platform you use as the website's foundation is one of the more crucial decisions you'll make. However, in our opinion it's also one of the easiest: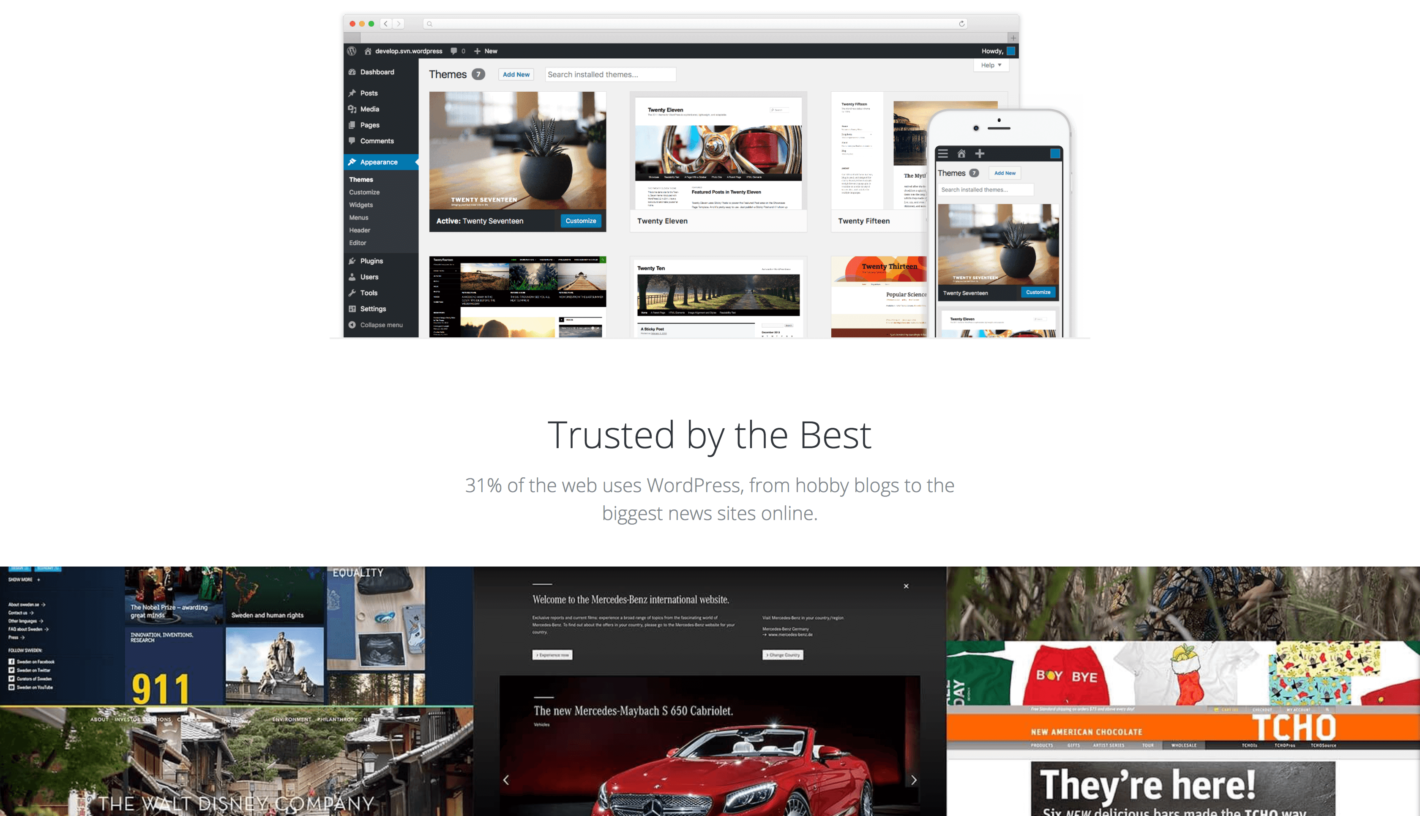 WordPress is our Content Management System (CMS) of choice, and we've talked about why on multiple occasions. To summarize, it's a flexible solution for creating anything from a small blog to an enterprise-level site. It can also be extended in a plethora of ways and has a large and forward-thinking community behind it.
It's actually the extensibility of WordPress that gives you so much flexibility in your budget. This is because when it comes to functionality and design, the platform offers thousands of free options in the form of themes and plugins. These simple tools provide endless shortcuts to development and can help you alleviate your budget.
While both themes and plugins can be had for free, Matt Mullenweg himself has suggested that premium themes are often a better choice. However, just a cursory glance at some of the essential plugins for WordPress reveals that they're practically all free to use. Of course, there's usually a premium tier for those tools, but that usually gives you access to further support and updates, rather than additional functionality.
All in all, with a WordPress site and the right combination of theme and plugins, you can get a website almost completely built out without spending a dime.
Cutting Costs on Security
Before we look at some areas where you will need to spend money, let's discuss an aspect that's a little more complicated. As we all know, securing your website against malicious attacks and other hacks is a vital consideration for any site that will be hosted online. It's likely a primary concern for your clients too and is usually one of the first requests made when you begin development on a new site.
Fortunately, the WordPress plugin environment means you can protect a site fairly well without spending money. Many turn to solutions such as Jetpack and WordFence, and these plugins have a lot to offer:

However, one security feature that currently has no solid free solution is a server-level Web Application Firewall (WAF). WordFence does include a capable WAF, but only at an application level. This means 'bad' traffic can still get access to a site and hit the server. A server-side WAF protects against that and may be worth spending a bit of your budget on.
In addition, Secure Sockets Layer (SSL) certificates are traditionally a costly purchase. Current technologies have opened the field somewhat, but free options are still fairly rare. This is understandable, given the importance of this crucial component.
However, there are a few open-source solutions, such as the excellent Let's Encrypt. As such, practically every website can have encryption-based security regardless of its budget. In our opinion, many businesses balk at such a vital feature being free, but talking them through why it's free and how it compares to the premium competition is often enough to turn them around.
Where You Should Always Look to Spend Your Money (and Why)
While there is a lot you can get for free, most web development projects do require some amount of spending in certain areas. However, you'll be pleased to know that your clients don't have to be Scrooge McDuck to get standout quality in these aspects.
First up, let's talk about web hosting. You may be surprised to learn that there are companies on the market that provide free server space. Unfortunately, they usually come with severe restrictions attached, such as speed or bandwidth throttling, compulsory ads, and much more. These free hosts are not going to be suitable for the majority of projects, which means that spending some of the budget on a host that can offer quality support, flexible setups, and scalability is well worth the cost:

Another area that lacks a functional free option is the site's domain. Admittedly, many registrars that double as web hosts offer a free domain upon registering. Some even provide a .com Top Level Domain (TLD). However, while these options are free in the short-term, that won't be a case in a year's time. Our advice is to buy a domain outright from the beginning, and factor that cost into your budget. Fortunately it's a small one (as is often the case with hosting too).
Can You Create a Functional (and Effective) Website Without Spending a Dollar?
In the end, it is completely possible to build a site using entirely free components. However, sooner or later you'll come up against a wall you wouldn't have encountered if you had opened your wallet just a bit.
As mentioned, we recommend WordPress as the platform for building your site, and this is always going to be free to use. Likewise, there are thousands of themes and plugins available for free. When it comes to plugins, many of the essential solutions cost nothing, which is good news. However, while there are also thousands of free themes, premium options will often get you nearer to your goal out of the box.
In addition, there are some hosts that provide completely free server space, but we'd be wary of opting for their services, regardless of how stable they appear. Ultimately, spending a large portion of your budget on good, quality hosting is going to pay dividends – especially if they offer some 'sweeteners' in the form of a free SSL certificate and a domain.
Conclusion
Practically everyone likes paying nothing for something if they can manage it. This obviously makes lots of sense, at least from the buyer's point of view. Of course, if you have the budget, there's also good reason to use it strategically – especially when building a website. In fact, we'd argue that in some areas it's essential to do so.
For example, while WordPress and its plugin and theme collections cost nothing, premium versions of the add-ons will sometimes offer you better quality. What's more, we'd recommend spending some money on quality hosting and a domain. We'd argue that this should be a primary focus for your web development budget, as you'll get better value, a branded URL, and often more security for your site and its visitors.
Do you have any questions on how to balance your budget versus needs in a current project? Let us know in the comments section below!
Featured image: PublicDomainPictures.
The post Can You Create a Functional (and Effective) Website Without Spending a Dollar? appeared first on Torque.