With the release of Gutenberg in v5.0, millions of people have to decide whether to opt for Gutenberg or stay with the Classic Editor plugin, formerly known as Tiny MCE. Though Classic Editor may seem like the safe choice, you can do much more with Gutenberg.
To be sure, while Gutenberg has been in development for two years, it's very much in its infancy. Its release was delayed to squash as many bugs as possible before WordPress users start using it.
One purpose of Gutenberg is to make it easier to create rich page content. To that end, Gutenberg – a page editor that uses blocks to create content – does some things that the now old (Classic) editor can't. Here are four things that can't be done with the Classic Editor that WordPress core developers believe content creators will appreciate.
1. Create Multiple Columns
For the first time, you can create multiple columns within a page or post without having to use a plugin. Within a column, you can insert any type of block – paragraphs, headings, media, and forms. Also, you can insert more than one block into a column.
From what I can tell – and what WordPress claims – your design will be responsive using the column block. Each column will stack on top of each other as you would expect like this: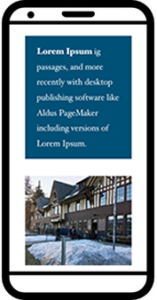 2. Change Font Size, Color, And Background Color
While it is possible to change font size and color with the Classic Editor, Gutenberg makes this much easier for the content author. As for adding background color, that's a feature that was not possible with the Classic Editor.
As you'll see in my video, it's not possible to select more than one paragraph block to apply the same font size, color, and/or background color to the selected blocks. I suspect that's a change you will see in 2019.
Note: These features are available only for the paragraph block. It is not possible to use them for heading, lists, and other text type blocks – yet.
3. Reusable Blocks
One of Gutenberg's key features is the ability to reuse any block anywhere on a site. This is going to be a big time saver if you have content you'd like to repeat.
As you'll see in the video, say you have a block that you've reused 50 times on your site, but in one instance you need to change that block. That's easy to do when you use the Convert To Regular Block function.
Conversely, if you need to change the content for all reused blocks, you can do that as well.
Reusable blocks will play a big part in Gutenberg's future as we move to the idea of building your own page template with a group of reusable blocks.
4. Drag and Drop
Clearly the ability to drag and drop blocks – as you would expect – is (like all of Gutenberg) a work in progress. Drag and drop currently works only in certain contexts at this early stage of the new editor's life. Fortunately, as shown below, there is a very good fallback method of moving blocks.
Is That All There Is?
Hardly.
Don't get the impression that Gutenberg is merely an upgrade from the Classic Editor. Plugin developers are busy creating new plugins designed to work only with Gutenberg, extending what it can do by default. Need blocks that don't come with Gutenberg out of the box? See "How To Use Plugins To Extend What Gutenberg Does By Default."
What's more, Gutenberg is just the first step in a 10-year transformative journey in which WP will change as it never has before. The aim is to reach the holy grail of front-end design and development. In that scenario, you'll be able to drag and drop anything into position on a web page without using the WP Admin as you do now. You'll be able to change media, color, and typography from the front-facing part of your site.
Buckle up!
The post 4 Things You Can Do With Gutenberg That You Can't Do With The Classic Editor appeared first on Torque.