Sometimes, when I stumble across certain WordPress products in our business sphere (more with plugins than with themes) I think to myself: "I bet that the logo/icon/featured image/homepage design for this one was either created by the same person who coded the product, or perhaps through a Fiverr gig". At some point, after having said this to myself one time too many I decided that maybe there's something we, at Freemius, can do to shrink this phenomenon.
Why Is Nonexpert Branding So Bad?
A product's design and branding are crucial for its success. In the case of WordPress plugins and themes it usually includes:
Logo
Icon (for the WP admin menu item)
A featured image (for the WordPress.org repository)
Social media cover image design
Homepage design
Marketing Emails
Optional: a mascot character
From my vast experience in the commercial WordPress products sphere, I've learned that branding which does not look professional can very easily alienate people from even checking out the product behind it. This, obviously, has a very bad direct influence on the product's sales, revenue, and overall success.
Potential users have come to expect a certain level of look & feel from commercial (and even from open-source) products by now, and if your product's branding does not demonstrate that feeling of professionalism within the first 3 seconds they see it, then you are not likely to win them as users.
We Want To Professionalize Branding In The WordPress Community
As the CEO of Freemius, I always try to think of new ways in which our company can enable WordPress developers to focus more on coding their actual product and less on what I like to call the "meta" aspects of running their WordPress plugin or theme shop. When a passionate WordPress developer tries to craft a marketing email or create a cover for their product's Twitter profile page – the results are likely going to resemble the UI of a government website from the 90's built with Microsoft FrontPage and are probably not going to have the effect they were hoping for.
In addition, I believe that time is something we could all use more of, and since it isn't possible to dominate every field of expertise when running a successful online WordPress product business, a developer should focus on developing. Design & branding? Let a professional designer do that for you.
That's why we're launching the "We Got Your Back" program, which will help implement just that, through a very simple perks table we've come up with: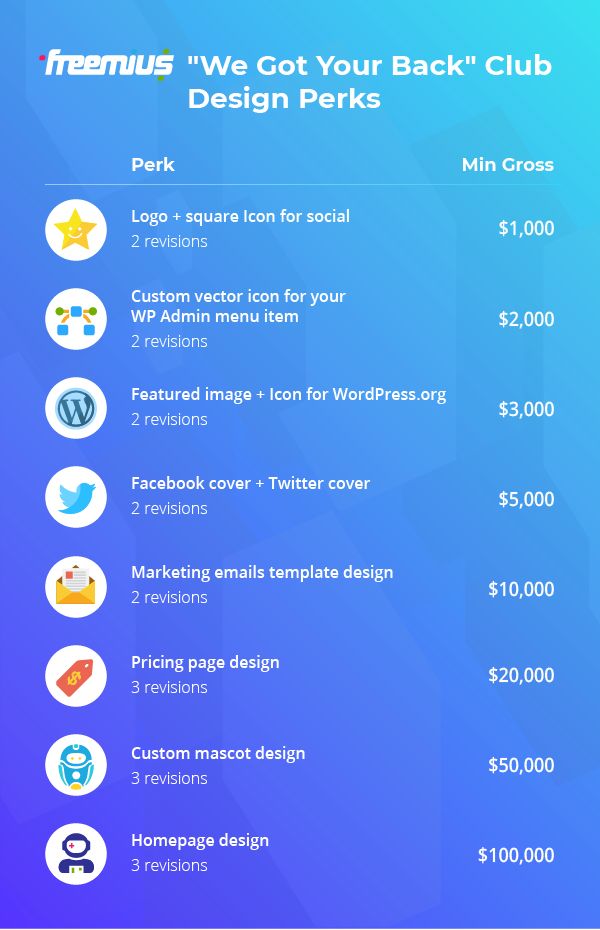 It's as simple as it can get: the higher your gross revenue with Freemius the more meaningful the perk you are entitled to claim from us, at no cost.
We will allocate an accomplished high-end designer who will work directly with you, the product owner, helping position your brand smartly and in accordance with your product's demands and needs, which will attract better customers and increase your bottom-line. In the future, we plan to add perks like SEO audits, conversion rate optimization, pricing optimization, and even discounts for popular services in the WP plugins and themes community.
If you're keen to know what might some of the designs look like, we have actually been working on a pilot for this program for quite some time now, and have about 15 products onboard:
W00t! W00t! I just got accepted to @freemius' "We Got Your Back" Club pilot, which will help me ramp up my #WordPress #plugin's business branding. #FreemiusGotMyBack

— Igor Benić (@igorbenic) September 22, 2018
Some of those WordPress product owners have already received the requested assets and are using their custom designs on their commercial websites as you're reading this. Here are just a few examples:
Marketing emails designs:
But My Dad Told Me There Are No Free Meals!
If you're asking yourself "why would Freemius give me free perks & gifts if I only make more sales and revenue?" then you're absolutely right to be wondering about that. As a businessman, I can tell you that whoever taught you that there are no free meals was not wrong! With that in mind, the reason for which, in this case, we ARE giving away "free meals" has to do with our business model: If you've ever heard of Freemius you'll know that we base our business on the revenue-share model, which means that Freemius takes a cut out of each sale made through our eCommerce platform. So, the more sales our partners (the WordPress product sellers who sell with us) make – the more money we make. We are really in this together with our sellers, so if we can help them become more successful by ramping up their product's design & branding we are effectively helping ourselves become more successful.
Join The Program
If this looks and sounds interesting to you, and you feel like your WordPress product could use the re-branding, or maybe you just feel like you could use some general advice from design experts about your product – then check out and apply to the "We Got Your Back" program:
Email [email protected] using the subject "Please scratch my back" and include the following info:
Your product(s) name(s) and Freemius ID(s)
Your products' total gross sum (you can check that on your Freemius Dashboard by changing the from-date to the date you started to sell with Freemius)
The perks that interest you for your product business
And if you're still not using Freemius to sell your WordPress plugin or theme – consider doing so. We take a really good care of our partners.
The post Freemius Launches The "We Got Your Back" Program To Push WordPress Plugin & Theme Branding Forward appeared first on Torque.