According to Built With WooCommerce is the most popular ecommerce solution used by shop owners. And the reasons are quite clear it's free, flexible, simple to use, and has great documentation. It's no wonder so many people use it!
Though the plugin is incredibly full-featured, it can't help in terms of shopping cart abandonment. In fact, a study by Barilliance shows that on average 78.65 percent of all carts are abandoned.
In this article, we'll show you how you can recover lost sales by saving and viewing abandoned carts and return customers who have abandoned their shopping carts by sending abandoned cart recovery emails.
Saving abandoned carts
Since WooCommerce does not come with a built-in solution to capture abandoned carts, you must either code your own solution that does that or grab a plugin to capture abandoned carts. Luckily, WordPress has a large repository of free plugins.
Before you proceed, you should make sure that you have installed and activated WooCommerce on your website.
Next, you'll have to install WooCommerce Live Checkout Field Capture Pro – Save abandoned carts plugin, activate it and that's all. No additional setup or configuration will be necessary.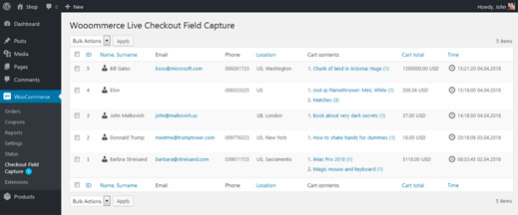 From this point forward, each visitor who will enter the email or phone number fields in the Checkout form will be saved and available for you to see.
If you would like to send automated abandoned cart recovery emails via MailChimp you will have to upgrade to WooCommerce Live Checkout Field Capture Pro.
Sending abandoned cart recovery emails to visitors
Next up, we're going to look at how you can return customers who have abandoned their shopping carts but let's first look at the reasons why people abandon their shopping carts:
Extra costs too high (e.g. shipping, taxes)
The website required an the buyer to create an account
The checkout process is too long
The total cost order isn't displayed up front
Your website had errors or crashed
The user didn't feel safe writing credit card information on the site
It would take too long to ship
The return policy was too short
Insufficient payment methods
The credit card was declined
A user was conducting research with the intent of coming back later
They were just browsing with no intent to buy
You can see that while there are customers who might not be up for persuasion, there are those who might return or at least give you some very crucial feedback about the way your store functions, feels and looks.
Here are five essential tips on sending abandoned cart recovery emails that will increase the chances of returning the visitor:
Send your first email one hour after the cart has been abandoned. Include a way for them to provide feedback in case it was an issue with the site.
Include recipients name in the beginning of the email. This will both show that the email is not a spam and will draw attention to the message.
Use a short and straight forward copy in the subject line as well as in the body. The recipient must immediately understand why he is receiving this message and what it is about.
Include a call to action link or button. You should guide the recipient and help him clearly see the next step.
Draw attention with an animated GIF visual. This will probably separate you from the rest of the competition.
You are now ready to start recovering your abandoned carts and don't forget about testing the results of different visuals, subjects etc. used in your emails to find out the best solution for your store.
Conclusion
No matter how good your online shop is designed, it will never be possible to fully eliminate abandoned carts. Therefore, you can at least save abandoned carts and try to increase sales or learn if there are issues that should be addressed.
In this article you have learned:
How to recover lost sales by saving and viewing abandoned carts
How to return customers who have abandoned their shopping carts by sending abandoned cart recovery emails.
If you have any questions about saving and recovering abandoned carts, please let us know down in the comments section.
The post How to Save Abandoned Carts in WooCommerce appeared first on Torque.