Blogging is arguably the most effective way to drive continuous organic traffic to a website for a long period of time. It's why every business from big brands such as Virgin and Starbucks to even the smallest retail stores and startups create a business blog from the very first day of the launch of their business.
Having a business blog not only increases the chances of your website getting ranked on Google by 434 percent but it also allows B2B marketers to generate 67 percent more leads than the businesses without a blog.
Blogs also take a major part in helping customers buying decisions. According to HubSpot, 47 percent of consumers usually read 3-5 blog posts before making a purchase.
To build a successful blog, you need to create exceptional blog posts that not only attract the attention of strangers but also rank well on search engines. We'll show you how it's done.
How To Create Effective Blog Posts
The process of developing a blog begins with a market research to identify and understand your target audience. Explore your customers' interests, habits, the problems they're having, and then find what kind of content you can create to offer solutions.
A blog post is only effective if you have a strategy in place to generate leads from your blog. Bringing in lots of traffic to your website is not enough. You should convert those visitors into email subscribers and leads to make the most of your efforts.
Make sure you have an email lead generation system in place with email marketing and optin forms to turn strangers into leads. Then, follow this step by step process to create highly effective blog posts.
Find The Right Topics
Once you've done your market research, you should have a clear understanding of the type of blog posts you need to create to attract the right type of audience to your blog.
The next step is to find the right topics to write blog posts. The best place to begin this search is Quora. This platform is filled with all kinds of questions people are having. Surprisingly, these are also the questions people mostly search on Google.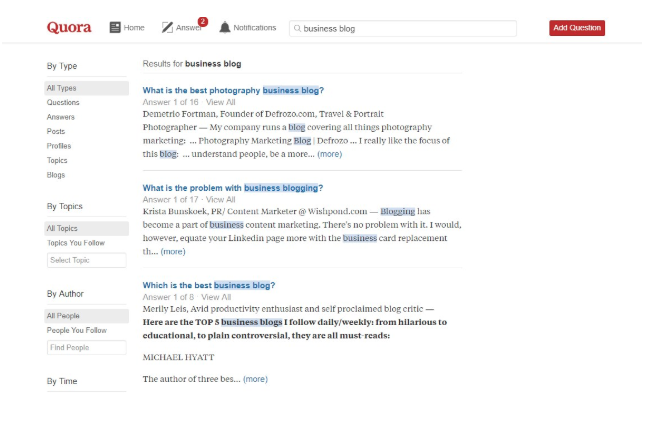 Go to Quora and browse different categories to find a thread relevant to your industry. Usually, if a thread has lots of views and followers, then it's worth targeting.

You can then use this thread question to come up with a keyword and a title for your blog post. In this example, you can target the keyword "business blogging" and create a title like "How to Avoid the 10 Common Problems of Business Blogging".
Now, go to Google and copy-paste the title you've come up with. Visit all the links in the top search results page and see how good they really are. Take note because you'll need to create your blog post even better than all other websites to beat your competition.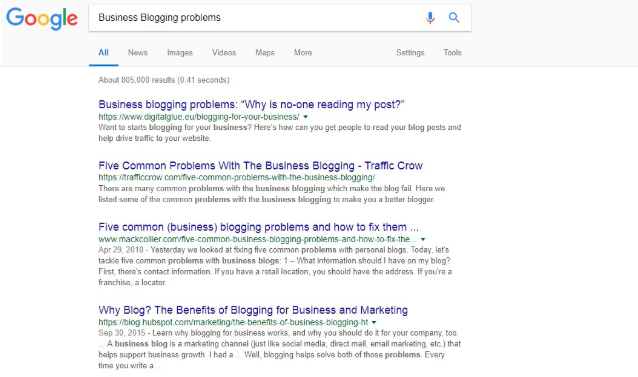 Research Long-Tail Keywords
Optimizing your blog post for keywords is the most important part of getting higher ranking on Google. There's already plenty of competition for keywords, so choose long-tail keywords with low competition to ensure your blog posts get the attention it deserves.
Go to Google Keyword Planner and search for the keyword you used to create your blog post title.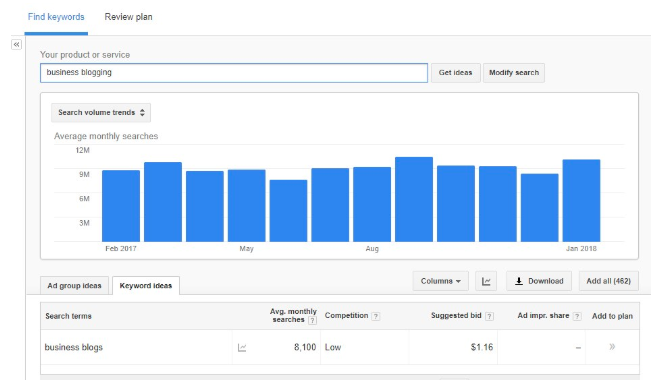 As you can see, the keyword "business blogs" appears to be a better choice for the blog post title because it has low competition but a good number of average monthly searches. But, you can make it even better by choosing an even better long-tail keyword, like "small business blogs."
Collect 3 to 5 of those best keywords from the list. Blog post title is not the only place you can use keywords. You can also insert those keywords in many other areas as well.
Best Practices For Keyword Placement
Now that you have a list of keywords, where should you insert them?
Start with your blog post title. Your main keyword should be included in the title as well as the first or second paragraph of the article. Use other keywords when creating subheads, meta descriptions, and alt-tags for images.
You don't have to insert the same keywords in your blog posts. You can also use synonyms as well. According to Steve Baker, an engineer at Google, synonyms affect 70% of user searches on Google. Remember to use them throughout your blog post paragraphs as well.
More importantly, make sure that you don't stuff your blog post with lots of keywords. Google hate that type of content and you will be punished for it. 3 to 5 keywords is the optimum number of keywords you should use in a blog post.
Build Social Signals
The number of shares and Likes a blog post receives greatly increase the chances of getting higher rankings. According to a study on 23 million shares, the top 4 ranking posts on Google are the ones with the most social activity, especially on Facebook.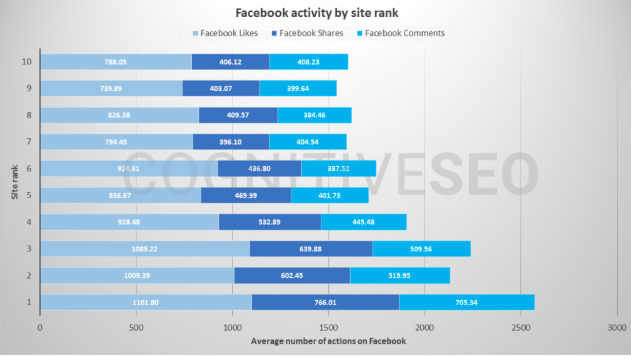 Develop a marketing campaign to get more shares and Likes for your posts from different social media channels. Consider the paid boosting system on Facebook and Twitter paid tweets to get a wider reach for your links.
The more shares you have, the higher it will rank on Google.
Conclusion
Building a blog takes time and a lot of effort. Don't expect results right away. It can take from 3 weeks to up to 6 months before you see your blog posts ranked on the main pages of Google.
Consistency is the key. Keep developing great blog posts and you will eventually see a slow but steady growth of website traffic that will last for a long time.
The post How to Use Blogging to Drive More Traffic to Your Site appeared first on Torque.